Many people might wonder how to use an Apple Watch without an iPhone. And some others might also think whether it is feasible to operate an Apple Watch without an iPhone?
Have you ever considered it?I don't know about you but, I have thought of these questions many times; this is why I can empathize with you in this harsh case. In this post, I'll address all of your concerns to free you from all the boggling thoughts in your mind.
Are you curious to know the answers to these questions? I am sure you are so without wasting time, let's get into the topic.
Although the Apple Watch is largely regarded as the best-looking and most useful wristwatch in the market, it will always be a part of the Apple ecosystem.
So Is an Apple Watch Feasible to Operate Without an iPhone?
As I used "without an iPhone", it may sound like not using an iPhone. But here the question is, do you really need to own an iPhone to use Apple Watch? Yes, you definitely need to spend your money on an iPhone to use the Apple Watch. As it is not possible to use an Apple Watch without an iPhone, you should have an iPhone, and it should be paired with an Apple Watch using the Apple Watch app. So, after completing the setup, you will be able to use your Apple Watch when your iPhone is not nearby.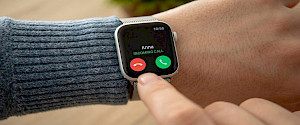 How to Set Up an Apple Watch?
You'll need an iPhone running the most recent version of iOS to set up and utilize your Apple Watch. You must also ensure that Bluetooth is enabled on your iPhone and linked to Wi-Fi or a cellular network.
Apple Watch Series 3 and the Apple Watch SE are compatible with watchOS 7. However, to upgrade to watchOS 7, you'll need an iPhone 6s or later running iOS 14 or later.
You may move your Apple Watch and its materials to a new iPhone if you've previously set up your Apple Watch but wish to use it with a different iPhone.
Ensure that bluetooth is turned on and that you are connected to a Wi-Fi network on your iPhone. Then, launch the Apple Watch application.
Switch on your Apple Watch, then do the following:
Once your phone recognizes the watch's proximity, the text "Use your iPhone to set up this Apple Watch" should appear. Select the 'Continue' option.
If you are unable to find it, open the Apple Watch app and select 'Start Pairing.' You'll be asked to place your iPhone over the Apple Watch for it to be visible in the camera's viewfinder.
Read the directions to finish your setup, such as selecting a language and orientation for your watch, as well as setting a passcode.
If this is your first Apple Watch, proceed to Set Up Apple Watch. If you've previously owned a watch, you can opt to restore it from an older backup.
If you want to unpair the Apple Watch later, go over to the iPhone's Apple Watch app and pick My Watch > Apple Watch > Unpair Apple Watch.
How to Set Up Activity on the Apple Watch?
The three rings may have been known to you even before you had an Apple Watch. These serve as the foundation for your smartwatch's activity level tracking.
Because the Activity app depends on your data to make correct predictions about your steps, calorie burn, and distance walked, you must fill out the form completely. When your Apple Watch is set up, you may do this but keep in mind that you won't have any monitored activity or statistics until you enter data.
How to Set Up a Passcode on an Apple Watch?
A passcode is not mandatory for the Apple Watch, but it is required if you wish to use Apple Pay.
However, unlike the iPhone, you do not need to input the code every time you want to use the watch. In addition, because of the heart rate monitor, the Apple Watch can identify when it is on your wrist and will only need to be unlocked once.
During the setup procedure, you will be asked to establish a password or a lengthy passcode on your iPhone, which you will then input on the watch. If you choose, you may also choose to unlock your iPhone when you unlock the watch.
What Are Your Options if Your iPhone Is Far From You?
You could stay connected even if you're not near your iPhone with an Apple Watch with cellular and active cellular service. If you are connected to Wi-Fi but you are away from your iPhone, there are still things you can do with your Apple Watch:-
The Apple Watch allows you to listen to music.
Podcasts can be listened to on the Apple Watch.
You can listen to audiobooks.
Voice memos may be recorded and played on the Apple Watch.
Use the stopwatch, the watch, the global clock, the alarm, the timer, and the stopwatch.
Photos from synchronized photo albums will be shown.
Apple Pay may be used to make purchases in stores.
On your Apple Watch, you can see the events that are currently scheduled.
Keep track of your workouts and activities.
Check your heart rate, make changes to your sleep pattern, monitor your blood oxygen levels, keep track of your reproductive cycles, and relax and breathe slowly.
Take note of the noise levels in the area.
If your Apple Watch is connected to a Wi-Fi network
Even if your iPhone is not in the working mode, it is switched off, you can still do the following when connected to a Wi-Fi network with your Apple Watch:-
Apps can be downloaded from the App Store.
iMessage allows you to send and receive messages.
Make phone calls on the Apple Watch (when Wi-Fi calling is enabled)
Using your Apple Watch, you can listen to music, podcasts, and audiobooks.
The Apple Watch can now play music.
Check the current weather forecast.
Keep track of your investments.
Your Apple Watch may be used to control your home.
Winding-up
When your Apple Watch is linked to a Wi-Fi network, you may quickly use many of the functions of your iPhone even if it is not nearby. So, I have clearly explained the setup of the Apple Watch too. Just follow the steps mentioned above to complete the setup of your Apple Watch. I hope all your queries are solved with this article.
You might also like