Have you just jailbroken your iOS or iPadOS 13 or 14 device and are looking to make some subtle changes to the mobile operating system without investing too much money? If that sounds like you, then we have the perfect thing for you.
Uranium is a free and newly released jailbreak tweak by iOS developer FissionDev that allows the users to customize their mobile operating system by offering them a wide range of miscellaneous options for modifying the iOS and iPadOS user interface.
We all know that there are lots of all-in-one kind of jailbreak tweaks that let you customize your mobile operating system but finding the one that comes at a reasonable price or that is completely free is not so easy to find. Well, Uranium is one such find and we are sure that you are going to absolutely love this jailbreak tweak.
After the installation of Uranium jailbreak tweak, a dedicated preference pane will be added to the Settings app where the users can easily configure the tweak options to suit their needs. Here, you can find the following options: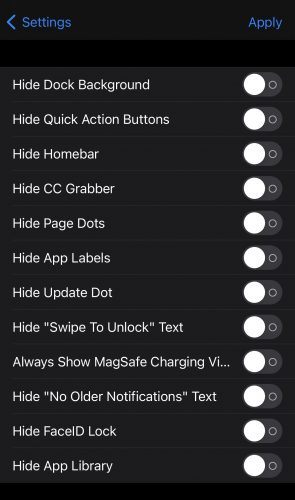 Remove the Dock's background on the Home Screen
Hide the Quick Action buttons of the Lock Screen
Remove the Home Bar on the jailbroken devices
Remove the Control Center grabber present on the Lock Screen
Hide the Home Screen's page dots
Remove the labels of the app icons from the Home Screen
Remove the 'swipe to unlock' text that is present on the Lock Screen
Remove the 'No Older Notifications' text that is present on the Notification Center
Remove the Face ID padlock that is a part of the Lock Screen
Remove the App Library that is present on the Home Screen of iOS 14
Display the MagSafe charging animation always when the device is connected to a charger
As you must have seen yourself by now, Uranium comes with plethora of useful options including the ability to remove unwanted elements, use the MagSafe charging animation, and a lot more. In fact, it also includes the feature of another recently released jailbreak tweak that is known as ByeQuickAction. Basically, Uranium gives you a lot even though it is a free jailbreak tweak. So, if you are looking for a few easy customizations on your device, then new jailbreakers can get Uranium on their device as well.
Do you wish to try out the new Uranium tweak? If yes, then you can download this jailbreak tweak for free from the Packix repository using your favorite package manager. This tweak is currently supported on jailbroken iOS 13 and 14 devices.
Did you like the sound of the new jailbreak tweak Uranium? Let us know what did you love the most about this jailbreak tweak in the comment section below!
You might also like