After a lot of waiting, unc0ver's team has finally updated the jailbreak tool on Saturday so that it provides support for iOS and iPadOS 14.0 – 14.3. With this latest update, the unc0ver jailbreak tool is now on version 6.0.0 and offers a complete jailbreak experience to the users with tweak injection using package management via Cydia and Substitute.
The lead developer of unc0ver, Pwn20wnd shared this information on the updated jailbreak tool using Twitter. If you have used the unc0ver jailbreak before of the previous release, then you will find that the updated interface of this jailbreak tool is pretty similar as well.
What is interesting to know is that unc0ver's support for iOS & iPadOS 14.0 – 14.3 came after using the recently derived custom kernel exploit cicuta_verosa that was developed by ModernPwner. Although the jailbreak tool doesn't use this exploit directly due to the licensing restrictions, unc0ver's team does use the custom exploit to draw a little inspiration.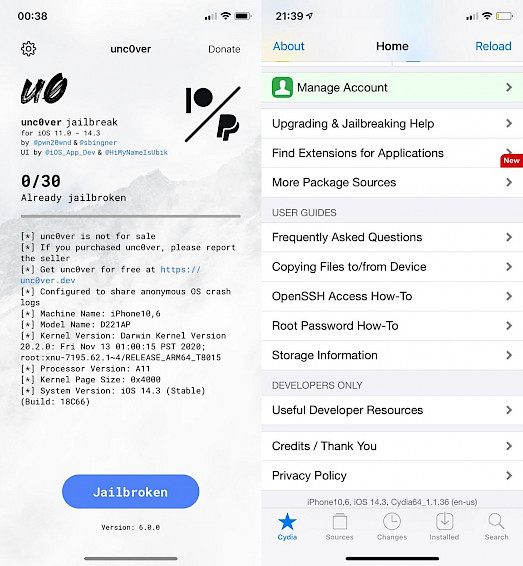 As most of you might already be aware that all A7 – A11 devices including iPhone X and below models are pwnable on iOS and iPadOS 14 with the help of bootrom exploit-based checkra1n jailbreak for a while now. But with today's release, unc0ver has become the first jailbreak tool to provide support for iOS and iPadOS 14.0 – 14.3 on all the Apple devices, including iPhone 12.
When you install unc0ver jailbreak, it installs Cydia package manager and uses Substitute for tweak injection. In comparison, Odyssey and Chimera jailbreak tools usually install Sileo package manager and uses libhooker for the tweak injection.
You can download the latest version of unc0ver jailbreak tool from the unc0ver.dev website as usual. So, what do you think of this new development in the jailbreak tool for iOS and iPadOS 14.0 – 14.3 devices? Do let us know your thoughts in the comment section below!
You might also like