In the last couple of weeks, iPhone users have noticed a weird issue in their handsets where they have trouble deleting apps from their iPhone as there is no Delete option available for them. Generally, if you want to delete an app from your iPhone Home Screen, you just need to long press on the app and then select the option Remove App – Delete App. Another option is usually to go to the Settings option in the iPhone Storage to delete the app.
However, many users aren't seeing the Delete App option in either of these positions which makes it slightly hard for them to get rid of the app. If you are facing this issue too or know someone who is, then we have found two ways to fix this issue for you.
Check the Screen Time Settings
The first thing to do is check the Screen time settings for the apps that disallow the deletion of the apps. You can check whether this setting is on by following these steps:
Go to Settings and then choose Screen Time.
Click on Content & Privacy Restrictions.
Choose iTunes & App Store Purchases.
On the top, you will see whether the Deleting Apps option is set to 'Don't Allow' or 'Allow'. If it is set as Don't Allow, then click on it to change it to Allow.
Now, close the Setting and go back to the App.
Check whether you are able to delete the app now or not. If you are able to delete, then that's great else you can keep on reading to know the next fix.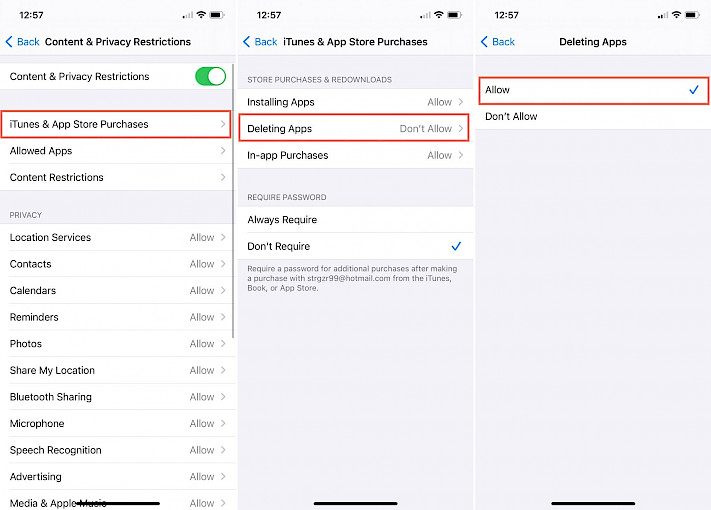 Temporarily Turn Off the Screen Time
Although it is not clear why but many users have been able to delete the apps after they turned off the Screen Time on their handset. All you need to do is disable this feature, go to the app that you wish to delete, and you will find the Delete option available there. Once you have deleted the app, you can turn on the Screen Time settings again.
To disable the Screen Time setting, you need to go to Settings – Screen Time and then navigate to the Turn Off Screen Time button. Tap on this button again to confirm the action. Screen Time setting is turned off now and you can easily go to the desired app and delete it from your device.
Conclusion
In a lot of cases, turning off the Screen Time temporarily or adjusting the settings allows the user to delete an app on their iPhone. So, this is a good way to delete the apps until Apple releases a fix for it. In case both of these solutions don't work for you, then don't worry, just hang on for a few more days and there should be a new fix soon.
Also, if you find an alternative solution to this problem, then do let us know in the comments section below!
You might also like