If you are looking for an alternative to the iOS app store, look no further than TweakDoor; packed with apps and games, you won't need to find any other source of apps. It's completely free to use, and there's no need to install Cydia either read on for more details.
How to Download TweakDoor
TweakDoor may not be available for download from the official app store, but it is still dead simple to download and install. All you need is your iOS device on a good internet connection – Wi-Fi is better:
1. Open Safari browser on your iPhone or iPad
2. Go to the official TweakDoor page and hit the download button
3. Wait; when the installation is finished the app icon is on your home page
4. Before you use it, open your iOS Settings app
5. Tap on General and go into Profiles & Device Management
6. Find the TweakDoor app profile and tapa on it
7. Tap the Trust button and close settings – TweakDoor is now ready for use
How to Use TweakDoor
This is even easier:
1. Once the TweakDoor profile is trusted, tap the icon to open the app
2. Tap the TweakDoor Apps option in the app home page
3. Find the app or game you want and tap on it
4. Tap on Install and follow the on-screen instructions to download the app
5. When the icon is on your home screen, the installation is done, and the app is yours to use
What is TweakDoor?
TweakDoor is the latest in a long line of third-party app installers. At first, these installers were brought out to provide an alternative to Cydia for those jailbreakers who could no longer use it. Now, they have become excellent alternatives to the official iOS app store; the fact that TweakDoor doesn't require a jailbreak means anyone can use it. Packed with modified apps and games, along with thousands of other free apps and games, TweakDoor offers one of the most comprehensive alternatives available today.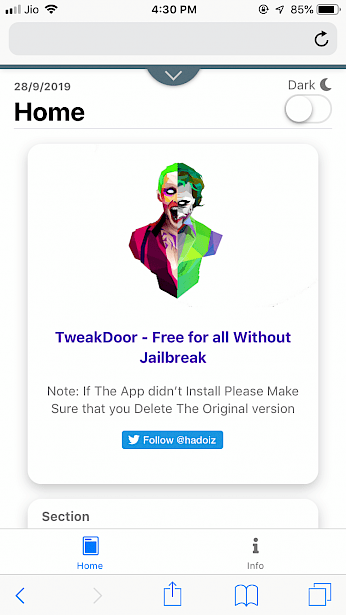 TweakDoor Features
TweakDoor users get access to some cool features:

Completely free to download and use
User-friendly app
Thousands of apps and games, including loads of unofficial ones
Doesn't take up much space or use much memory on your device
No need to jailbreak
Regular updates – new content, bug fixes, enhancements and more
Your Apple ID is not required for installation
The configuration profile uses the same privacy standards as all official Apple apps
There is a downside to the app, though – because it is unofficial and can't be downloaded from the official store, Apple will revoke the app certificate every few days, causing the app to crash – installing a decent VPN will help prevent this happening.
Those used to jailbreaking should not expect TweakDoor to offer the same experience as they got with Cydia, either. Many of the tweaks in the jailbreak store required root access to work – TweakDoor does not, and that means many of the Cydia tweaks will not work.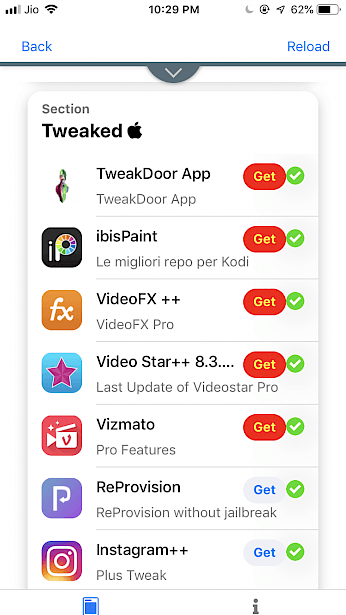 How to Delete TweakDoor
Should you need to, deleting TweakDoor is very easy to do; just choose one of these methods and follow the steps:
Method 1: Deleting the App Profile
1. Open your Settings app and go to Genera
2. Tap on Profiles and tap the TweakDoor profile
3. Tap Delete Profile
Method 2: Deleting the App Icon
1. Tap the app icon and long-hold until all icons wiggle
2. Tap the x in the corner of the TweakDoor icon
3. Tap on Delete
Whichever method you choose will remove TweakDoor from your device
Frequently Asked Questions
These are the commonly asked TweakDoor questions and the answers:
Is TweakDoor Safe to Use? Legal?
Yes, TweakDoor is safe to use, and it is legal. First, with no need to jailbreak, you do not need root access to your device and don't hack Appl's security. Second, the app is monitored frequently for problems; no app is allowed into the store without being run through a virus scan first – if it doesn't pass, it doesn't go in. And, because the app runs on the same standards as any official app, it is legal to use.
Is it A Cydia Alternative?
Yes, but not a replacement. Not all Cydia tweaks work without root access, so you won't find those in TweakDoor. There are thousands of unofficial apps and games, though.
What Devices Does TweakDoor support?
All iOS devices are supported, from iOS 10 up to iOS 13.
I Get a White Screen – How Do I Fix It?
The best way to fix this is to remove TweakDoor and reinstall it.
And the Untrusted Developer Error?
Another easy one:
1. Launch Settings → General → Profiles
2. Tap the TweakDoor profile and tap Trust
I Don't See the Install Option
You may have another TweakDoor version on your device – delete it and start again
Why Use TweakDoor?
Because you won't find a better selection for apps and games anywhere else, certainly not for free, and you get a few Cydia tweaks too, making TweakDoor the best alternative to the app store.
How does it Differ from Emus4U?
It doesn't, really. Both developers have collaborated to ensure that, if one installer doesn't work on your device, the other one will, so you still get all your apps and games for free.
What About Android?
TweakDoor doesn't work on Android yet, but we expect an APK format to be released soon. Any links on the internet that claim to have the TweakDoor APK file are fakes and could cause you no end of problems on your device.
How Do I Find the App I Want?
Simple – browse what's on offer or use the built-in search bar to find a specific one. Try TweakDoor today; it's the best alternative to the iOS app store and is free to use. Don't forget to let the app developers know what you think of TweakDoor.
You might also like