TweakBox app is a free AppStore allowing you to download and install tweaked apps with no need for Jailbreak or Apple ID. Tweaked versions of apps allow you to use them without limitation and adds some additional features. Install TweakBox on iPhone, iPad, iPod Touch for free and sign apps on iOS.
What is TweakBox App?
TweakBox(tweakbox-download.com) is one of the most popular unofficial App Store app for iOS allowing access to free AppStore apps, tweakbox apps (including emulators, movies, music, jailbreak tools), tweaked apps with modifications, and hacked games. The platform is compatible with iOS 11 and iOS 12 devices.
Install the store on your iOS device without jailbreaking your device, providing Apple ID, or even using a PC. Access ++ apps including YouTube++, Facebook++, Instagram++, YouTube Music++, kirakira++, VK++, PokémonGO++, Snapchat++, Twitter++, Vine++, Whatsapp++ and more.
There are over 2k apps in TweakBox database including tweaked and AppStore apps.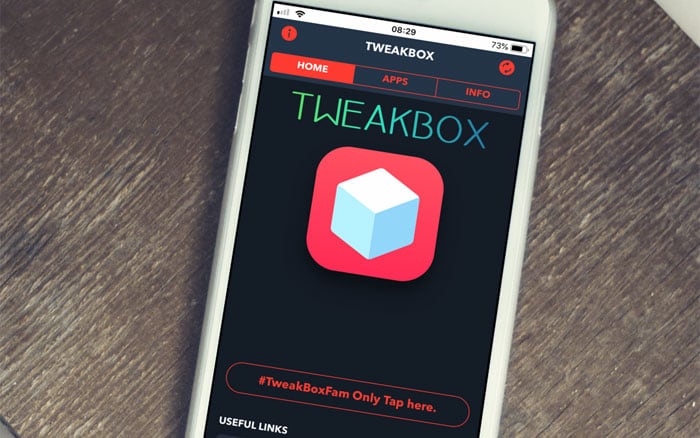 Is TweakBox App safe?
TwakBox iOS (Tweakbox.Download) version is absolutely safe to use. It does not affect the performance of your device and there is no negative effect on the iOS system. The only downside is that the app certificate can be revoked by Apple, making all installed apps and games useless.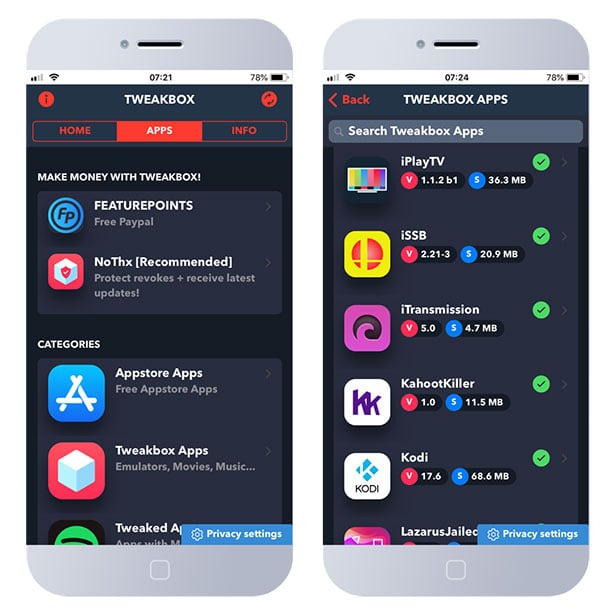 All iOS apps are categorized in one of 4 categories mentioned above. Users can navigate through them to find a specific app or use the search feature for quick access. You can find basic app descriptions, file size, version number, and information if a specific app works or not.
How to install TweakBox
TweakBox App can be installed on iOS 12 and iOS 13 device like iPhone without the need of Jailbreak or Apple ID. You don't need a PC or Mac to install TweakBox App on iPhone.
Install TweakBox without a computer. No jailbreak required!
When you get TweakBox without PC it can happen that the app will stop working. The reason for this is that Apple will revoke the installed certificate. To make TweakBox work again you will need to remove the app and reinstall it using the same steps from below.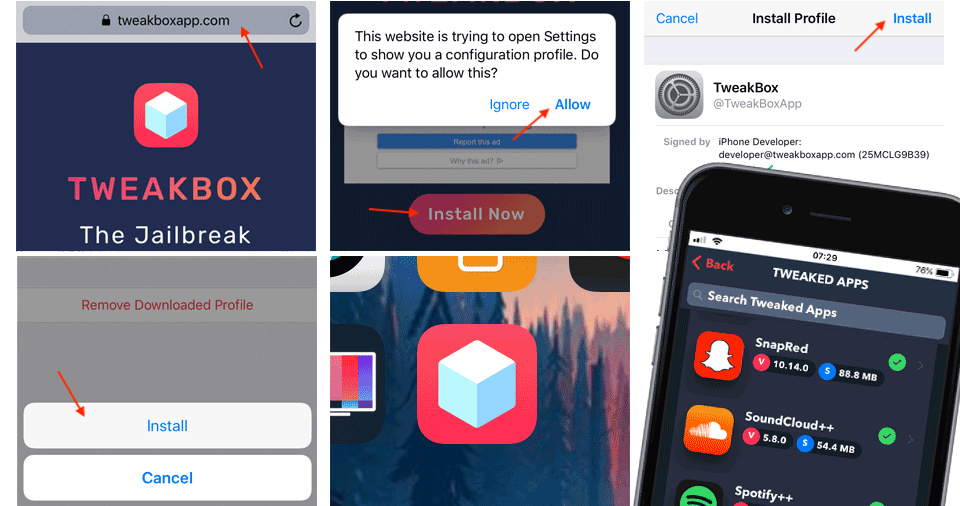 Step 1. Click to install now from Safari browser or navigate to tweakboxapp.com.
Step 2. Click Allow to download the profile.
Step 3. Open Settings → General → Device Management.
Step 4. In Downloaded Profiles, TweakBox app will appear.
Step 5. Click Install to and confirm the installation process.
Step 6. The TweakBox App Store icon will be available from iOS Home Screen.
To avoid losing apps setting and game saves after certificate revoke it is always a good idea to make a backup. 3uTools is a great free software allowing you to save user-defined backups to PC, or create a full backup of your device. You can use also any other backup software available in our hub.
When you completed all step your TweakBox App should be installed correctly on your iPhone. After TweakBox App will be downloaded you can't run the app. An Untrusted Developers Message will appear and it's required to complete all tasks from Step 3 in our guide above.
How to install apps from TweakBox app

Step 1. Open the app from Home Screen and navigate through categories.
Step 2. Click Install to start the installation process.
Step 3. Confirm the message "api.tweakboxapp.com would like to install" to start.
Step 4. Now you can use the app like any other regular.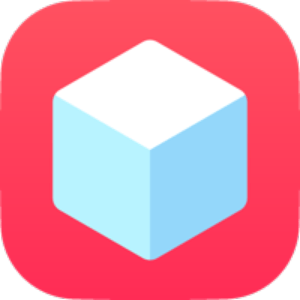 Best TweakBox Alternatives for iOS
There are also available 3rd-party Cracked App Stores that can be a great TweakBox alternative on iOS. Simply install the AppStores for free and gain access to all packages.
1. Panda Helper:
Panda Helper is a free platform where users can download games and applications for free on iOS. In the utility category, you can find also jailbreak tools, tweaks, hacks, etc. The app allows users to download paid App Store apps for free. This is a great non-jailbreak TweakBox alternative.
2. Ignition:
Ignition App is the best place to find Tweaked Apps, Hacked Apps, Emulators, Jailbreaks for iOS. Access the library of hundreds off apps for iOS 11 and iOS 12. Install Ignition Store from the official source without a computer. No jailbreak required as well.
3. CyrusHub:
CyrusHub Mist is a new platform to install apps, tweaks, emulators, jailbreak tools on your iPhone, iPad, iPod devices without jailbreak. You can find here a few packages available in Cydia Repositories and install them on jailbreak free iOS 12. No computer required.
4. Tutuapp:
Tutuapp software doesn't require Jailbreak or Apple ID to work. The Store offers access to millions of apps, including paid, hacked games, and ++ applications with additional features. View apps by categories, ranking or newly added positions.
5. AppCake:
AppCake is an iOS App Installer that can install cracked iOS apps, install DEB files, download magnet and .torrent files. AppCake is compatible with iOS 9 - 10, iOS 11, and iOS 12. You can install the app on Non-Jailbreak device with premium service iPASTORE.
6. TopStore:
TopStore App is a free platform with no need for jailbreak on iPhone, iPad, iPod Touch. Sign paid apps, games, and hacked apps and install them on your device. TopStore works with iOS 8, iOS 9, iOS 10, iOS 11, and the newest version iOS 12.
8. CokernutX:
CokernutX is a free platform allowing users to download and install popular paid apps and games available in AppStore for free. The software works without Jailbreak, and you are just a few steps to install the TweakBox alternative on your iOS device.
9. AppValley:
AppValley is a platform to download and install applications on iOS 8, iOS 9, iOS 10, iOS 11, and the newest version iOS 12. It doesn't require a PC to install AppValley on your iPhone. Go through the step-by-step guide to install the app on your device.
10. Flekstore:
FlekStore is a free 3rd-party App Store for iOS allowing you to install ++ apps and tweaks without Jailbreak. The TweakBox alternative is compatible with iOS 9.3.5 up to iOS 12. Moreover, you can add manually new FlekStore Repositories to the app to access even more applications for download.
You might also like