Let's face, being bilingual is pretty cool and useful but not all of us know more than one language and this is where translation services come into the picture. If you wish to understand something being spoken in another language, then you can use an online translation service but accessing those is a task. Sometimes, you need to go to a particular website to access or an app to do a simple translation.
However, a newly released jailbreak tweak named Tranzlo can help you with this dilemma. Developed by iOS developer MiRO92, this free jailbreak tweak makes language translation much easier on iOS and iPadOS devices.
In the simplest terms, Tranzlo is a translation app that is always enabled to help you out. With this tweak, you can easily translate texts and messages from your favorite people via common messaging and texting apps. And if you don't socialize much, then that's okay because this app gets integrated into your device's iOS and lets you highlight texts from anyone on the web in just a few seconds.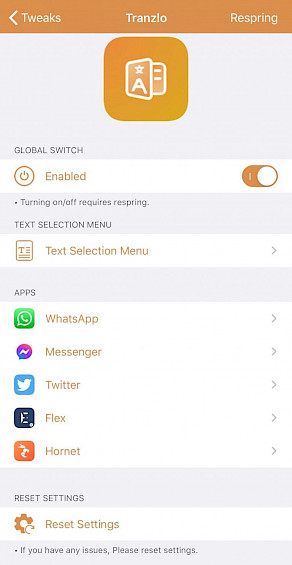 Tranzlo makes use of the API function of Google Translate and supports a wide range of mobile apps. From Facebook Messenger to WhatsApp Messenger, and even Twitter, they provide support for a lot of apps and are planning to include more in the future as well depending on the user demands. Here are a few key features of this tweak:
Automatically translate outgoing messages after you send them.
Change your translation settings by clicking and holding on to the Send button.
Click and hold a chat bubble to translate the incoming messages.
Choose the appearance of translation.
Select a text and then translate it quickly by using an action menu button.
Select 10 fast language translation buttons when you select a text for translation.
There are a lot more features available in Tranzlo that you can access from the dedicated preference pane in the Settings app. In these settings, you can perform the following tasks:
Turn on and off the Tranzlo tweak.
Configure the settings for the text translations. In this, you can enable/disable the text translation setting, configure 10 fast translation buttons, and choose between toast and alert style for displaying the results of the translations.
Configure options for each app. You can enable support for particular apps, enable outgoing message translation, turn on a prompt alert for asking before translating a message, choosing the language before translation, choosing the resulting language to suit the recipient's needs, and so on. You can also enable the translate option for incoming chat messages, choosing the style for displaying the translation results, and the resulting language for your easier understanding too.
Reset to the default settings.
Save your changes by respringing the device.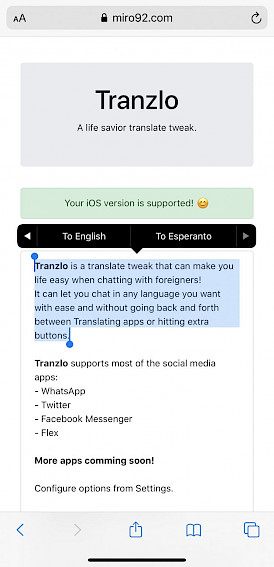 So, if you have friends who tend to speak in a different language, then this app will make it easier for you to converse with them. You might not need it regularly but it is still more convenient and easier to use than the Google Translate App.
If you wish to give this tweak a try and want to download it on your device, then you can download it free of cost from the MiRO92 repository using your favorite package manager. This is tweak is currently supported on iOS 13 and 14 devices that are jailbroken.
Let us know if you are planning to or not planning to download this tweak on your device in the below comments section!
You might also like