We all know that whenever we are in a hurry to charge our iPhone battery, we are frequently checking the iPhone to see the battery level as it is getting charged with the wireless charger. Although there is no proof, but we feel that this usually happens because iPhone doesn't have any mechanism in place to let the users know the iPhone is fully charged.
If you have a similar experience and find it extremely distracting, then we have a solution for you in the form of a new, free jailbreak tweak known as Total Charge Tones that was developed by iOS developer ljinc. In layman terms, what this tweak does is that it plays an alert tone of your choosing once your handset is completely charged when it is connected to a power source, this could be a wireless charger or a cable.
After installing this tweak, a dedicated preference pane is added in the Settings app from where the users can configure the tweak to their liking. From here, you can do the following:
Turn on or off Total Charge Tones whenever you want
Select an alert sound to play when the charge is 100%. You can either choose a pre-defined sound from the iPhone's native alert sound list or you can choose a custom sound that you have downloaded on your iPhone.
Manage the number of times the tone will play on a loop using the slider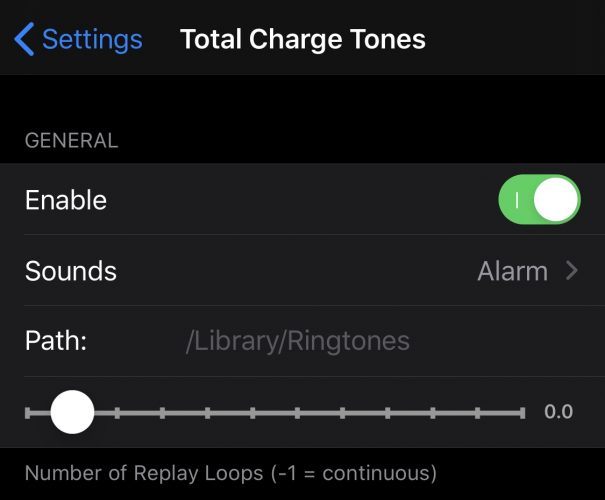 Total Charge Tones is a really great jailbreak tweak as it effectively lets the user know when the handset has been fully charged. Due to this, you won't end up checking your iPhone multiple times in a day to see the battery level.
Another great thing about this tweak is that it lets the user choose from a pre-defined tone or choose a custom one that you might have recently downloaded on your iPhone. If you have, then you can easily choose that as the alert tone instead of the Apple's native alert tone list. This way, you can personalize your handset and use it as you want.
If you wish to try the new Total Charge Tones tweak on your device, then you can get it for free from the BigBoss repository using the favorite package manager. This tweak is currently supported on jailbroken iOS 9, 10, 11, 12, 13, and 14 devices.
What do you think of Total Charge Tones tweak? Do let us know in the comment section below!
You might also like