To promote creativity among the users of today's era, Apple is experimenting with the technology. Apple is trying to make everything accessible to the users so that the user experience in everything is smooth and hassle-free.
And to promote the spirit of creativity apple has launched -" Today With Apple"
What is "Today at Apple"?
"Today at Apple" is a creative effort presented online and in Apple retail locations worldwide with the purpose of educating and motivating people to pursue their hobbies and the products they like. Today at Apple, the company now offers 250,000 sessions per quarter to customers, with stores across the globe. Today Apple went online in 2020 with virtual Webex events.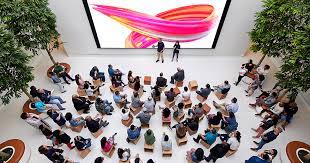 Apple's latest technologies, as well as customer interest, shape today's Apple sessions. Each new or renovated store is built around the session-first experience. The Forum includes a video wall and gathering space. Exclusive events are held at top locations with rising and established artists.
Today at Apple series on youtube.
Apple launched its "Today at Apple" series on YouTube on Wednesday, July 14. It began with a video about how to transform yourself into Peanuts characters.
The series features videos that tackle creative projects in photography, video, and art. They also feature techniques from global artists. With the help of Krista Porter and Mark Evestaff, Apple TV+ The Snoopy showrunner Anthony, Apple Creative Pro Anthony, teaches viewers how they can draw themselves as a Peanuts character in Pages.
Apple is a place where customers can find inspiration and learn about new technology in Apple products. This has been going on for more than 20 years. The series' YouTube debut provides educational tools for viewers from all over the globe, no matter where they may be.
Latest videos in the "Today at Apple series."
Creating Expressive Pet Portraits
In the latest Today at Apple video, pet photographer Sophie Gamand demonstrates how to take emotive pet photos with an iPhone. Jahmyra, an Apple employee, and photographer Sophie Gamand appear in the ten-minute video. They demonstrate how to utilize various portrait settings, angles, and focus on taking excellent pet photographs.
This session makes use of an iPhone and a regular camera app. The zoom lens, portrait mode, and different filters are used to capture photos.
Gamand explains three simple techniques for capturing hyperactive dogs.
Step 1: This is to get on their level.
Step 2: Pay attention to the animal's energy.
Step 3: Let your personality show through with extras.
Each stage reveals unique iPhone functionality that consumers may not be aware of. Throughout, the obvious camera modes and portrait mode are emphasized, but other capabilities, like Live Photo and Shortcuts, are also addressed.
Apple offers a variety of sessions, ranging from looping movies to portrait shooting. Apple's YouTube channel hosts the video sessions.
How to shoot portrait photos on the iPhone.
Apple released a new "Today at Apple" session on YouTube with photographer Mark Clennon on how to capture "strong portrait" photographs with the iPhone's built-in camera and Camera app.
Due to the worldwide health crisis, Apple has begun promoting and posting Today at Apple sessions on YouTube. The firm had planned to reintroduce its sessions to its in-person retail locations at the end of this month, but owing to the health issue, it has changed its mind. The classes include photography, art, design, film, coding, music, and other topics utilizing Apple products and peripherals such as the iPhone, iPad, Mac, and Apple Pencil.
These are the latest videos in the "Today at Apple" series. Visit Apple on youtube to see all the videos in the new series "Today at Apple".
How to Signup for Today's Apple Sessions?
Even though you can't attend a Today at Apple class in person, classes continue to be offered. Cupertino has offered these learning opportunities online since March 2020. Let's take a look at how to sign up for today's Apple sessions.
Everything begins on the Apple Website.
Cupertino has a web page dedicated to the Today @ Apple program. You can sign up for today's Apple sessions by visiting the website and looking for the right class.
You can still search for open positions based on the location of your Apple retail store, even though classes aren't taking place in person. You can search by zip code, city, or state to find your store. You can also allow your browser to use its location services.
How to register for today's Apple Sessions?
Once you've selected the store, you will see a listing of available classes. These classes focus on getting started with your Mac, iPad, or iPhone. Other non-interactive videos can be found on Apple's YouTube account.
Click Details once you have found the session that you wish to sign up for. This step will direct you to a page that outlines the Today @ Apple session, the date and time, as well as whether the class is in person or online. Of course, everything is still online as of this writing. It will also be displayed whether sign language interpreters are available.

If you see an open slot in the session, you'll be able to sign up. If there are no open slots, you will see a sign-up button. Otherwise, the page will indicate that the session has ended. To find more times, you can use the drop-down menu next to the date/time.
You may be asked to sign in when you click on "Sign up". Follow the instructions to allow your browser to access your account. After that, you will receive an email confirmation before your account is registered. Instructions on how to attend your online session will be included in this email.
How to manage your Today at Apple reservations?
If you do not receive the email reminder or if you change your mind, you may manage all of your today's Apple reservations from the same page. Simply click on My Reservations to discover which sessions you have reserved. From this page, you may add your reservation to your calendar or cancel it.
You might also like