Tracking your weight is not as easy as it sounds, especially if you don't own a smart scale that comes with an associated application. If you use a weight loss app, then it might have a feature for tracking your weight but not everyone uses a weight loss app or a smart scale.
Moreover, there are a lot of people who wish to track their weight not because they are trying to lose weight but to actually gain weight too. Pregnant moms need to keep a track of their weight gain to determine the health and weight of the baby and if you are an underweight individual, then you might be trying grain weight slowly for a healthy body.
Whatever be the case, we have the perfect weight tracking apps for you that you can easily download on your iPhone.
Weight Loss Tracker – BMI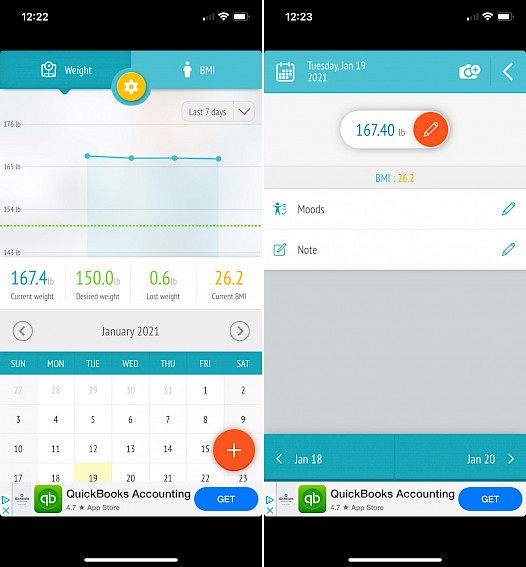 One of the best weight tracking apps for iPhone that can be used to calculate your BMI as well is the Weight Loss Tracker – BMI app. With this app, you can check your BMI to understand which category you fall in. As a result, you will be able to determine the ideal weight range for your size and age and can then work towards achieving it.
You will get daily reminds to log in your weight and track it. This is a free, easy-to-use app that comes with a lot of useful features. A few popular features of this app are:
Adding a weight goal so that you can work towards it
Check your current weight, weight goal, change in weight, and BMI.
Set reminders to weigh in and log the weight every day
Add photos and notes when you log in a weight
View your weight progress in the form of a graph for the last 7 days or 30 days
Apple Health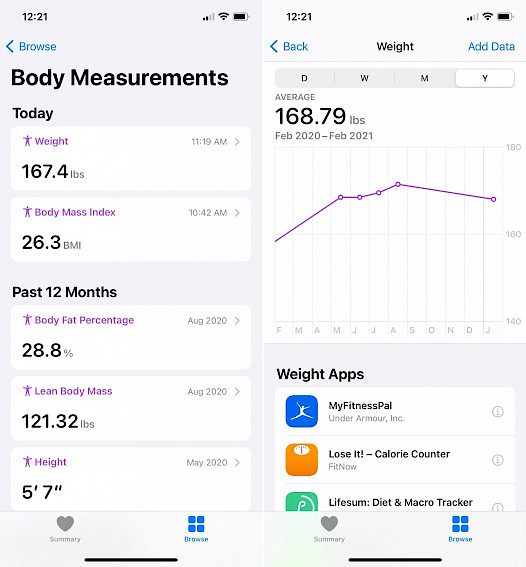 If you don't wish to download an additional app, then Apple's Health app is the perfect way to keep a track of your weight. With this app, you can get data from other apps as well and you can input your own entries too.
A few features of Health app on your iPhone are:
View weight changes in the form of a graph for a day, week, month, or a year
Review the data in the form of list including the entries from other apps
Add weight logs for the past that you forgot to enter earlier
Check your BMI, body fat percentage, and lean body mass
Monitor Your Weight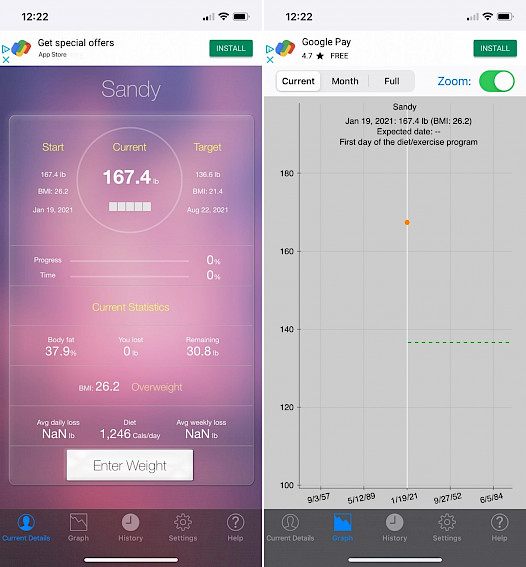 This weight tracker app can be downloaded on your iPhone and is available on Apple Watch as well so it makes it easy to use. And the best thing about this app is that it lets the users make separate profiles to track the weight during pregnancy and after birth.
Here are a few features of this app:
See your current details and progress at a glance
Look at the suggested weight and timeframe to achieve the target based on your BMI, age, and height
View the weight changes in the form of a graph for week, month, or a year
Check your weight change history and make any edits if needed
Zoom in on the weight change graph to look at the weight log
Weigh In: Weight Tracker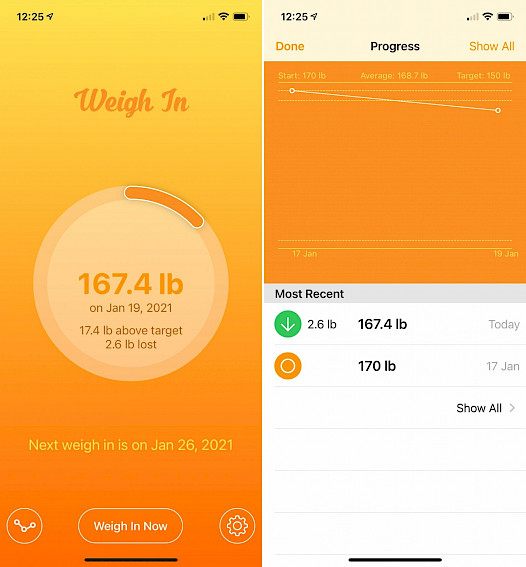 Another amazing app for weight tracking, this app allows you to add your weight daily or weekly and get an idea of the weight fluctuations. This makes it easy to review the data and then share it with your physician too.
Here are a few prominent features of this app:
See your last weigh in and the progress you have made when you open the app
View the weight log in the form of a graph or a chronological list
Allow notifications and set up follow reminders and configure the time and sound for the same
Add weight for previous dates as well
Show your weight information from other apps using the import and export features
You might also like