Well, it is no secret that you can take a screenshot on your Mac but what if you need to copy text from an image? Or even from a video for that matter? Well, this is where the new Mac app named TextSnipper comes to your rescue by easily capturing a text from your Mac screen.
So, you can now grab text from bitmap images or videos with the help of TextSniper.
This app will not just recognize your text and parse through it but will also do this immediately. And you can identify text in Zoom meetings, photographs, screencasts, PDFs, e-books, video, and a lot more content too. The co-founder of the TextSnipper app, Andrejs Boguckis, says that the speed of the app along with its accuracy and ease of use is just amazing and most users agree with this assessment.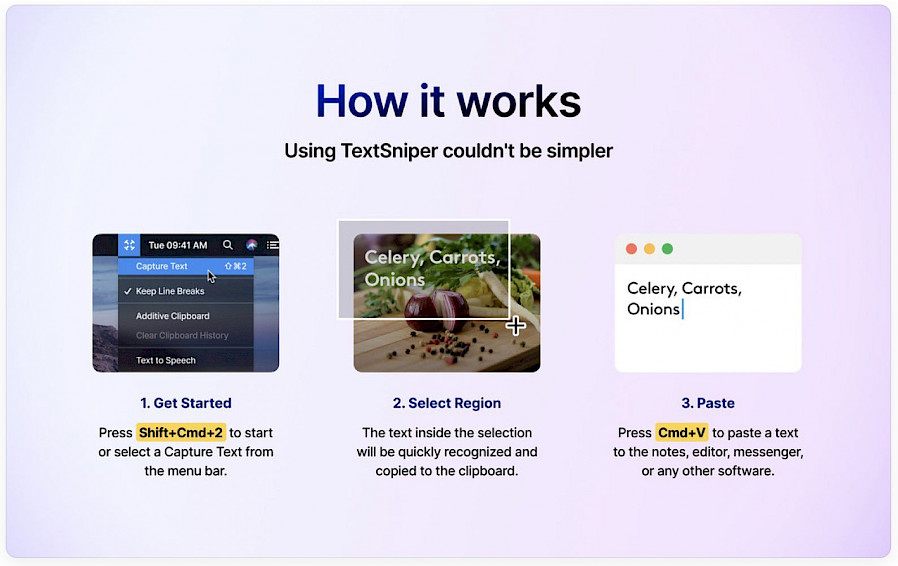 This app is accessible through the menu bar and can even be accessed through customized keyboard shortcuts. Basically, it is a helpful and efficient OCR app that will instantly grab any text that is displayed on your Mac's screen with proper line breaks and paragraphs. All you need to do is click on the TextSnipper app button or hit the right keyboard combination to convert any screenshot of a text to an editable text. This text is then copied to your clipboard so that you can paste it into other apps and use it.
On the macOS Big Sur, this app supports not only extracting the text in English but also in other languages such as Chinese, French, Italian, German, Portuguese, and so on. Moreover, if you end up using the app with non-supported languages then it will still try to understand and recognize the text and will be able to identify the common words that can be found in other languages.
An important point to note is that if you are using TextSnipper on macOS Catalina, then it will only recognize the English language.
Before the release of the TextSnipper app, users would need to install dedicated software for OCR (optical character recognition) to identify and grab the text from documents and images. The process would be quite lengthy and complex at times. But with the help of TextSnipper, this process has become easier and simple now.
TextSnipper app is supported on macOS Catalina, Apple Silicon M1 Macs, Big Sur, and so on. It costs $6 and there is no in-app purchase for an additional feature or any third-party advertisements. If you wish to enjoy this app free of cost, then you can get it through Setapp which is a subscription service for Mac apps.
You can download TextSnipper directly from the official website or from the Mac App Store. If you end up purchasing the app from the official website, then don't forget to use the Black Friday discount 'BLACK' that will get you 25% off the total app value.
You might also like