Most of you might already be aware of the cicuta_verosa exploit kernel that was recently released for iOS and iPadOS 14.0 – 14.3 by ModernPwner. Well, it was expected that once this exploit was released, jailbreaks would use it for support.
Unc0ver by Pwn20wnd was the first to add support for this tool but last we heard, CoolStar was also planning to use the cicuta_verosa kernel exploit directly on his iOS 14.0 – 14.3 jailbreak tool. He referred to this iOS and iPadOS 14.0 – 14.3 – supported jailbreak as Odyssey14 in the Discord channel because Odyssey was the name of the previous jailbreak that was released for iOS and iPadOS 13 devices. They haven't decided the official name for it but all this finally changed on Monday.
The new jailbreak tool by CoolStar will be known as Taurine and has a similar interface to Odyssey except for the background and the fonts. You will find a list of options in this new tool such as jailbreak themes, settings, rootFS storing, and so on. There is also a separate button for jailbreaking the device that will show whether the device is already pwned or not.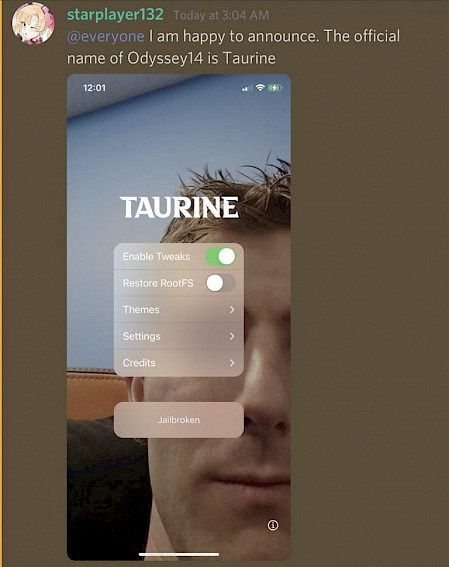 Taurine has been designed to support devices on iOS and iPadOS 14.0 – 14.3 and can jailbreak even the latest model on the iPhone 12 lineup as long as the firmware is supported.
Although this new jailbreak tool isn't available to the general public yet, an early build has been shared with testers to try it out before it is released to the public. As a result, when the jailbreak will be finally released to the public, it would offer a more stabled experience to the end users and not a buggy release that would need a lot of updates to fix the issues.
We don't have any official ETA for the release of Taurine jailbreak tool but since it is already in the beta phase, it is safe to say that it is likely to release soon so we won't have to wait for long. As promised, we will continue to monitor the situation for the release and will let you know once we hear something concrete.
Till then, let us know what are your plans for the upcoming Taurine jailbreak tool for your iOS and iPadOS 14.0 – 14.3 device or if you have already used unc0ver or checkra1n jailbreak?
You might also like