We all know that opening your browser on your iOS device is quite easy and straightforward. You can simply start the Safari app to begin web browsing or you can ask Siri to perform the web searchers for you. However, if you find that these methods take too much of your time and effort, then there is another solution for you. This solution will allow you to stay on your current app interface and removes the need to close your current app to open the browser app.
Introducing Megane which is a newly released jailbreak tweak for iOS devices. This is a free jailbreak tweak that was developed by sugi.uta. So, what this tweak basically does is that it brings a floating web search interface from your iOS device by simply gesturing to it.
Users can use all kinds of gestures such as using the volume up and down buttons, mute switch, etc. to call for the interface of Megane. You can choose to press twice the volume down button or alternate between the volume down and volume up button, anything will work. Furthermore, if this option doesn't suit you, then you can always use the Activator to summon Megane.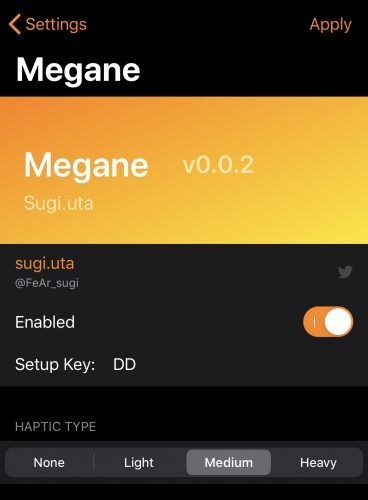 Once you have asked for the Megane app, you will see that a floating web browser will appear on your screen. And the best part is that you can get this browser interface on your lock screen, home screen, and when you are using a different app as well. This web browser interface offers you all the basic controls of a browser such as a refresh button, minimize button, back and forward button, and even a close button. Also, you can enter your desired URL manually and can even perform Google searches to find the websites.
After installing Megane, you will find the preference settings option to configure the tweak for your convenience. Here is a list of things that you can do to configure:
You can toggle Megane on/off whenever you need

Setup a key for summoning Megane: D stands for Volume down button, U stands for Volume up button and M stands for the mute switch

Next, select the haptic feedback type: None, Light, Medium, and Heavy

Now, just apply the settings to save your changes.
On the other hand, if you are going to be using the Activator to call for the Megane interface then install the Activator app and launch it. Here, you can set up your desired gesture for summoning Megane instead of using the preference pane.
Although, this tweak is not that useful as it is not hard to switch from an app to a Safari app and then back. But if you like the fact that you have a floating web browser that can be called anywhere from the iOS regardless of whether your handset is locked or not, then you might want to consider downloading and using this tweak.
If you are interested in downloading this tweak for free, then download it from the Twickd repository using the favorite package manager. Megane tweak is currently supported by 13 jailbroken iOS devices and you don't need to install Activator.
So, what do you think about Megane? Did you like it or not? Let us know in the comments!
You might also like