Stremio is a feature-rich addons based application allowing you to watch movies, TV shows, live sports, and live television. We prepared for you a list of must-have add-ons that you should use for 2020. Learn how to install extensions repository from our step-by-step guide.
I think that Stremio is one of the best apps to download movies on Desktop. The software is easy to use and allows us to download stremio add-ons directly from the interface. Access the official add-ons offering support for YouTube video, downloading subtitles, and play local files.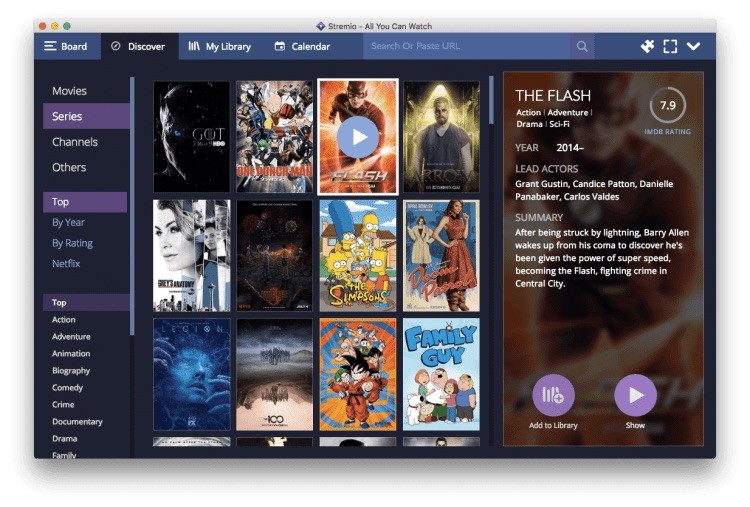 Stremio repository
Stremio is packed with the Repositories of Official and Community Add-ons. In Stremio official repository you can find extensions to watch movie and series from catalogs, play YouTube videos, stream video from Netflix, and other UK/US services, download subtitles, or play local movies.
The Stremio community repository comes with more useful addons like support for torrent files, monetize videos with Steem blockchain, stream Twich.tv, access Popcorn Time content, and more.
How to install addons

Step 1. Click on the icon displayed in the right corner.
Step 2. Navigate to Community Addons or Official Add-ons.
Step 3. Click the green button to Install addon.
Step 4. A small popup will appear asking you to confirm Install.
Step 5. When you click the install button the Addon will be installed.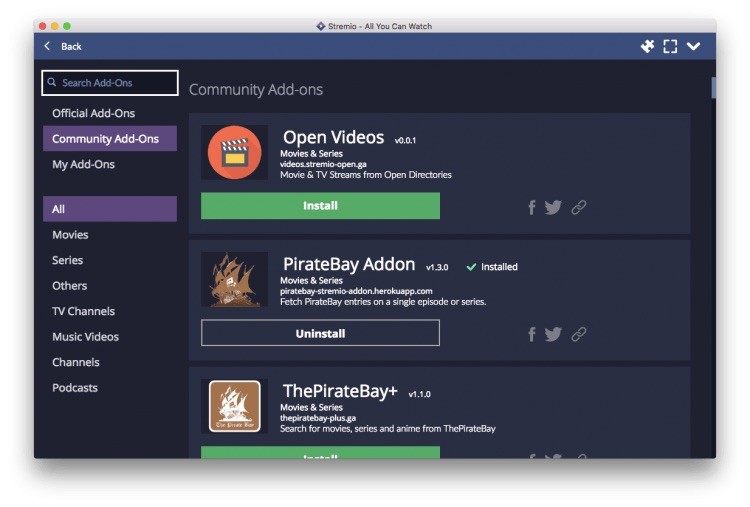 Best Stremio Add-ons
1. YouTube addon:
Watch your favorite YouTube channels ad-free and get notified when they upload new videos. This add-on offers more Channels in Discover and Watch Channels.
2. OpenSubtitles addon:
Install the official add-on to download subtitles from OpenSubtitles for TV series and movies. Thousands of translated subtitles uploaded every day.
3. Zooqle addon:
Play movies and series indexed by Zooqle from RARBG, KAT, YTS, MegaTorrents and other torrent trackers. Access new movies with this add-on.
4. Juan Carlos 2 addon:
Allows Stremio to stream videos directly from torrents collected from all over the web. This is a free add-on for Stremio.
5. Downloader addon:
Stremio addon that allows downloading movies and series available at Stremio.
6. Popcorn Time addon:
This add-on offers access to series and movies available via YTS and EZTV in Stremio.
7. Ex addon:
Sample addon providing a few public domain movies.
8. RAR addon:
Watch content from RARBG in Stremio.
9. PirateBay Addon:
Fetch PirateBay entries on a single episode or series.
10. IBERIAN addon:
Películas & Series en Español.
11. Netflix addon:
Watch Netflix movies and series from the official streaming platform.
12. Mixer addon:
Watch live streams from Mixer.com in Stremio.
13. WatchHub addon (built-in):
Stream your favorite movies, series, and shows from providers like iTunes, Hulu, Amazon, and other UK/US services.
14. Cinemeta addon (built-in):
This is the official add-on to play movies and series form the catalog.
15. Local files addon (built-in):
Addon allows you to play local video files including .torrent, MP4, MKV, AVI, etc.
16. TorrentFreak addon:
Show catalog of TorrentFreak's Weekly Top 10 Movies.
17. Books addon:
This add-on gives ebook / audio book price results from various APIs and also has Free Sample audios (that play in Stremio) for some of the audiobooks.
18. Ratings+ addon:
Display the list of movies by ratings from 1 to 10.
19. IMVDb Music Video addon:
Watch 83.000+ music videos form IMVDb platform on Stremio.
20. Dice addon:
Roll a dice a get random movie or TV series to watch from Stremio catalog.
21. PirateBay+ addon:
Search for movies, series, and anime from ThePirateBay.
22. CDN Videos addon:
Search for movies, series, and anime from various CDN providers.
23. OpenVideos addon:
Play movie and TV Streams from Open Directories.
24. Black Books addon:
Access free eBooks from Open Directories.
25. Podcast For All addon:
Join Thousands of daily listeners! Stream the best HQ Podcasts. Over 1.000.000 Podcasts and 44.000.000 Episodes, all genres and languages.
26. Radios addon:
Play over 93.000 radio stations from SHOUTcast.
27. Skyline Webcams addon:
Watch more than 640 webcams from 57 countries around the globe
28. Video Games addon:
Game trailer, gameplay videos, and prices.
29. Anime Kitsu addon:
Unofficial Kitsu.io anime catalog addon.
30. Public Domain Foreign Movies addon:
Free Foreign Movies that are either in the Public Domain or have been made Free to Watch.
You might also like