What are the best apps to stream torrent movies? If you are searching for desktop software to watch online TV-Shows and movies you are probably thinking about Popcorn Time. There are few other applications allowing you to watch torrent files before the download is complete.
Best apps to stream movies from torrents
Stream movies from .torrent files on Windows, Linux, Mac, and iOS devices. We provide for you a list of the best applications to watch movies for free no matter if you are using your computer or mobile device screen. Download movies, stream videos, or cast films to TV with free apps.
1. Popcorn Time SE
Popcorn Time SE is a free application designed to stream torrented movies and the latest episodes of popular TV series. The program is aggregating links to torrent files with video. Download PopcornTime SE for Windows, Linux, and Mac. Cast videos to devices like Chromecast and Apple TV.
In the main window, you have access to movies and TV-series bookmarks. There is displayed a list of all available items represented by nice-looking graphics. From this level, we can quickly see the film review on IMBD and add an item to a list of favorites. Videos are streamed from BitTorrent.
2. Leonflix
Leonflix is a free search tool for movies and TV shows. It scrapes video hosting websites and can find and return the videos hosted on those sites. Every time a video changes hands, from the host to the Putlocker-esque site that shows it, more ads are added. Leonflix supports also .torrent files.
By the time it gets to the viewer, the content has been "stepped on" so many times that it is nearly unwatchable. Leonflix's novelty is that it extracts only the desired content that these sites provide, giving it an "acetone wash" that filters out all the adware and pop-ups.
3. Stremio
Stremio is a free app to stream movies, TV shows, series, live television from your desktop. Discover, organize and watch video from all kinds of sources on any device. There are also add-ons for Torrent streaming, YouTube, Netflix, and Twitch.tv support. Discover new films, TV shows, and channels.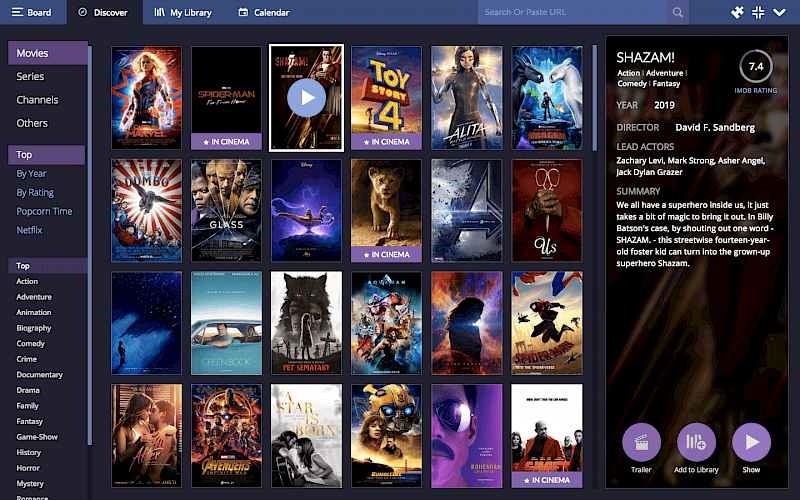 Feature highlights from Stremio include an option to continue watching movies, series or videos at a point where you left, get notified of new episodes, browse through the recommendations you will get based on your viewing habits. Stremio offers also an option to rent films.
4. Zona
Zona is a free platform to stream torrrent movies, TV Shows, broadcast TV channels in real-time, play music from social network VK, listen to online radio streams, and even watch live sports events. Download torrents with Zona and watch them before the download is complete.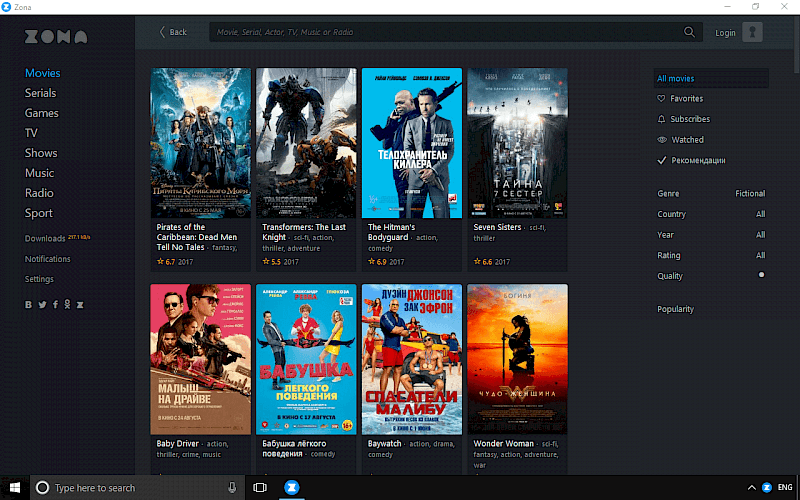 Zona can stream or download movies, switch audio languages, offers support for subtitles and an option to send videos to DLNA supported devices. You can easily navigate through categories, search for serials, movies, music, games, etc. You can choose quality, size, audio, and subtitles.
5. DuckieTV
DuckieTV is a software that helps you to not miss the next episodes of favorite TV-Shows. Download new episodes with subtitles automaticity. DuckieTV gives you an integrated torrent search to help you get to the right download. Use popular torrent providers to search for new episodes.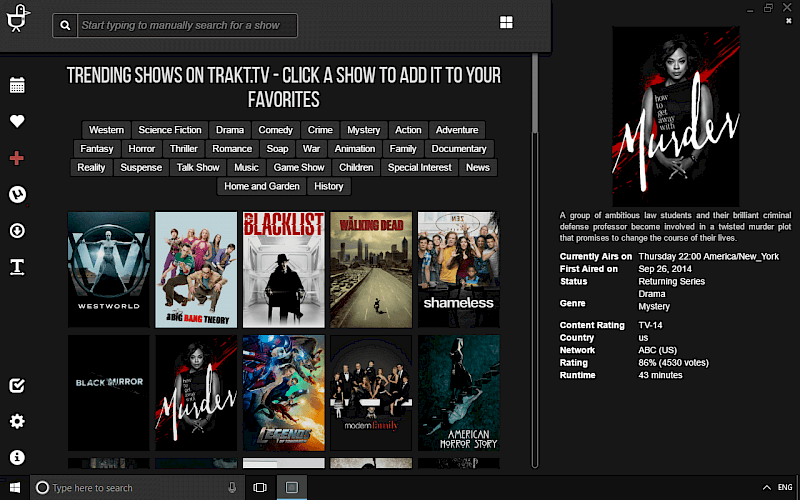 DuckieTV can also download subtitles for episodes. From the settings, you can choose which subtitle languages you want to search for. DuckieTV is using the most popular torrent providers to search for new episodes. There is an option to make a copy of series, episodes and watched list.
6. TeaTV
TeaTV software allows you to stream and download movies and TV shows in 1080p HD quality for free. Tea TV offers the fastest, easiest way to find and discover movies, actors, and shows. Download the newest version of TeaTV for Windows, Mac, and Android devices.
TeaTV features option to watch trailers, read reviews and get shows seasons details, including the latest information on upcoming movie releases. You can use the software also to track the movies you own, the movies you wish you had, the movies you saw and the movies you want to watch.
7. WebTorrent Desktop
WebTorrent Desktop is a video and audio player allowing you to stream torrented movies directly from BitTorrent and WebTorrent networks on to go. There is even a great feature to stream videos to AirPlay (Apple TV), Chromecast, and DLNA compatible devices.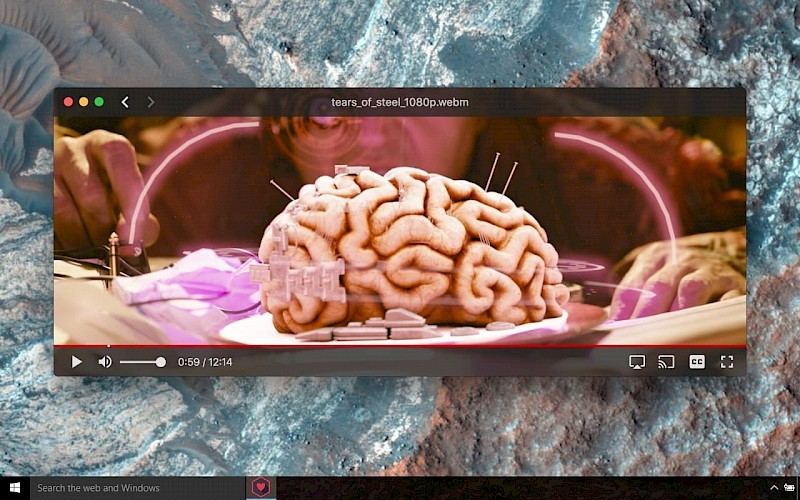 WebTorrent Desktop is an app designed to instantly stream audio and video files. WebTorrent fetches file pieces from the network on-demand for instant playback. There is an option to associate the player with magnet links, torrent files, and create torrent files.
8. Powder Player
Powder Player is a free great application allowing you to stream torrented movies and play videos directly from the BitTorrent network. Stream movies from YouTube and open video format supported by VCL media player. Download Powder Player for Windows, Linux, and Mac.
Powder Player is a combination of a torrent download app and a video player. You can use also the app to download any torrent files as well. There is an option to control the download speed, check the history of viewed files, associate the player with magnet links, torrent files, and media files.
9. Soda Player
Soda Player software can stream torrent movies and play magnet links and .torrent files instantly. Soda Player offers an option to stream BitTorrent video files and watch movies on your Chromecast and Apple TV. Download and watch movies instantly. AceStream links are also supported.
Stream movies to Apple TVs, all Chromecast and all devices compatible like Android TV, modern TVs, etc. The smart TV engine will pass-through the video and/or audio tracks without transcoding when the codec is supported by your device. There is also support for 1080p and up to 4K videos.
---
10. MediaBox HD
MediaBox HD is a free great movie app for iPhone packed with a lot of unique features allowing to stream movies on mobile device or TV. The app supports DLNA receivers and AirPlay (Apple TV). All titles come with trailers, download and play options, and VIP users have access to soundtracks.
Media Box is packed with light and dark theme with an option to manually select the color value. Moreover, you can also integrate the movie database with popular services including Trakt, Real-Debrid, and Premiumize.me. The free version displays advertising through the app.
11. MovieBox
MovieBox is the successor of Showbox that offers a lot of great features including an option to read news related to the movie industry, watch upcoming movie trailers, add TV Shows and movies to favorites, stream movies and TV shows, and follow new releases of movies on iPhone.
Moviebox Pro VIP offers the same features that the free version and adds support for HD (720p), FHD (1080p), 360 videos, higher streaming speeds, no ads, and last but not least native TV versions of the app for Apple TV and Android TV. Also, download videos directly to the device and select subtitles.
12. Popcorn Time iOS
Popcorn Time iOS is one of the best free movie apps for iPhone allowing you to stream torrented movies, and the latest episodes of popular TV series from your mobile screen. The player aggregates links to torrent files with video. Access movies and TV series bookmarks from the main page.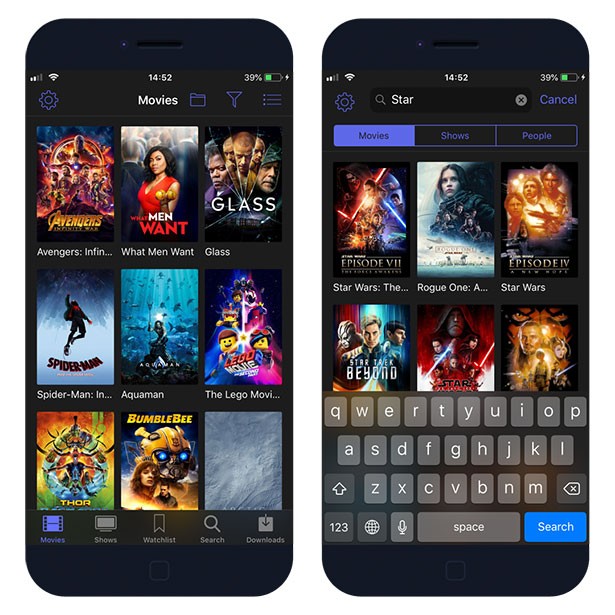 PopcornTime's built-in video player offers an option to auto-select the quality of the video from 720p to 1080p. There is also an option to provide manually a magnet link to BitTorrent movie. If you own an AppleTV you will be happy to know that the app supports streaming to AirPlay and Bluetooth devices.
13. ToonsNow
ToonsNow is a free Showbox app alternative with a catalog of cartoons, anime movies and TV series featuring a total of over 13500+ videos and raising. This is a perfect app to watch movies on iPhone with support for playing MP4 or MOV files, as well as VLC player for MKV, AVI file formats for AirPlay.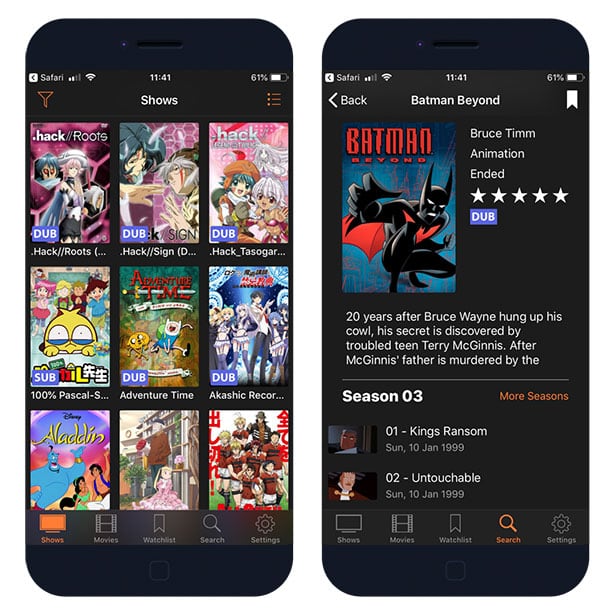 Moreover, ToonsNow offers CDN Support and direct links playback for premium member-only. Paid version works on multiple devices up to 3 devices per membership, and you can request favorite Cartoons, Anime or Animated Movies and it will be added to the Database with priority.
14. ZiniTevi
ZiniTevi is a great movie app offering access to your favorited videos and TV shows on iOS for free. The app offers full support for AirPlay allowing you to cast videos directly to any device connected to Apple TV. You can also cast videos to DLNA devices, or Google Chromecast.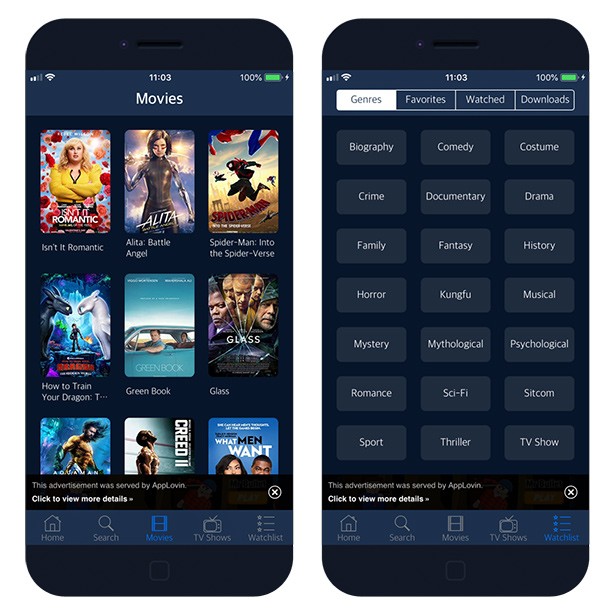 ZiniTevi database offers access to thousands of movies and TV-Shows in 720p and 1080p quality with cast support. Navigate through all the latest releases of movies available in theaters for free. The app supports iOS 8, iOS 9, iOS 10, iOS 11, iOS 12 and the newest version iOS 13.
15. iPlayTV
iPlayTV is a free platform where users can watch live TV on an iPhone screen. Installing it on the iOS device you will have access to almost 60 Live TV channels (with movies) available in the USA at your fingertips. The app can be installed on any iOS device without Jailbreak or providing Apple ID.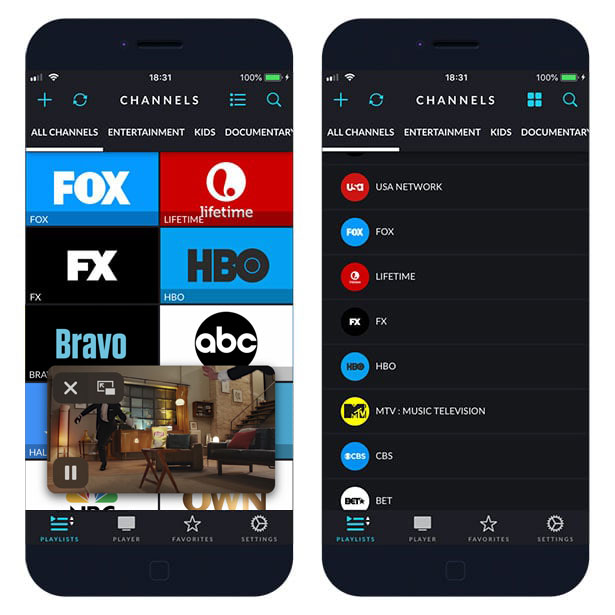 Add iPlayTV channels to favorites, search for channels, navigate through categories like entertainment, kids, Latino, sports, live events, documentary and more. iPlayTV will support in next version also Apple TV so you can stream the channel to your TV connected to Apple TV.
16. Channels App
Channels App allows you to watch live sports events for free on an iPhone. Stream UEFA Champions League, NFL, UFC, Premier League, NBA games and more. Access sports channels including Sky Sport, BT Sport, PAC 12, and Lifestyle channels like BBC News, FOX 5, ABC, and Sky News.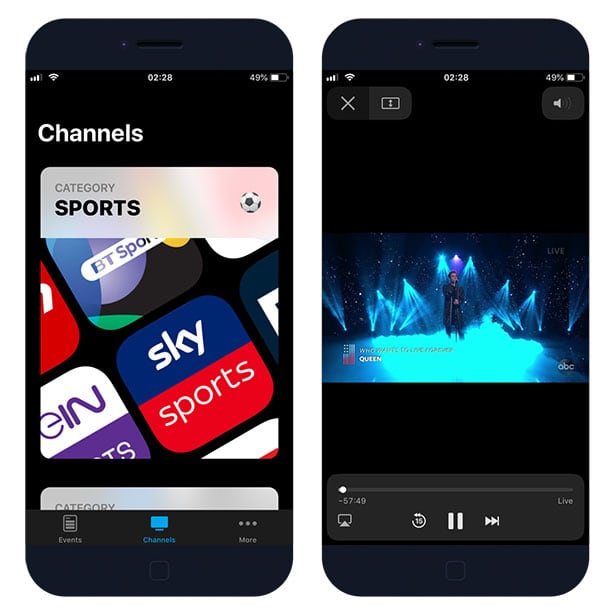 Channels App was originally developed to stream all popular sport events on your iPhone screen. The application can also cast the video to AppleTV allowing you to watch the game on the big TV screen. Moreover, you can also watch the newest releases of movies in HD quality for free.
17. Box Loca
Box Loca for iOS is a free app to watch the most popular movies and TV shows on your mobile device screen. It was published in the AppStore as a free tool to track your favorite TV shows and movies, discover upcoming films in theatres, read news about production, etc.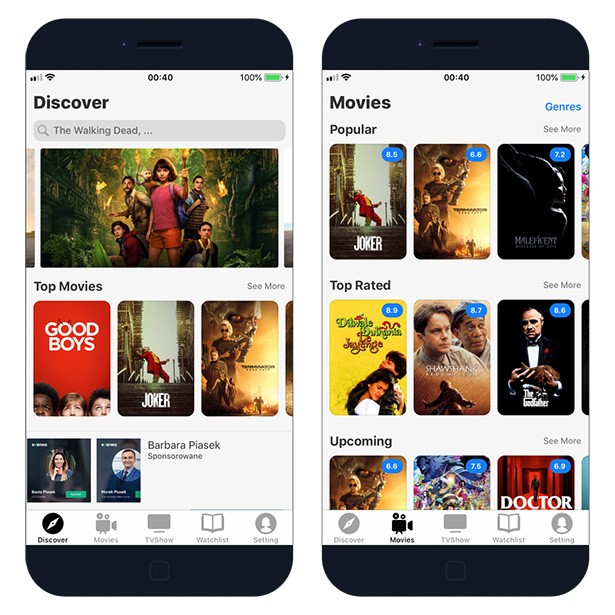 After you will click on the movie poster a list of all available streaming files will be displayed. Select film to watch by file size, or video quality. The platform aggregates videos in 360p, 480p, 720, 1080p resolution. The quality of video in full HD is amazing. Ther is no option to download video files.
---
18. CotoMovies (discontinued)
CotoMovies is a continuation of Bobby Movie, a free mobile streaming app for iOS 12 - 11. Use the app to download or stream video directly to your iPhone or TV. Moreover, the iOS app offers support for Chromecast, Airplay, Smart TV, Android TV Box, Web Browser, and Game Consoles.
Turn any iPhone into a small portable streaming movie device. Stream content from the app to Digital TV or TVs with HDMI Ports, AirPlay lets you stream video or mirror app screen from iOS devices to Apple TV, and Smart TV with Web Browser, or create web streaming server.
19. Showbox (discontinued)
Showbox app was a free application allowing users to watch movies directly from an iPhone or computer. The app was available for iOS devices and it could run without jailbreak, Android system, and Desktop computers. Showbox app was rebranded into MovieBox that is still online.
Showbox app offered a catalog of popular and trending videos with a feature to search for selected TV-Show or movie, add favorites videos to bookmarks, read movie descriptions, select quality of the video to watch, access trailers, and more. The app supported iOS 7, iOS 8, iOS 9, iOS 10, and iOS 11.
You might also like