Stream torrented movies and TV-Shows
kuba - Wednesday, 7 March 2018
If you are looking for software to watch online TV-Shows and movies you are probably thinking about Popcorn Time application. There are few other options allowing you to watch torrent files before download is complete. Stream torrent movies with free apps.
Stream torrented movies
DuckieTV - TV Show calendar with torrent search engine
You can stream torrented movies with DuckieTV. The software helps you to not miss the next episodes of favorite TV-Shows. You can download new episodes with subtitles automaticity. DuckieTV gives you an integrated torrent search to help you get to the right download.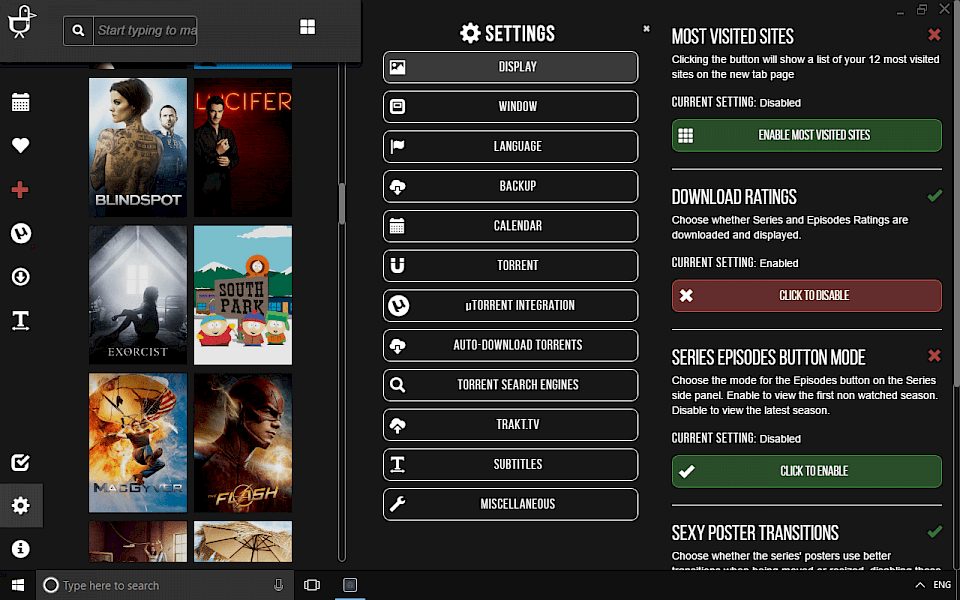 Using DuckieTV the user can easily add TV-Shows to favorites, set option for automatic download new episodes, find the torrent file and subtitles for selected video, display series details, mark an episode as downloaded and watched, check in the calendar when new episodes will air, search for series, sort video by genre and more.
Stremio - watch videos, movies, TV series and TV channels
Stremio is a free app to watch TV shows, movies, live television from your desktop. You can discover, organize and watch video from all kind of sources on any device. There is also an add-on for Torrent streaming, YouTube, Netflix, and Twitch.tv support.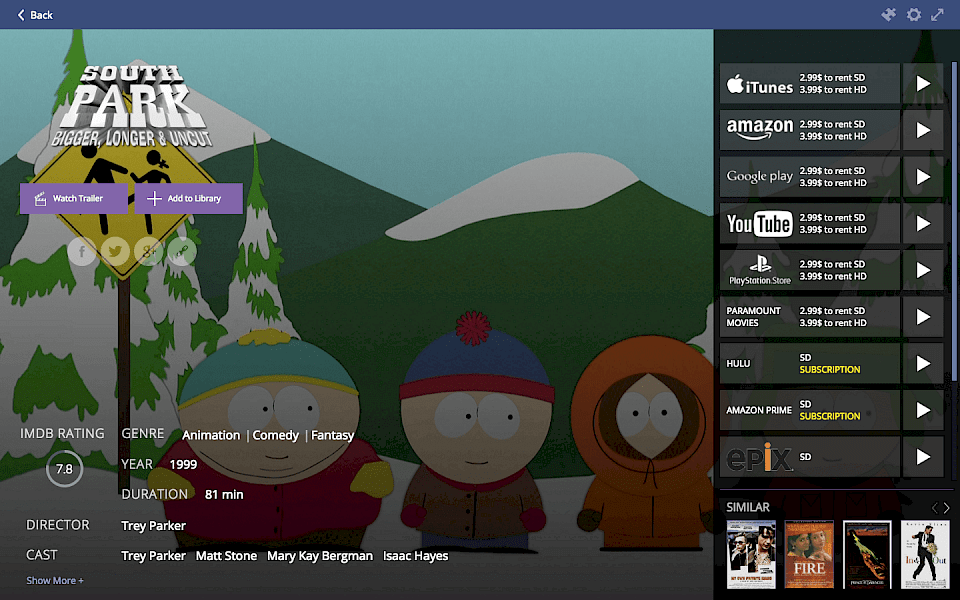 Feature highlights from Stremio include an option to see what movies, series or videos you didn't finish and continue watching them, get notified for new episodes and releases, browse through the recommendations you will get based on your viewing habits.
You can discover new movies, TV shows, series and channels to watch and browse by category, genre, rating, recency, etc. or simply type a name to find.
Zona - stream movies, TV Shows, live sport events
Zona is a free platform to watch movies, TV Shows, broadcast TV channels in real-time, play music from social network VK, listen to online Radio streams, and even watch live sports events. Stream torrented movies with Zona and watch them before the download is complete.
Zona can stream or download movies, switch audio languages, offers support for subtitles and an option to send videos to DLNA supported devices. You can easily navigate through categories, search for serials, movies, music, games, etc. Zona can also follow your favorites shows and notify you when new episodes will air. You can choose quality, size, audio, and subtitles.

Popcorn Time - watch movies and TV Shows from BitTorrent
Popcorn Time is a free Windows, Linux, and Mac OS application designed to stream, download and watch movies, and the latest episodes of popular TV series. The program is aggregating links to torrent files with video. In the main win, ow you have access to movies and TV series bookmarks. There is displayed a list of all available items represented by nice-looking graphics. From this level, we can quickly see the film evaluation on IMBD and add an item to the list of favorites for later see.

TeaTV - stream torrented movies on Windows
With TeaTV software you can watch and download movies and TV shows in 1080p HD quality for free. TeaTV offers the fastest, easiest way to find and discover movies, actors, and shows. You can download TeaTV for Windows, Mac, and Android devices.
TeaTV features option to watch trailers, read reviews and get shows seasons details, including the latest information on upcoming movie releases. You can use the software also to track the movies you own, the movies you wish you had, the movies you saw and the movies you want to watch. You can add any position to favorites.