Any iPhone, iPad, or iPod user will know that banner notification are a crucial component of their handset. The operating systems help you stay in the loop whenever you miss an app's notifications by displaying the banner so that you know what is going on. But similar to several other aesthetic drawbacks in Apple devices, there is no way to customize the look of the banner notifications using Apple's native features.
This is why banner notifications are so popular among jailbreakers, and there are so many tweaks centered on it. One such jailbreak tweak that was released recently is Starscape that is developed by iOS developer bedtime. This banner-centric tweak can be installed on jailbroken handsets to give your banner notification a new, bold look so that it looks impressive in both Dark and Light mode. Starscape can be used for a bolder appearance of the notification banners, including a squarer interface and a distinct drop shadow to grab the interest of the users.
If you have the Dark Mode enabled on your device, then Starscape will make your banner notification appear dark gray in color. On the other hand, if you have Light Mode enabled, then the Starscape tweak will make the banner notification appear white in color but with a similar design.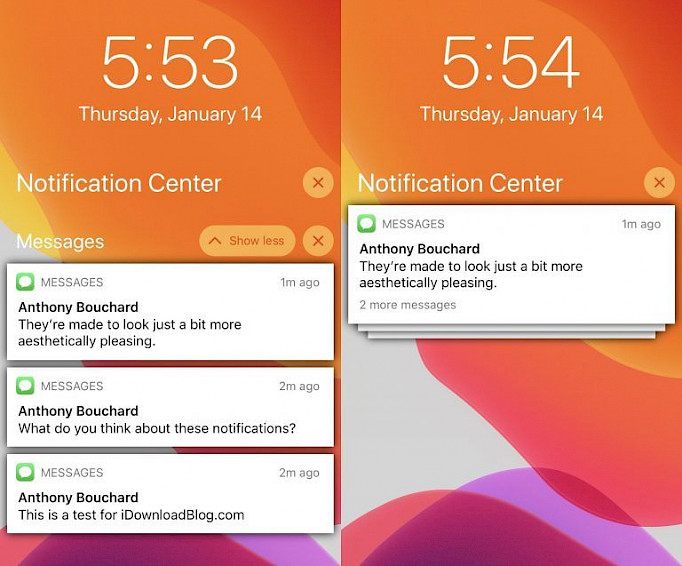 You will notice that the new aesthetics of the banner notification have a polarizing look on the iOS and iPadOS native banner notification appearance. However, you will find that it is easier to read text with the help of the new banners in comparison to the native banners, which is likely due to the stark color contrast. The only drawback of using Starscape is that it doesn't come with any configuration options, so you only get what you see.
But if you would still like to try our Starscape, then you can easily download it for free from bedtime's repository using any package manager. This tweak is currently supported on the jailbroken iOS 13 devices only. In case you don't use bedtime's repository, then you can add the repository to your package manager using the following link:
If you don't like how Starscape looks and feels, then don't worry. There are will several good and configurable tweaks for customizing the banner notifications that are likely to get released in the future.
What do you think of Starscape's capability to transform the iOS' banner notification appearance? Do let us know your thoughts in the comment section below!
You might also like