iPhone or iPad users who tend to lend their devices to others often find that they are left at the mercy of the users and don't know what they would be doing on their handset. And it is no secret that most of our personal life is stored on these devices which can often lead you to worry when you are lending your device, even for a few seconds because you have no idea what the person will end up going through your personal messages, photos, and so on.
If you are also worried about this when lending your device to a friend or family member, then a jailbreak tweak named Spy 2 by iOS developer Elias could be what you are looking for. This jailbreak tweak allows the device's owner to enable a Spy mode that will track the activity of the temporary user and does a lot more.
Spy 2 is the second version of this jailbreak tweak and it comes with new features and offers support for iOS 14 too. You can turn on or off the Spy mode by different methods including the Status Bar swipe gesture, Control Center toggle button, and so on. Once you install this jailbreak tweak, you will be able to access a dedicated preference pane in the Settings app that can be used by users to configure the tweak.
From the primary preference pane, you will be able to go to the following configuration sections: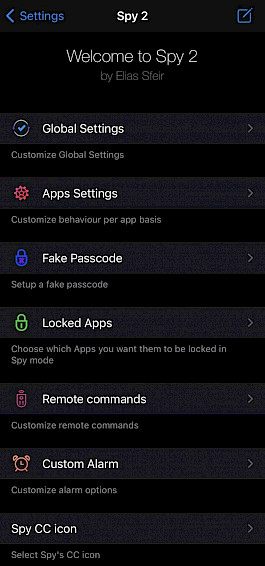 Global Settings – You can turn on or off the Spy mode, lock the Control Center Spy mode toggle button with Face ID or passcode, start screen recording when Spy Mode is turned on and ends screen recording when Spy Mode is turned off, Use screenshots with timestamps instead of screen recording, and specify time interval for snapshots.
App Settings - Select the apps to be disabled when Spy Mode is activated, enter an alert when someone uses a disabled app, disable the alert, automatically lock the device when a disabled app is launched, and disable notifications from specific apps in Spy Mode.
Locked Apps – Lock all the apps in Spy Mode and select specific apps to lock when the device is in Spy Mode.
Fake Passcode – Turn on or off the Fake Passcode feature and select the fake password for the borrower.
Remote Commands – Enable or disable the remote commands, enter a keyword to trigger the command, force the device to lock when the remote command is received, force a screenshot when the remote command is received, force the alarm to play when a remote command is received, force a screen recording when a remote command is received, and select a custom alarm sound.
Spy CC Icon – Configure the Control Center's Spy Mode toggle button's aesthetics including the Spy original icon, alarm icon, and calculator icon.
Custom Alarm – Select the sound for the alarm and how long it will be played for.
If you want to try out Spy 2, then you can purchase it for $1.99 from the Packix repository using your favorite package manager. For users owning the previous version of Spy, Spy 2 is available at a 25% discount. This jailbreak tweak supports iOS 13 and 14 devices.
You might also like