Spectrogram tweak - new iPhone volume buttons purpose
kuba - Tuesday, 6 August 2019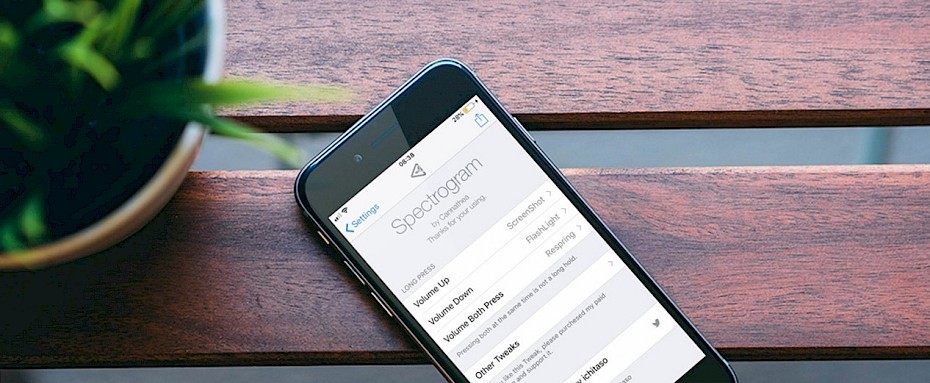 When you will jailbreak your iOS device you will benefit from a lot of useful features not provided by Apple. One of them is a free Spectrogram tweak with an option to change the purpose of iPhone volume buttons. Download the package from the official Cydia Repository.
Spectrogram jailbreak tweak allows you to use volume buttons in a totally different way. Change what will happen on long-press of Volume Up, Volume Down, and Volume Both Press buttons. Configure all available options from Settings app. Every button can be connected with different feature.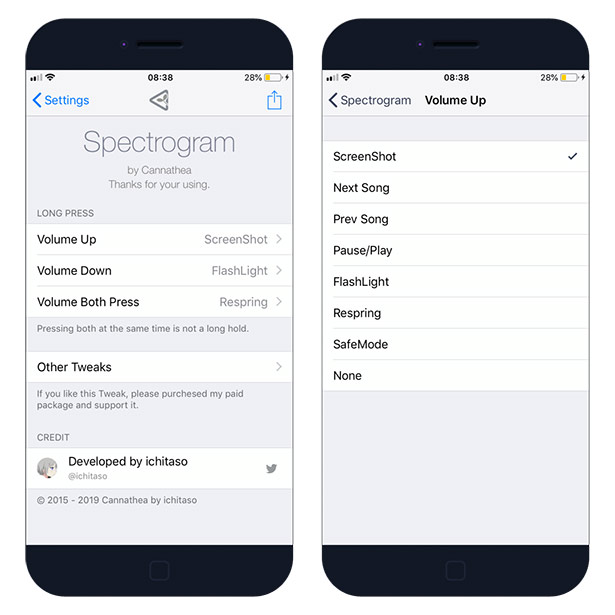 Spectrogram can disable the button, activate safe mode, respring the device, turn on and off the flashlight, and manage music (play next, play/pause, play previous). The tweak works with iOS 11 and iOS 12 (A12/arm64e) and depends on mobilesubstrate, preferenceloader libraries.
How to install Spectrogram
You are just a few steps from installing the tweak from Cydia Sources. To add Spectrogram Repository to your list of Cydia Sources follow our step-by-step guide.
Step 1. Open the Cydia app on your device.
Step 2. Tap Sources → Edit → Add the official repo ichitaso's Repository.
Step 3. Switch to Search Tab and enter Spectrogram.
Step 4. Tap the Install button.
Step 5. Configure the tweak from Settings → Spectrogram.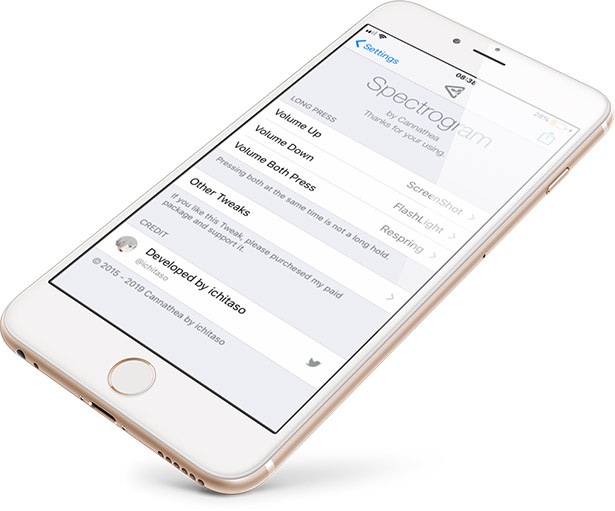 Changelog
Version 0.0.8
Add: Screen Recording features.
Version 0.0.7
Fixed conflicts with Activator and Flipswitch.
Version 0.0.6
Snooze with the volume button when the alarm or timer sounds.
Version 0.0.4
AddRespring and SafeMode features
Corrects an issue in which screenshots cannot be taken by default
Version 0.0.3
Add: Flashlight On/Off features
Version 0.0.2
Version 0.0.1