SnowBoard a lightweight spiritual successor to the legendary Winterboard theming engine. It works with iOS 7 - iOS 13 and up and supports formats from all other popular theming engines. SnowBoard is a jailbreaking essential tool available for free. Add the official SnowBoard Repo to Cydia.
What is SnowBoard tweak?
SnowBoard the jailbreak iOS tweak is a powerful theming engine allowing you to change the look of your iOS 13 device. The tweak was designed to handle all popular theming engines available for your iPhone. Change notification badge, dock labels, home screen icons, hide label dots, and more.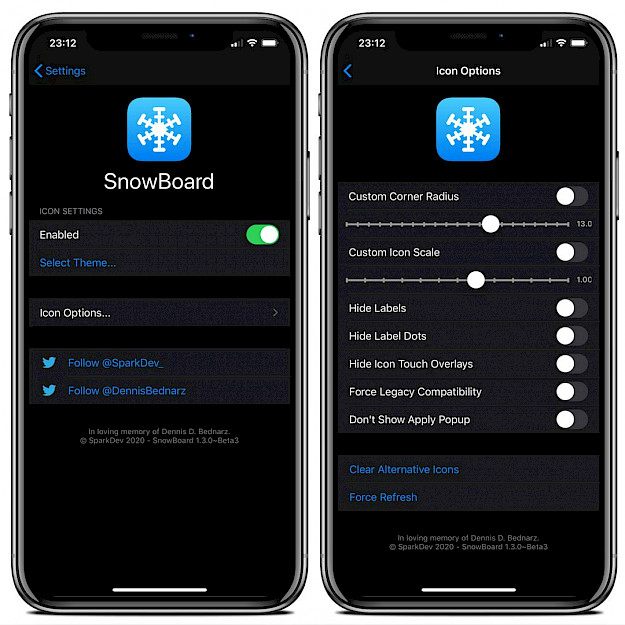 After installing SnowBoard theming engine from SparkDev Repository a new preference pane will be added to the Settings app. From there you can easily enable the tweak, the select theme for your iPhone, manage downloaded extensions, and configure Icon settings. Also, checkra1n jailbreak is compatible.
If you enter icons into "wiggle mode" and double-tap one you can swap out icons with alternative icons, other icons, and photos. Also, this function allows you to access the preset menu if you have it installed. Additionally, SnowBoard tweak supports also extensions for Dots, Status Bar, Dock, etc.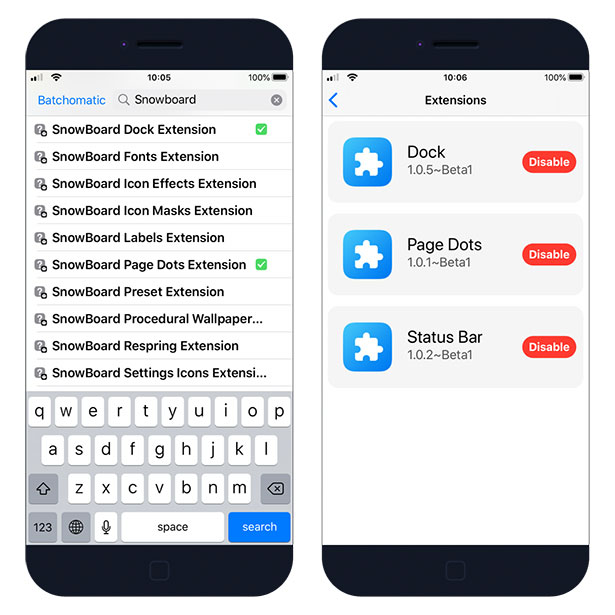 Supported iOS themes can be download from Cydia repositories. There are hundreds of motives to choose from including free and paid ones. Moreover, SnowBoard tweak provides options to customize icon corner radius, change icon scale, clear alternative icons, force refresh, and legacy compatibility.
SnowBoard Repo
You are just a few steps from installing the iOS theming engine from Cydia Sources. To add SnowBoard Repo to your list of Cydia Sources follow our step-by-step guide.

Step 1. Open Cydia on your iPhone.
Step 2. Tap Sources → Edit → Add the URL SnowBoard Repo.
Step 3. Switch to Search Tab and enter SnowBoard.
Step 4. Tap the Install button.
Step 5. Go to Settings → SnowBoard to configure the app.
SnowBoard Extensions
If you enjoy using SnowBoard tweak you will be happy to know that in the official repository you can find also useful extensions adding more customization to the iOS system. The developer provides SnowBoard extensions for Dock, Fonts, Icon Effects, Icon Masks, Presets, StatusBar, Dots, Settings for Icon, Procedural Wallpapers, Respring icon extension for the tweak, and more.
Changelog
Version 1.2.74 Beta1
Update exclude list for alt icon picker
Add English localisations for new preset extension update
Minor bug fix
Major performance improvements
Version 1.2.66
Fix named folder icons (iOS 13)
Fix label height for scaled icons
Fix folder grid image issues
Improve animations with icon scaling
Tap and hold sub-theme for more information in theme selector
Performance improvements
Version 1.2.37
Various bug fixes and improvements
Fixed FolderGridImageAlpha
Added support for named folder backgrounds (Requires respring)
Theme selector UI improvements, including the ability to group/ungroup themes
Improved extension UI
Added some further utilities for extensions to make use of in the future
Hide Icon Touch overlays toggle added to Icon Options
Fix some issues with widget icon theming
Partially tested iOS 13 support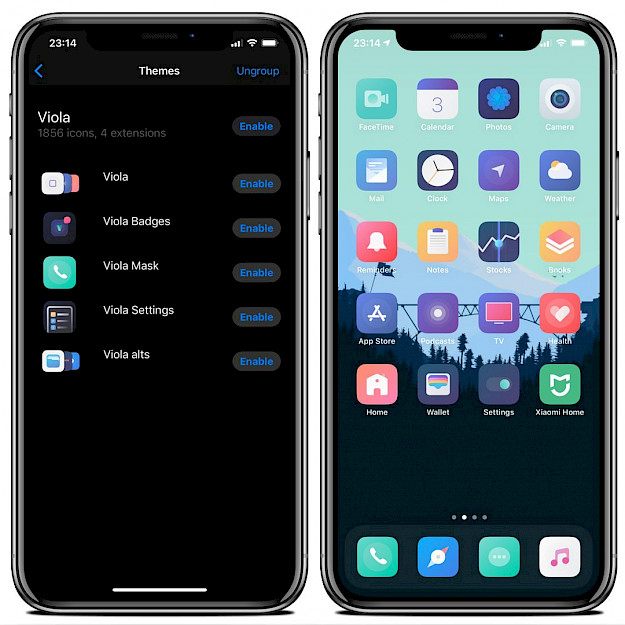 Best SnowBoard Themes
To have more control over the icon layout on the home screen install a beautifully designed free jailbreak tweak HomePlus. Hide icon labels and badges, change vertical and horizontal padding, define new offset, etc. Alternatively, you can also try tweaks like Cuboid or Boxy.
1. Viola Theme
Viola is a modern theme for your iOS device offering over 1300 icons for all popular apps. The skin is packed with amazing icons, and it offers three extensions that can be activated additionally. If you like this theme there is also available an Android version. Price: $1.99 USD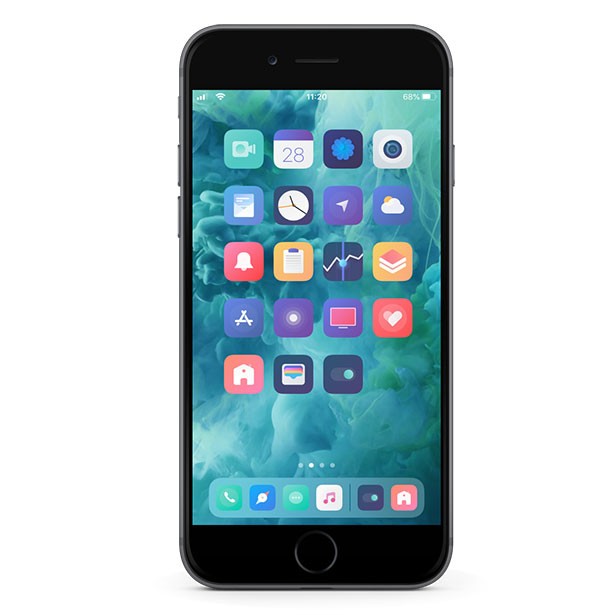 2. Muze 4 Theme
Muze 4 is a premium theme with over 700 redesigned icons. Muze is a clean & sleek icon theme that completely redefines your iOS experience. Using a wide range of stunning colors and gradients, Muze strips away the detail to leave you with a design you'll easily fall in love with. Price: $2.49.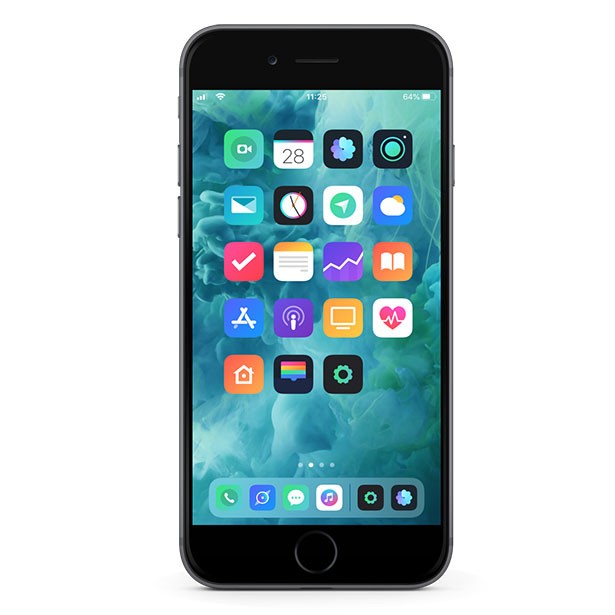 3. Ace El Cap Theme
Ace El Cap is a free theme that brings the OS X El Capitan to your iPhone with wonderful design, over 250+ re-designed icon, Ace boot logo, New preferences icons and supporting iOS 9. The theme is available in default Cydia repositories. This SnowBoard theme works also on iOS 13.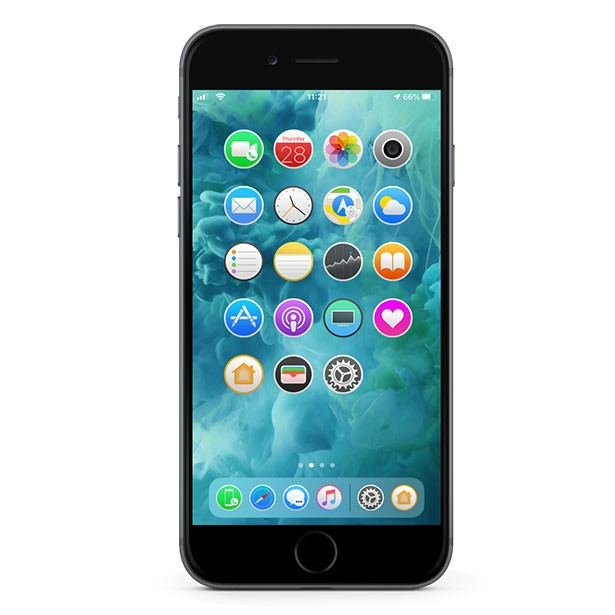 4. Folds Theme
Folds is the next theme for iOS using SnowBoard as the theming engine. It offers 461 vibrant glyphs, 15 alt. glyphs, and one wallpaper that you can access from Settings → Wallpaper. Price: $2.99.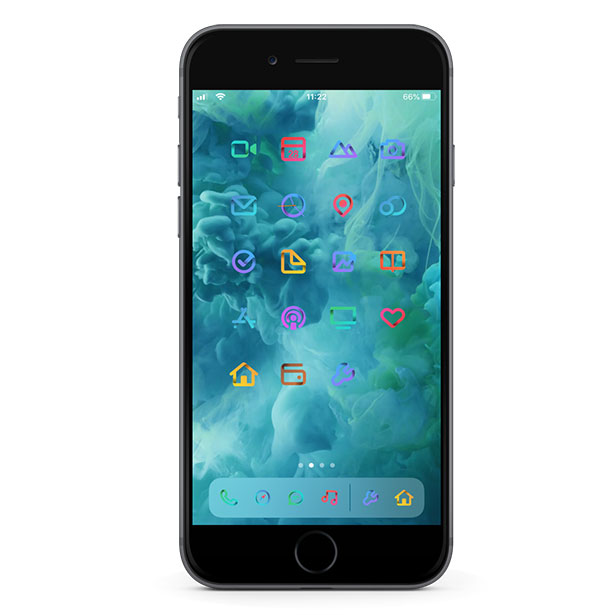 5. Viola Dark Theme
Viola Dark is a modern theme for your iPhone, iPod, iPad offering over 1400 icons. The skin is packed with amazing icons, and it offers nine extensions that can be activated additionally from SnowBoard Settings. If you like this theme there is also available an Android version. Price: $1.99 USD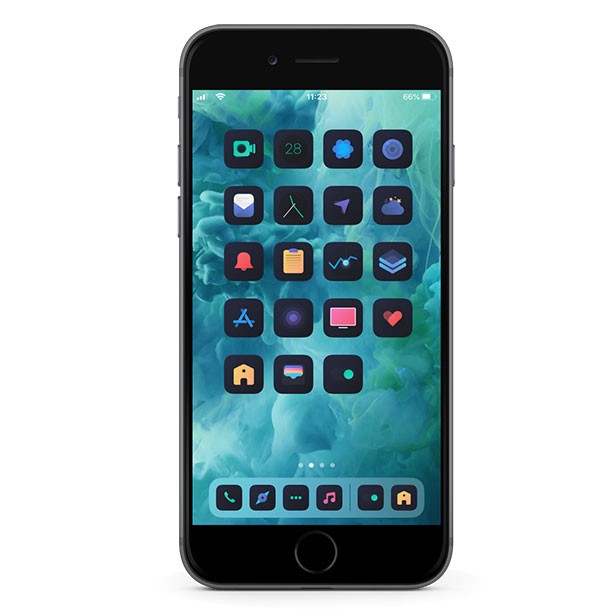 6. Daeva Theme
Daeva is an excellent example of how to create good looking themes on an iPhone. The package offers over 290 system icons and it also includes its own fonts, icon mask, and it's recommended also to disable icon labels using the theme. Daeva works great on all iOS supported by SnowBoard.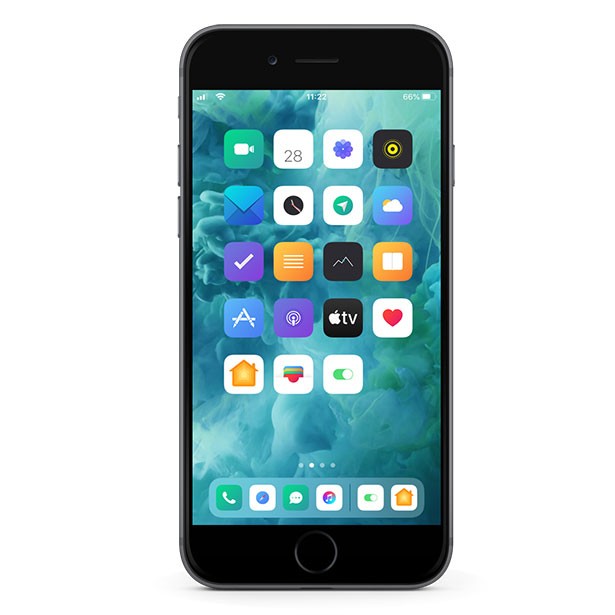 7. iOSamsung Theme
iOSamsung is a pack of Samsung Experience 9.0 icons for iOS devices. This package offers only some basic system icons that can be applied with SnowBoard teaming engine on iPhone, iPod, and iPad. This is a good place to start if you like to transform Apple device into Android.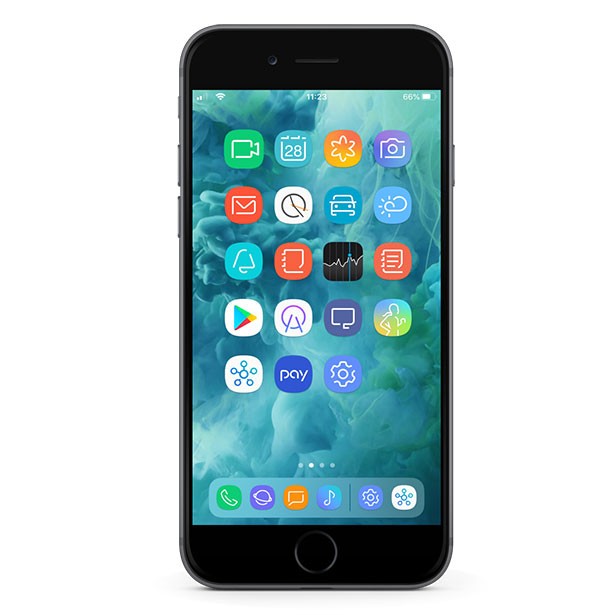 8. Marque Theme
Marque contains over 540 icons for your SnowBoard theme engine. This modern theme for iOS offers an alternative icon pack for popular apps and three styles of badges to choose from. Every option can be activated from the Settings pane for this theme. There is also available Marque 2.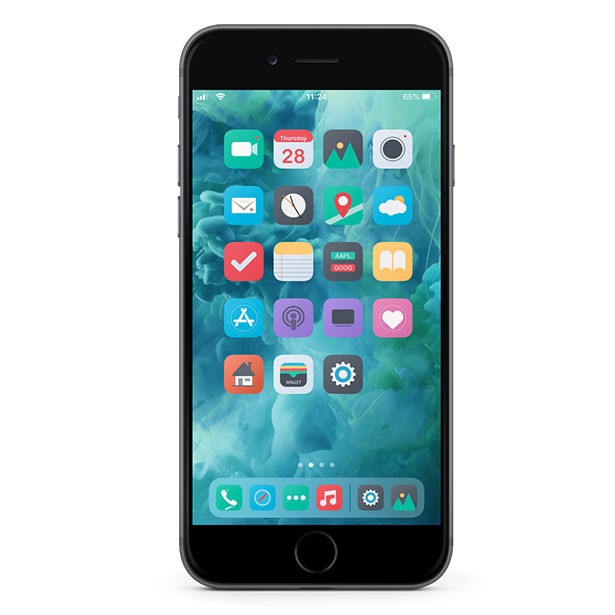 9. Oreo Theme
Oreo theme for SnowBoar tweak offers over 299 icons new icons for your device allowing you to completely change the look and feel of your iOS system. Every icon was designed on a white canvas background, and for the best effect, it's recommended to use dark wallpaper.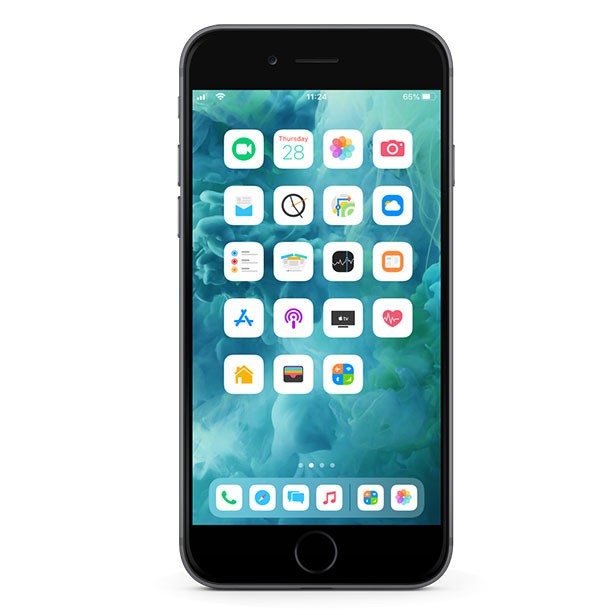 10. Flux Theme
Flux for SnowBoard is a high-quality vector-based icon set for iOS devices. It offers over 247 unique icons. From settings, you can also additionally activate alternative icons, badges, respring, and settings style. Designed with pixel-perfect precision makes the theme perfect to add new style to your device.
11. Catalina Theme
Catania is a unique design of over 330 icons for system and third-party apps for your Apple device. The theme is compatible with SnowBoard and you can use it on iOS 7 - iOS 13. The round icons make your system look more like an Android clone. If you looking for this kind of look you will be happy.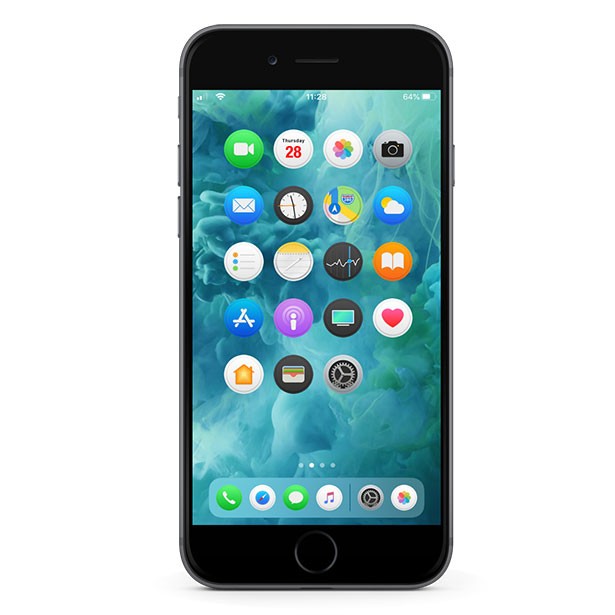 12. Gateau Theme
Geteau for SnowBoard is a complete set of 350+ Icons, 50+ Alternate Icons, 2 Badges, Dock, Animated Respring Logo, Settings Icons, Status Bar, UI Elements (Media Player, Message Bubbles, Safari UI, etc.), with Seven Wallpapers for iOS. Price: $2.50 from. Compatible with all devices, iOS 7.0-13.2.2.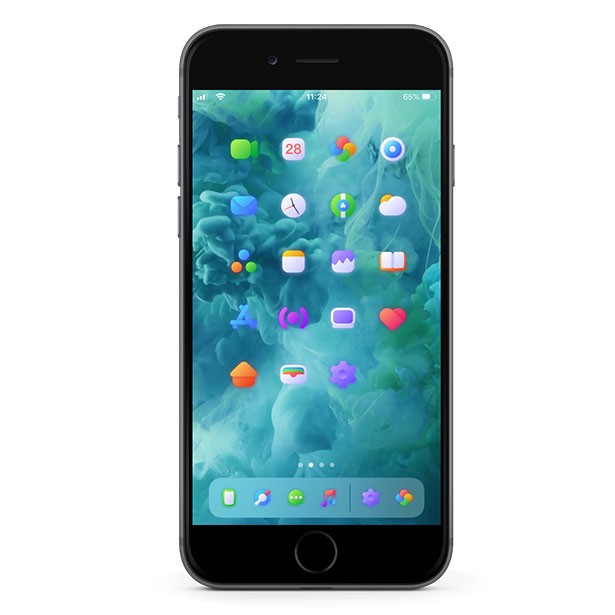 13. Zanilla9 Theme
Zanilla9 is a colorful icon theme with over 250 icons that reimagines the iOS experience while staying true to its roots. Indulge in a world of vibrant colors and subtle shadows that will leave you craving for more. Compatible with all retina iPhones, iPod Touches, and iPads running iOS 9+.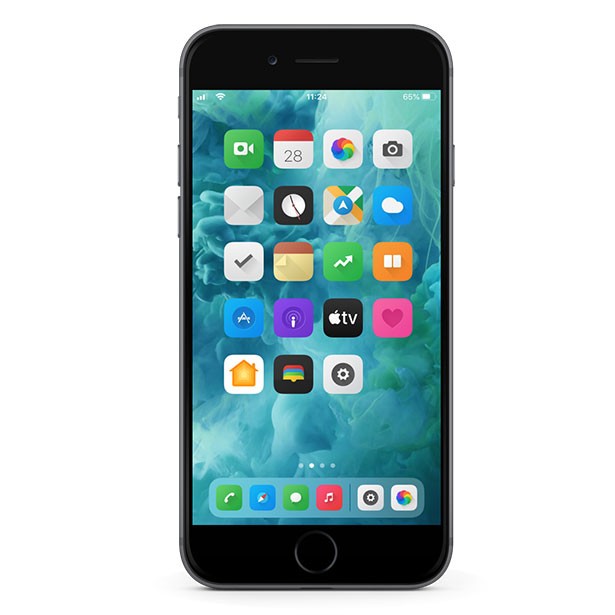 14. Fenix Theme
Fenix is a modern and clean iOS theme that replaces the default icons with a wonderful color palette and awesome gradients with icons to look flat and clean. The SnowBoar theme features 420+ icons, 25+ alt icons, icon mask, and includes awesome wallpapers.
15. Liaca Theme
Liaca is a modern, colorful, and carefully design SnowBoard theme containing over 500 icons for apps, new badges, over 50 alternative icons, and preference themes. The theme supports iOS 7.0 - 13.4. Liaca package comes with over 20 beautiful wallpapers making the icons look great.
You might also like