SnowBoard iOS 12 theming engine
kuba - Thursday, 7 March 2019
SnowBoard a lightweight spiritual successor to the legendary Winterboard theming engine. It works with iOS 7 - iOS 12.1.2 and up and supports formats from all other popular theming engines. SnowBoard is a jailbreaking essential tool available for free.
SnowBoard the jailbreak iOS tweak is a powerful theming engine allowing you to change the look of your iOS 12 device. The tweak was designed to handle all popular theming engines available for your iPhone. Change notification badge, dock labels, home screen icons, hide label dots and more.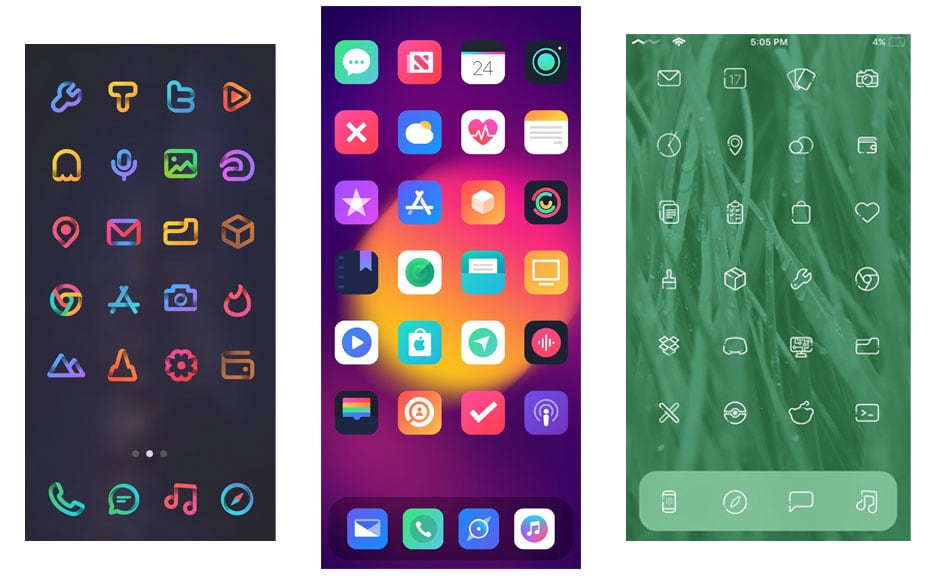 Navigate to Settings → SnowBoard to enable the app, select iPhone themes, and hide labels, label dots, change icon scale or corner radius. Supported themes can be download from Cydia default repositories. There are hundreds of motives to chose from.
How to install SnowBoard
You are just a few steps from installing the tweak from Cydia Sources. To add SnowBoard Repository to your list of Cydia Sources follow our step-by-step guide.
Step 1. Open Cydia on your iPhone.
Step 2. Tap Sources → Edit → Add the URL https://www.sparkdev.me/
Step 3. Switch to Search Tab and enter SnowBoard.
Step 4. Tap the Install button.
Step 5. Go to Settings → SnowBoard to configure the app.
Best SnowBoard Themes
1. Muze 4 is a premium theme with over 700 redesigned icons. Muze is a clean & sleek icon theme that completely redefines your iOS experience. Using a wide range of stunning colors and gradients, Muze strips away the detail to leave you with a design you'll easily fall in love with. Price: $2.49.
2. Ace El Cap is a free theme that brings the OS X El Capitan to your iPhone with wonderful design, over 250+ re-designed icon, Ace boot logo, New preferences icons and supporting iOS 9. The theme is available in default Cydia repositories.
3. Lotos is a free iOS gradient theme that burst vibrantly yet subtle with its colors. The icon design is simple and will definitely change the look of your iPhone home screen. The theme is compatible with SnowBoard app and you can access it from Cydia sources.
4. Veexillum is a premium theme with nearly 1000 icons and many UI elements. Veexillum requires IconBundles, and it's compatible with all iPhones, iPod, and iPads running on iOS 7, 8, 9, 10, 11, and 12.
5. Mint 3 is a premium theme for iOS adding flat design elements. It offers 290 icons, 50 alt. icons, 2 status bar themes, a respring logo, dock theme, Icon shadow, and 1 wallpaper. Price: $3.00.
6. Folds is the next theme for iOS using SnowBoard as the theming engine. It offers 461 vibrant glyphs, 15 alt. glyphs, and one wallpaper that you can access from Settings → Wallpaper. Price: $2.99.
7. ZoopPro is this package contains 3 themes: ZOOP, ZOOP Glyphs, and ZOOP Dark. Access 270+ main icons (in each theme), alternative icons, 3 badge themes, 2 wallpapers, one respring logo, 2 Icon masks, and 2 Icon shadows. Price: $3.49.
8. Linear 2 comes with vibrant colors and 275+ white glyph icons, 275+ colored glyph icons, a status bar theme, and a dock theme. This is the glyph version of the theme Linear 2. Price: $3.00.
9. Kempii is a free theme designed using color palette combined with a few long shadows and a bit of gradient. The theme contains 344 icons in the initial release and 3 docks (won't work on plus devices).