Christmas is one of the most magical times in the year and as this wonderful day draws closer, families have started preparing for this festive season in an attempt to forget what a miserable year we have had to endure. There will be Christmas tree shopping, decorations, caroling, and a lot more.
And if you are one of those users who are excited about celebrating Christmas, then don't stop at just the household decorations and baking this year. Make your iPhone and iPad festive too. You can do this by putting festive wallpaper and downloading the newly released jailbreak tweak named Snoverlay 2. Developed by iOS developer Ryan Nair, this jailbreak tweak will make snowflakes rain over the top of your handset's interface in the form of an animation.
If you are new to the jailbreak community, then let us tell you that this tweak is the second version of the Snoverlay jailbreak tweak that was released in 2017. The original tweak lacked the support for different operating systems and devices but that is not the case with Snoverlay 2. This tweak is actually compatible with all the latest OS and device types.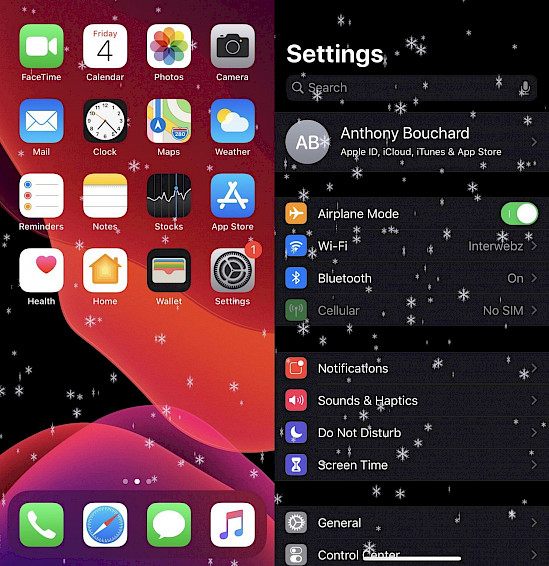 The best part about Snoverlay 2 is that it will not only display the snowflakes over the interface on the Home Screen but will also display it on top of the application interfaces. Of course, you can always choose to not do this as it is an optional setting and might be a little too excessive and distracting for some users. However, you have the option available in case you are in a good, festive mood and would like to be completely immersed in the Christmas spirit this year. Can you imagine the feels when the snowflakes drop on any app interface that you use?
After installing this tweak, you can configure the options for the tweak by going to the dedicated preference pane that is added to your Settings app. In the settings, you will be able to perform the following tasks:
Enable or disable Snoverlay 2 on your device when needed.
Enable Snoverlay 2 for wallpaper only (i.e. Lock Screen and Home Screen only)
Configure the number of snowflakes that will be displayed on your screen interface at a time with the help of the slider.
Enable or disable the snowfall rotation to complement your handset's orientation (horizontal or vertical)
Choose the color of the snowflakes from two options – red and blue.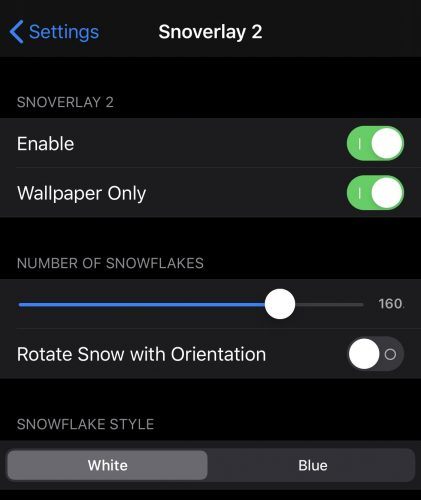 Another good thing about Snoverlay 2 is that it is not heavy on your system resources and is more easily configurable than the previous iteration. If you are interesting in trying out this tweak, then you can download it free from the Packix repository using your favorite package manager. This jailbreak tweak will easily work with all jailbroken iOS 7 to 14 devices. And if you wish to learn more about this tweak, then you can check out its open source from the developer's GitHub page.
Are you going to turn your iPhone and iPad festive too this season? Let us know in the comments!
You might also like