If you use an alarm to wake up in the morning, then we are sure that you know what does snoozing the alarm does. Basically, it helps the users to procrastinate a little in terms of waking up, it gives them time for a short nap before the alarm goes off again. iPhone users also have this function in the alarm app but unfortunately, it doesn't offer as many customization options as the users might want.
Well, we have a newly released and free jailbreak tweak to check out for you by the name of Snooze++ by iOS developer arya1106 that gives the jailbreakers a chance to customize their alarms. With this jailbreak tweak, the jailbreakers can easily optimize the individual alarm's snooze duration by directly using the iOS' native Clock app.
When you install Snooze++ on your jailbroken device, it will add an Edit Snooze button in the alarm composition interface, underneath the time that you would like your alarm to go off at. Once you click on the button, you can configure the snooze settings such as the duration after which the alarm will go off again once it has been snoozed.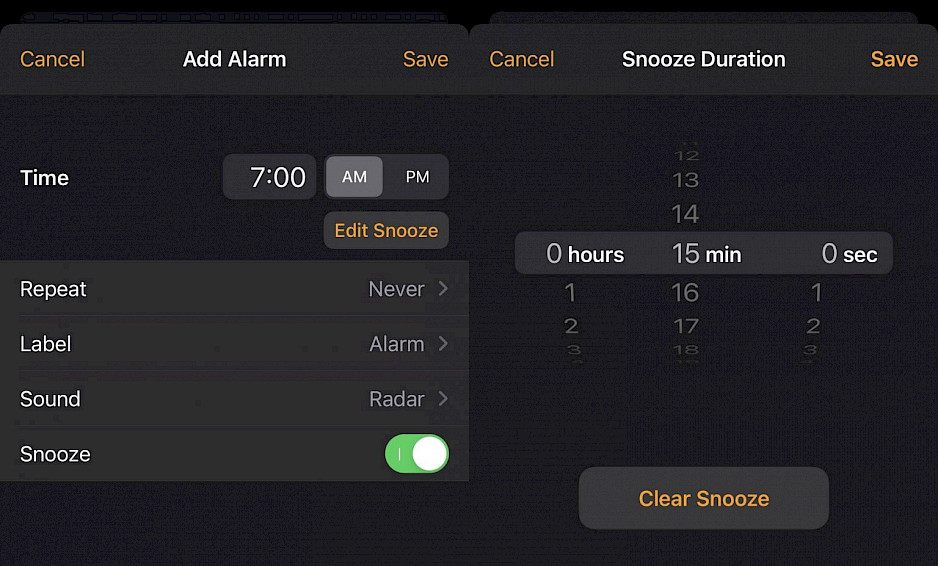 We all know that when you snooze your alarm, the iOS displays a notification banner on your iPhone's Lock Screen about the snoozing of your alarm so that the user has an idea of when the alarm is likely to start blaring off again.
One important thing to remember about Snooze++ is that apart from the additional options that are added to the alarm composition interface in the Clock app, this jailbreak tweak doesn't come with any other configuration options. What we really love about this tweak is that it seamlessly integrates with the native Clock app and we are sure that the jailbreak users are going to love it too.
If you are interested in trying out this new jailbreak tweak, then you can download Snooze++ for free from the developer's personal repository via your favorite package manager. This tweak currently offers support for jailbroken iOS 14 devices. This tweak is also open source and can be accessed through developer's GitHub page if anyone is interested in learning how this tweak works.
For those users who aren't using aarya1106's personal repository right now, they can add this repository to their favorite package manager using this URL:
https://aarya1106.github.io/repo/
What are your plans with Snooze++? Will you be downloading this tweak to customize your alarm or are you happy with the native alarm settings? Let us know in the comment section below!
You might also like