iOS devices pre-installed notification system is quite easy to use and effective at the same time. You get a short vibration or alert tone to notify you about any messages or updates that you won't easily miss. However, a few users find iOS' notification system a little simple and bland and it is just not possible for Apple to please every user by making the alterations to their design.
Thankfully, we have several iOS developers that keep working on a jailbreak tweak that can allow the users to customize the apps to suit their wishes. One such near jailbreak tweak was released by iOS developer Elias Sfeir that allows the users to modify the behavior of the pre-installed notification system. Known as SmartNotifications 2, this tweak is the second version of the SmartNotifications tweak which was earlier released in September of this year. It was quite popular among the users and there are several features that are still available in the second iteration of the tweak. But there are several new features, re-writes, and it supports both iOS 13 and 14 devices.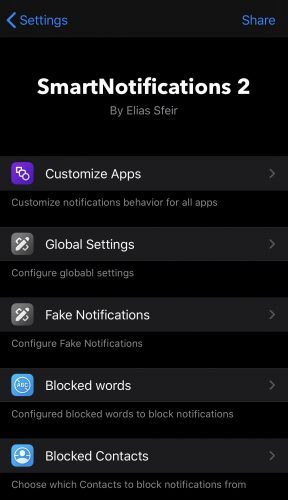 Talking about the features of SmartNotifications 2, it offers the jailbreak users several customization options for a pleasant incoming notification experience. Here are a few things that you can do with this tweak:
Set custom notification sound for your installed apps, there are several sounds provided and you can add more sounds for customized notifications.
Timer setting to block notifications from work, school, etc. when you just wish to relax.
Enable few high-priority notifications to come through your existing blocked notification settings.
A Do Not Disturb mode that works when you are accessing a few certain apps.
Customized volume for the notifications for certain applications so that you don't end up missing it.
Better configuration for LED flash alerts for specific apps or selecting a specific flash pattern.

Once you install this tweak, you will find a preference pane in the Settings app to configure the settings. There are a few settings that you can modify:
Customize notifications for each app
Configure global notifications
Configure fake notifications
Configure blocked words
Configure blocked contacts
Here is a deeper look into each of these settings to help you understand better.
Customize Apps
In this setting, you can click on any app to configure the notification settings for that app. You can perform a range of settings such as enabling custom sound for the notification, choosing the desired custom sound, setting a time frame for the notification, choosing DND mode for the app, adjusting the volume, enabling the LED flash and setting a pattern, enabling the bypass mute state, and so on.
Global Notifications
Here, you will be able to configure the global notification settings of your handset. This includes the ability to clear the notifications by swiping on them, removing the manage option, hiding the sender of a notification, allowing unlimited lines in notification preview, and adding a snooze button to remind you again of a notification.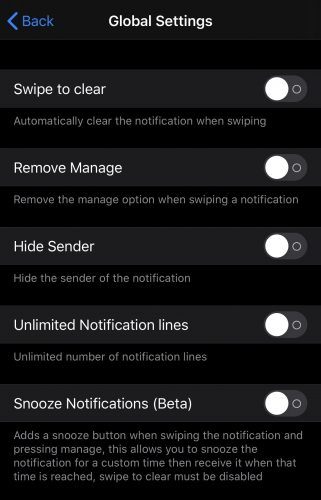 Fake Notifications
With the fake notifications settings, you can configure a fake notification to get triggered when you swipe right on the Status bar. That's not all, you can also enable fake notifications on your handset, choose the apps for fake notifications, choose the contact name for fake notifications, and enter the message that you wish to display.
Blocked Words and Contacts
Another great setting that can be configured with the help of SmartNotifications 2 is the ability to block notifications from a certain word or a certain contact. For example, if you add work as a blocked word, then any notification that contains the word 'Work' will be blocked and won't appear for you.

SmartNotifications 2 offers a lot of amazing options to improve your notification experience on iPhone and iPad. Moreover, you get a chance to ignore unwanted notifications that is not possible in the DND mode.
If you are interested in installing this tweak on your handset, then you can get it for $1.99 from the Packix repository. For users that already have SmartNotifications installed on their handset, the new teak is 50% off and supports jailbroken iOS 12, 13, and 14 devices.
You might also like