One of the top things that most iPhone users are concerned about is their battery consumption. Although Apple claims that their iPhones are equipped with an all-day battery life but that is not the truth, a lot of activities on your iPhone can severely drain the battery. These activities include online gaming, using the device for offering hotspot, using the iPhone in a low-signal environment, and a lot more.
To prevent the iPhone battery getting completely drained, a lot of users even carry external battery packs and extra charging cables so that they always have a power source to recharge their iPhone and keep using it throughout the day. But what if we told you that there is a way to control the battery of your handset so that it powers your handset for a longer period of time?
A newly released jailbreak tweak by iOS developer Elias Sfeir, SmartBattery 2 gives users a range of options to customize the iPad and iPhone battery behavior. So, if you are looking to improve the performance of your handset, extend the battery life, or just be aware of how much battery is left, then this is the perfect tweak for you.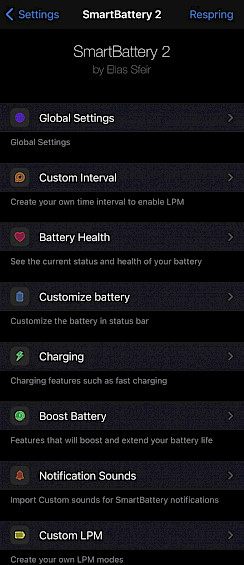 Although the original version of this tweak was released in 2019, this latest version comes with a lot of new and useful features that the original version lacked. This jailbreak tweak can be used to display the menu where you can select between improving the battery life or the performance of the device and you can also glance at the battery charge information including the speed of charging and the ETA for the full charge.
Once you install SmartBattery 2, it will add a dedicated preference pane in the Settings app and will come with an extensive list of options for the user to customize to make the most out of the battery or the performance of the battery.
The preference pane for this jailbreak tweak is loaded with sub-categories such as Global settings, Battery Health, Charging, Custom Interval, Notification Sounds, Boost Battery, Custom LPM, etc. that have their own customization options available.
SmartBattery 2 comes with lots of options where each section provides features for different cases and scenarios. Custom LPM is a great feature as it allows the user to control the behavior in case of a scenario where a specific feature is triggered.
If you are interested in installing SmartBattery 2 on your device, then you can get it from the Packix repository for $1.99. One thing to note about this jailbreak tweak is that you need to have an active Internet connection to access the preference pane since it's a part of the tweak's license verification feature. This tweak supports jailbroken iOS 12, 13, and 14 devices as of now.
What are your thoughts on SmartBattery 2? Will you be giving this feature-packed tweak a try or are you happy with the battery life of your pwned handset? Do let us know in the comments below!
You might also like