SimpleLS2 adds a new look to iPhone lock screen running on iOS 12 - iOS 13. This free jailbreak tweak offers two different styles for the locks screen with options to customize widgets, position of objects, activate always On Display, etc. Download SimpleLS2 from official Cydia Repository for iOS.
What is SimpleLS2 tweak?
SimpleLS 2 provides different styles and widget for iOS lock screen and it also bring Always On Display feature. Activate one of two styles for lock screen, select custom widgets like weather widget, sunrise/sunset, step count, activity ring, or display no widgets on the screen.
Customizable clock view (auto black/white, vibrancy and dynamic mode, change position, etc.), add a and clean Simple Player that works with ColorFlow and Artsy tweaks. Switch between different widget by tapping on the screen, activate steps count widget or wheel activity widget, and more.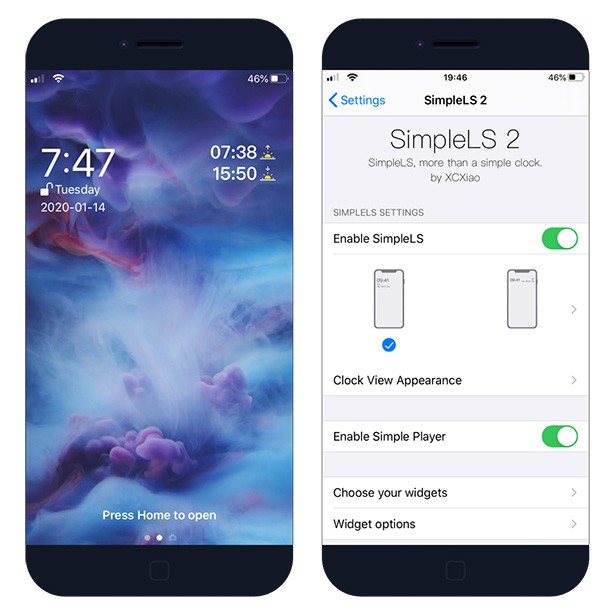 Additionally, works with ShortLook tweak and shows a lockscreen clock for all devices, there are included several methods were used to protect OLED screen, use different styles for Always On Display clock, enable battery information and show simple notification app list.
SimpleLS2 installs its own preference pane available from the Settings app. From here you can enable the tweak, configure clock view appearance including tex color. Switch between auto, vibrancy (using vibrancy effect on text color), and dynamic (change color when changing wallpaper) color.
Moreover, change the date format to 24H, show seconds in the clock, activate lunar calendar, enable OLED on Display, automatically enable OLED on Display Modd when the device is plugged in, lower brightness when the devices runs in Always on Display Mode, and more.
How to install SimpleLS2 tweak
You are just a few steps from installing the tweak from Cydia Sources. To add SimpleLS2 Repository to your list of Cydia Sources follow our step-by-step guide.
Step 1. Open the Cydia app on your device.
Step 2. Tap Sources → Edit → Add the official SimpleLS2 Repo.
Step 3. Switch to Search Tab and enter SimpleLS2.
Step 4. Tap the Install button.
Step 5. The tweak can be configured from Settings → SimpleLS2.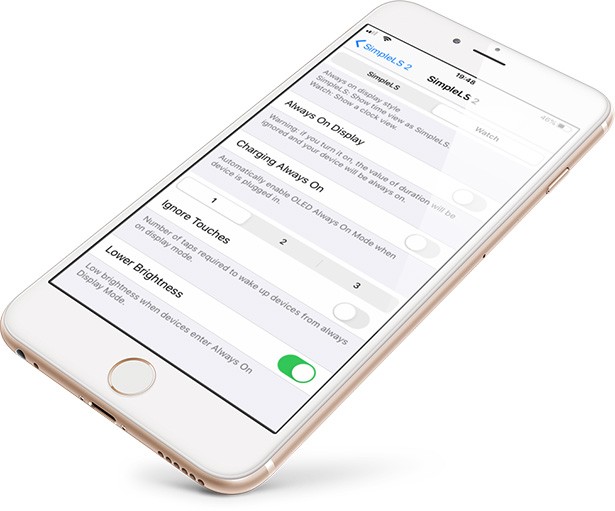 Changelog

Version 1.3.1-2
Fixed some problems with settings pages.
Version 1.3.1-1
Fixed some problems when you select widgets.
Version 1.3.1
Added a feature to select more than one widgets.
Version 1.3.0-pb1
Added support for iOS 13.3.
Added an option for widget cycling.
Added lunar calendar option with Simplified Chinese.
Fixed battery drain when using your devices with Apple Watch.
Fixed a UI problem when using activity ring widget with vibrancy mode.
Fixed the dark mode support in preference page.
New feature: Widget cycling. Enable in preference page, then tap the widget to switch between different widgets.
Version 1.3.0
Fixed some problems with original settings.
Fixed Apple Watch battery drain problem.
Fixed some layout problems about activity ring widget.
Added Widgets cycling option, toggle it on then tap the widget to switch between different one.
Added some options about lock icon position.
Added an option to use default notification, useful when you have other tweaks to change notification center offset.
You might also like