Sileo is an APT Package Manager installed by default with Chimera jailbreak tool. The Cydia alternative offers a modern interface with access to all popular repositories. You can download free and buy paid iOS tweaks and apps. Sileo works with iOS 11-12.2.
What is Sileo?
Sileo is a modern and powerful Package Manager designed for jailbroken devices running iOS 11 and up. It not only looks great but also works fast on supported Apple devices (iPhone, iPad, and iPod Touch). Cydia works but its no longer developed, and Sileo is one of the best available replacement.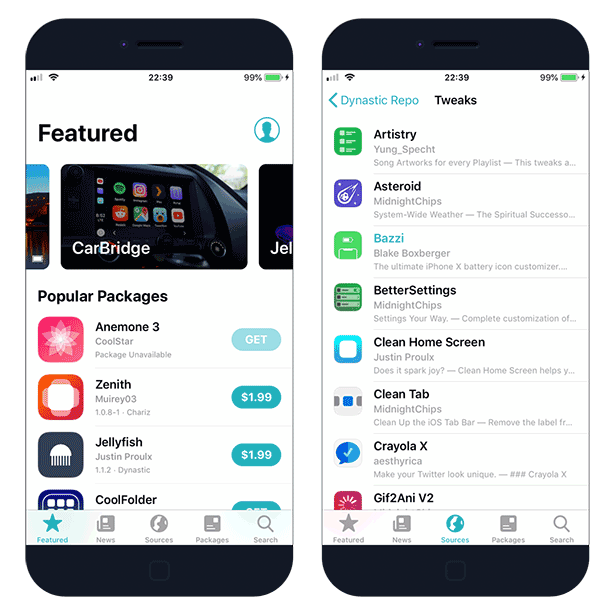 The Package Manager offers all features available in Cydia app in a more beautiful package. Don't miss the best tweaks and apps from Feature Tab, read the newest jailbreak news, add new sources, navigate through repositories, read apps description and check actual screenshots.
Moreover, Sileo allows developers to include changelog for new releases of apps. When you navigate through thousands of tweaks, themes, hacks, etc. you will definitely appreciate the option to add an app to wish list for quick access or display all apps by your favorite Developer.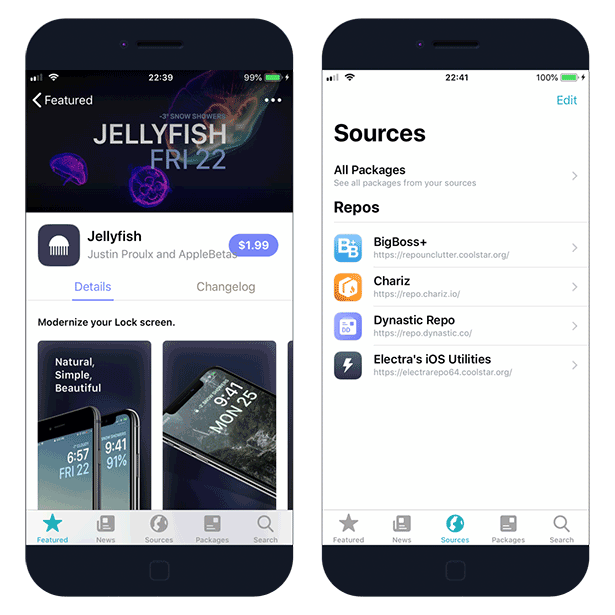 Sileo is installed by default with the Chimera jailbreak tool for iOS 12-12.2. If you are using unc0ver to jailbreak your device you can also side-load the full-featured Electra Package Manager.
Install Sileo on unc0ver jailbreak
Step 1. Add diatrus Sileo unc0ver repo (*no longer developed) to Cydia.
Step 2. Install Sileo for unc0ver and Sileo Compatibility Layer packages.

Step 3. Run your favorite iOS terminal app like NewTerm 2.
Step 4. Enter su and the password alpine.
Step 4. Execute command installsileo to download and install the app.
Step 5. Respring the device.
* if you are interested in running Sile on unc0ver you need to re-jailbreak your device using unc0ver dark. The Diatrus and Shady unc0ver dark edition installs Sileo as its main package manager and downloads Substrate directly from the source.
Install Sileo Preview on iOS 13
Step 1. Download demo version of Sileo.IPA.
Step 2. Install the IPA file using any method (ex. Cydia Impactor, ReProvision, AppSync Unified).
Step 3. Connect your device. Open Cydia Impactor and navigate to Device → Install Package.
Step 5. Select Sileo.IPA file version 1.2.6 to install.
Step 6. Enter your AppleID and app-specific password to sign apps not provided by Apple.
Step 7. Add your certificate to trusted from Settings → General → Device Management.
Step 8. Open Sileo Package Manager from the Home Screen.
Remember that the Sileo IPA package offers only a preview of available features and apps. You can't install apps and tweaks available from the demo version. If you are new to Impactor, we provide a full step-by-step guide on How to use Cydia Impactor to sign IPA files.
You might also like