Most iPhone owners interact with keyboard on a daily basis for sending text messages, browsing the Web, or to take notes occasionally. And although Apple's keyboard offers an extremely smooth experience to the users, there are still ways in the jailbreaking community to make the experience better for you.
One such way is by trying out the newly released, free jailbreak tweak that is known as Shortmoji 2 and was developed by iOS developer MiRO. This is a free all-in-one replacement for several high-profile jailbreak tweaks such as HapticKeys, Barmoji, AnywherePredict, Textyle, HomeBarSizer, and so on. A lot of these tweaks aren't currently working on iOS 14 which is why Shortmoji 2 is such a good option for jailbreakers.
As per the developer and after we tested out the tweak, all the features of Shortmoji 2 work smoothly together and doesn't cause any conflicts as such. In fact, we can go ahead and say that Shortmoji 2 is the Springtomize for the iOS keyboard.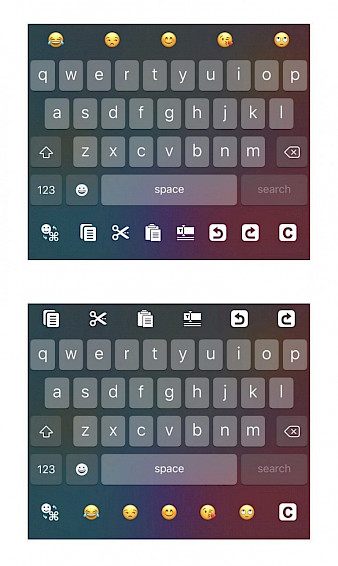 Originally, Shortmoji tweak was released in 2020 but it didn't offer as many options as the Shortmoji 2 has. This is why we are so impressed with this tweak and excited to share it with you. Once you install Shortmoji 2, you get an extensive list of options in the Settings app that can be used to configure the different settings of the keyboard and how it behaves.
With Shortmoji 2, you can configure the custom texts, translation settings, keyboard shortcuts, emojis, dock bar, prediction bar, and a lot more. That's not all, this jailbreak tweak also comes with additional options such as blacklisting the tweak for a few apps, interface theme, and respringing the device to save the changes made.
If you have recently jailbroken your device on iOS 14.0 – 14.3 using the unc0ver jailbreak, then you should install this jailbreak tweak first. It is an amazing tweak that is super-packed with amazing options to improve your keyboard usage experience and saves you a lot of money and space on your device since this tweak is capable of combining the functionality of several different jailbreak tweaks. Basically, you can enjoy this all-in-one experience at no additional cost to you.
If you are interested in trying out this tweak, then you can easily get it for free from MiRO's personal repository using the favorite package manager. This tweak is currently supported on jailbroken iOS 13 and 14 devices. If you aren't using this repository, then you can add it to your selected package manager by using this URL:
So, what do you think about Shortmoji 2? Are you going to try out this all-in-one jailbreak tweak? Let us know your thoughts in the comment section below!
You might also like