Are you looking to upgrade your iPhone?
If you're in the market to upgrade, you may be looking for the best method of trading in your existing Apple device for money to purchase a new phone. Although several alternatives are available, from big-box retailers to carriers, it's worth checking out the Trade-In Program.
It allows you to trade your iPhone at a store or online, to earn credit towards a new iPhone, or for your monthly payments to your carrier.
Here's more about it:
What is Apple's Trade-in program and how to get the best deal through Trade-In?
Apple's Trade-In program allows you to trade in your old gadgets for credit that you may use to buy a new one (this sales-boosting tactic is more often seen in the automobile/cars industry).
So you may get a question: Is it somehow related to the iPhone upgrade program?
No, The iPhone Upgrade Program allows you to pay for an iPhone in full over 24 months. So in that program, after 12 payments, you'll be eligible for an iPhone upgrade if you trade in your old iPhone.
How to sell an old iPhone using Apple's Trade-in program?
To begin, you must visit your trade-in website and choose your device for trade-in to receive an estimate. For trade-ins made online, you can mail your device for free. Apple will credit the amount to your purchase if you've already paid for the device in full before. If you're making use of Apple iPhone Payments, the estimated value of the trade-in will be added to the total cost of the new iPhone.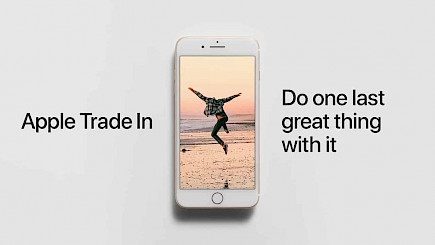 If you have a value less than what was estimated, the price is adjusted in line with the actual value. For example, if you're not buying a new iPhone yet but would like to exchange an old one, you'll receive a gift card in exchange for its value.
Benefits of trading in your old device through the Apple Trade-in program
The important thing is that Apple Trade-In lets you skip the hassle of trading on your device directly to an alternative Apple device. This means that you can purchase an entirely new iPhone and then add the trade at checkout, then send off that old iPhone and get the value of the trade directly credited to your card. It's impossible to deny this kind of convenience, and most trade-in services aren't as good if you're purchasing directly from Apple.
Another advantage of Apple's trade-in service is that it's because Apple owns it. That means it's a little more trusted than others. Although trades are conducted through a third party, they are supported by one of the largest companies ever – one that, predictably, is committed to customer service – which means you can be confident that you'll get a fair price for your device. So likely, you won't experience any issues dealing with the Apple Trade-In, even when you do make mistakes.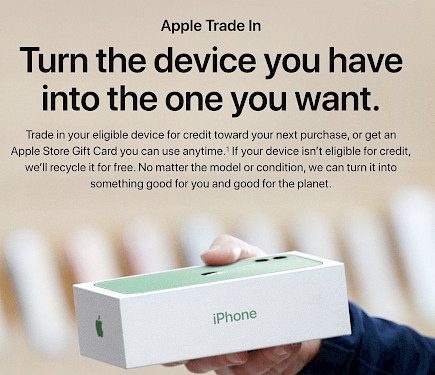 Additionally, Apple Trade-In tends to fetch you some decent prices. In addition, the trade-in prices are generally reasonable. However, Apple has also made it an inclination to offer special trade-in offers over the past couple of years.
What devices can you trade in the Apple Trade-in program?
Apple allows you to exchange your previous iPhone, iPad, Apple Watch, Mac computer, and even phones from other brands, such as Samsung as well as Google. You can trade in your devices online or at any Apple retailer near you. Your Mac computer, on the other hand, can only be traded online.
The device you exchange with an Apple Trade-In program will either be reused or recycled, subject to its condition. However, if you own an Apple product that is not eligible for trade-in credit or gift card, you can send it in for recycling or reuse. Apple will cover any and all shipping charges availed on the device.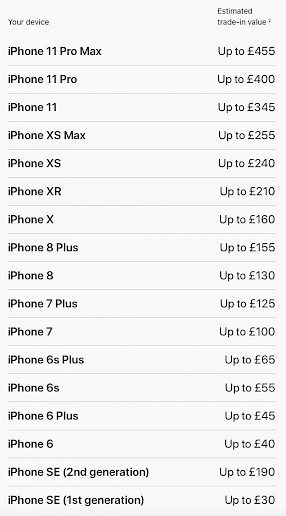 It is not necessary to add any power adapters or cables to trade in your device. However, if you do, Apple will recycle them for you at no cost.
Does Apple pay for trading-in broken iPhones?
Apple will offer you more credit if you exchange the iPhone in good condition. Unfortunately, it's not the same amount when your iPhone does not turn on or perform as expected, and the buttons don't function, and the camera won't function or has major scratches or dents.
For example, the trade-in of the iPhone 11 Pro that's in good condition could fetch approximately $450.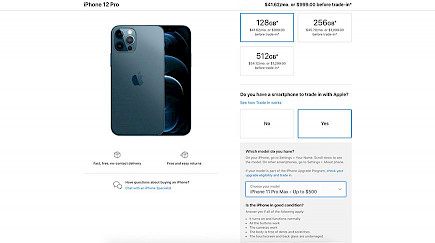 If the touchscreen or camera is not working properly, you could get the trade-in price of around $100. If the device isn't able to turn on, or all buttons aren't functioning, Apple might not give you any credit for the trade-in.
Winding-up
And that was all Apple's Trade-In Program.
So, the next time you want to buy a new iPhone but don't know what to do with your old device, be sure to check the Official Apple Website to view the exclusive Trade-In offers and avail them.
Good Day!

You might also like