To unlock your iPhone, iPad, or iPod you can enter a passcode, or use biometric authentication such as Face ID or Touch ID. Scribble jailbreak tweak will allow you to unlock your iOS device using drawing-based passcode. Install Scribble from official Cydia Repo for $1.49.
What is Scribble?
Scribble allows you to draw doddle to unlock your device. Using this jailbreak tweak (with support for iOS 11, iOS 12, and iOS 13) you can unlock your iPhone or iPad with virtually any type of drawing that you want. Scribble installs a preference pane to the Settings app where you can configure the tweak.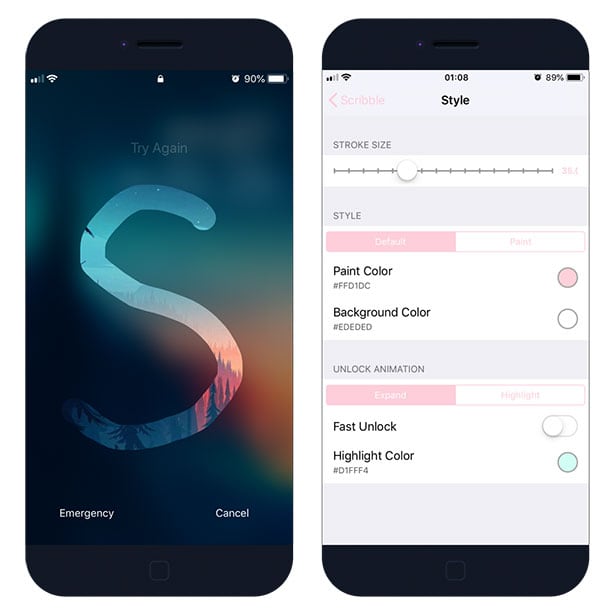 Available features include:
Toggle Scribble on or off on demand
Choose between default or paint stroke styles
Adjust the stroke size via a slider (less means more room and finer details)
Choose a custom paint color
Choose between expand and highlight unlock animations
Enable or disable fast unlock
Configure a custom highlight color
Cancel the drawing to display the numeric passcode entry interface instead
Disable the device after a certain number of failed attempts
Configure the number of allowed failed attempts
Choose the tweak's recognition strictness: low, medium, or high
Change/configure your Scribble password
Reset your settings to their defaults
How to install Scribble
You are just a few steps from installing the tweak from Cydia Sources. To add Scribble Repository to your list of Cydia Sources follow our step-by-step guide.
Step 1. Open the Cydia app on your device.
Step 2. Tap Sources → Edit → Add the official repo Scribble Repo.
Step 3. Switch to Search Tab and enter Scribble.
Step 4. Tap the Install button.
Step 5. The tweak can be configured from Settings → Scribble.
Changelog
Version 1.0.5
Version 1.0.3
Fix Scribble not showing on iPhone X & iOS 11 if FaceID is enabled
Fix Scribble not showing if unlocked via "Manage" from a notification
Adjusted recognition strictness values for Low & Medium settings (& when recording your drawing)
More Translations Added
You might also like