Among recent news…
Apple has been working on Safari's Dark Mode toggle for viewing certain websites. Users will have the choice to switch between Dark and Normal mode with just a simple click.
The News:
Safari is among the most frequently used web browsers available on Apple devices. It's quick, reliable, and efficient when it involves energy and resources usage. This browser offers numerous options that meet the most basic requirements. However, more advanced users feel it is not as good as other browsers like Google Chrome.
To improve Safari, Apple has been developing a variety of new features internally. This includes the long-overdue push notification for websites running on iOS--something that an earlier iOS 15.4 beta revealed.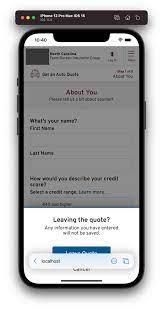 The most recent findings suggest the possible implementation of Apple's per-website dark mode switches within Safari on each of iOS and macOS.
9to5Mac findings indicate possible improvements
However, it's important to note that there is only evidence of the toggles that 9to5Mac discovered in WebKit's source code. Therefore, it's not known at what time and date they'll roll out to the public.
9to5Mac has learned that Apple is looking to add separate, per-website dark-mode switches to Safari. For those who aren't familiar, WebKit is Apple's browser engine that powers all the web browsers running on iOS, along with Safari for macOS. Since it's open-source and anyone can look through its code publicly to see what the company is creating in this department.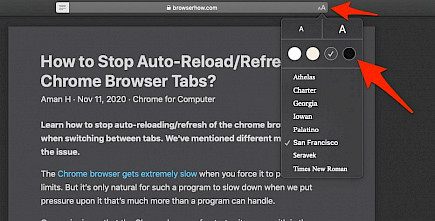 If this feature does make it into the hands of users, they'll be able to modify the dark mode preferences of the system for each website on a per-site basis. This would mean users don't have to toggle between light and dark modes on all operating systems whenever going to a website that they would prefer to browse in light or dark mode at all times.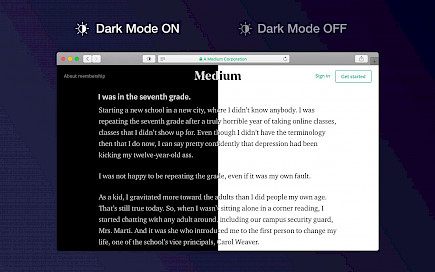 Since this feature is in the process of being developed, there's no guarantee it will ever get a chance to see the light of day. It's common for companies to work internally on new features and then put the entire thing online later.
Although we don't think we'd have a site-specific darkness mode switch that takes over Safari's system of choice, it's an important feature that will add more value to Safari.
Apple Safari Web Browser Dark Mode Release Date
Because the new WebKit capabilities are marked "TBA," or "to be announced," it's unknown if they'll be accessible in Safari via future iOS 15 and macOS 12 versions or later during the current year when the new Apple macOS versions are made available.
We would highly appreciate it if you could comment below your preferences on the dark themes being introduced in Android, iOS, browsers, and apps.
Winding-up
The dark mode has been very popular among users due to its low glare ratio, which means you can stay on the web for a longer period of time.
So, it's a brainer to tell that the Dark mode will be an instant hit among Safari users globally.

You might also like