It's rumor time!!!
According to trusted sources, the iPhone 14 Pro might come with significant enhancements to compete with Android phones.
The iPhone 14 is expected to include a 48-megapixel camera and 8GB of RAM, enhancements that would put it on par with the finest Android phones on the market.
So, here we are once again trying to analyze the news and find out its legitimacy.
Thus, without further ado, let us begin.
The News:
The iPhone 14 has been speculated to have a 48-megapixel camera as well as 8GB of RAM. These are upgrades that will offer specs on paper to compete with the top Android handsets.
According to a document that was released by Haitong International Securities (via MacRumors) and the analyst Jeff Pu, who noted that the two iPhones, the iPhone 14 Pro, which is rumored to be the iPhone 14 Pro and iPhone 14 Pro Max, could feature an enlarged wide-angle camera of 48MP as well as 12MP ultrawide and telephoto lenses. It would be a significant leap over the 12MP main lens that is currently offered on the iPhone 13 Pro.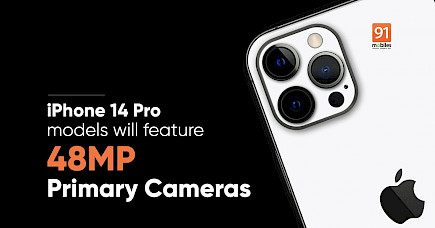 It's not the first time we've heard of this in the past, with Ming-Chi Kuo making similar claims regarding the 48-megapixel cameras in April. Kuo stated that the iPhone 14 would be available in two sizes, 6.1-inch and 6.7-inch and that this would include the iPhone 14, the iPhone 14 Pro, and the "Max" version for both handsets. Yes, there may not be an iPhone 14 mini.
According to Pu, iPhone 14 Pro models will most likely have 8GB of RAM, which is more than the 6GB of RAM found in the iPhone 13 Pro; this will give the phones similar RAM to phones such as the Samsung Galaxy S21.
However, Apple's method of effectiveness and tight control of both its hardware and software has meant that their iPhones can compete with or even beat the top Android phones even when they have lower RAM. It could also achieve more feats by adding 2 GB of RAM, making the iPhone powerful in terms of performance.
Furthermore, Pu claims that the four iPhone 14 models will have 120Hz refresh rates, which are currently only available on Pro iPhone 13 models.
Although it's early, we're beginning to build a picture of what we can expect from what the iPhone 14 series might look like. We've heard reports that Apple might remove the notch in the next year, but the future of TouchID, as well as the much-anticipated under-display fingerprint scanner, isn't quite as certain.
Pu is a man with an inconsistent history in the realm of Apple. Although some of his predictions seem reasonable, we'll be waiting to discover what Apple will have to offer us.
You might also like