iOS and iPadOS devices are the best and offer amazing user experience as long as the device is being used by a single user. However, one obvious thing that is missing from these platforms is the multi-user experience or the guest mode that you can usually find on Mac or Windows PC.
The guest mode user experience is not new for the iPhone or iPad users and there have been several jailbreak tweaks that were released over the years to help with it. One of the latest jailbreak tweaks released to form this type of user experience is a new release named Restriction that was developed by iOS developers MeBlackHatof and SouthernGirlWhoCode from the TitanD3v team.
As the tweak name suggests, Restriction allows the user to put a few user-based restrictions that will be applicable to only a few user accounts on the handset. For instance, with this tweak, you can create a separate account for the parents, kids, significant other, and/or a best friend who use your mobile phone. The tweak will provide you configurable rules to control what the user can do with your device when it is with them.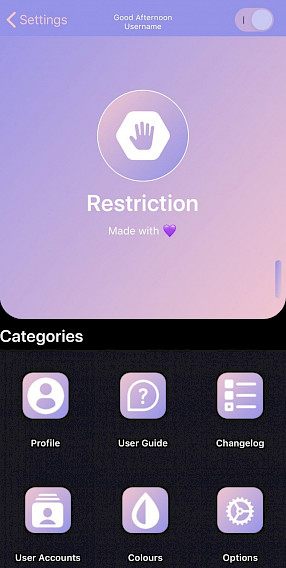 With Restrictions, you can do the following things:
Hide a few apps on different user accounts
Choose who can access the Control Center on your handset
Control the types of app notifications that a user can receive
Prevent a few apps from being uninstalled by specific users
Block access to the Today view for a few users
Prevent few users from accessing Siri or Spotlight search
Choose a specific wallpaper for each user
Set time limits for each user
And a lot more
Once you install Restriction on your device, you will be able to access a preference pane on the Settings app and can configure the tweak to your liking. Here, you can do the following:
Turn on or off Restrictions tweak
Add, remove, or manage user accounts on the device
Select color to differentiate user accounts
Configure locking options for the user accounts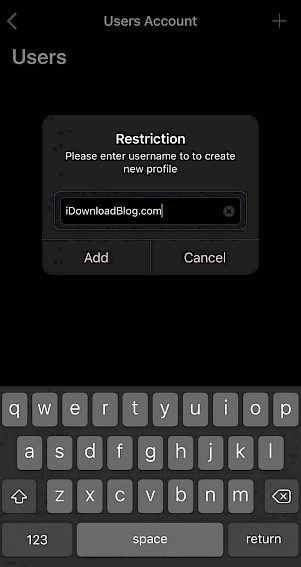 You can add, remove or manage users in the User Accounts preference pane and can configure each user account to your liking. One thing to remember is that the device's primary user will need to use the passcode to start the tweak so that the iOS device can direct the user to the selected behavior. The primary user can also lock the Restriction's preference pane so that other users cannot make changes to the tweak without permission.
If you wish to share your device apps and settings with other people you trust but want to restrict their actions as well, then Restrictions is a great way to do that. This way, your friends and family members can use your device but won't be able to access your private data such as photos, messages, social media apps, and so on. If you are interested in trying out this tweak, then you can purchase it for $2.50 from the Twickd repository. It is currently supported on jailbroken iOS and iPadOS 13 and 14 devices.
You might also like