A lot of jailbreakers were extremely disappointed when ReProvision developer Matt Clarke announced that they won't be updating the app to fix the crashes that affect the apps installed after 28th January on this side-loaded application re-signing mechanism.
Fortunately, the jailbreak community is quite used to this and has released a lot of third party patches in the past to fix such issues. And one such new jailbreak tweak that might interest a lot of avid jailbreakers is ReProvisionFix by iOS developer nyuszika7h.
As the name suggests, ReProvisionFix easily fixes the above-mentioned issue in the apps that were signed with ReProvision after 28th January that ended up crashing in a jailed state. If you remember, AltStore faced something similar due to a change in the server side by Apple but has recently received an update to fix that issue, making AltStore functional again.
Since ReProvision developer Matt Clarke didn't intend to update ReProvision to fix the issue as the app has been labeled End of Life (EOL), Clarke actually recommended the jailbreakers to use Daemon and AltStore as the alternative. Although a lot of jailbreakers heeded this attention, there were many more that were upset with this suggestion as they found it easier and more convenient to use ReProvision and didn't wish to shift to a service that they weren't familiar with.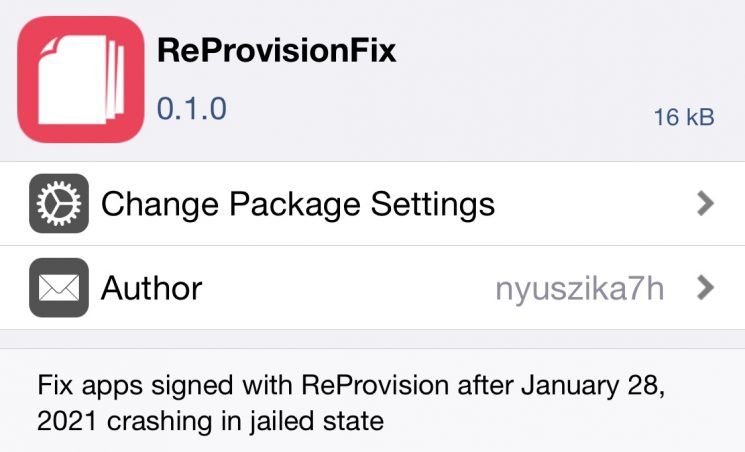 But thankfully, ReProvisionFix tweak rewarded the loyal ReProvision users and they can now use the signing platform again and won't face any crash issues for apps that were installed after 28th January as well. A lot of users who are on /r/jailbreak have already reported success after they used the add-on and now, we are just waiting to see whether it will work for long term or not.
According to ReProvisionFix developer, you need to have ReProvision installed on your handset before you install the patch. You can install ReProvision from the below mentioned repository using your favorite package manager:
And to install the new ReProvisionFix, you can head to the cadoth repository, you can go to the following URL:
Note: Since the change made on the Apple's end lead to the apps crashing, it is likely that Apple might break signing again. So, please take this hack as a temporary workaround and not a permanent solution.
You might also like