The entire jailbreaking community suffered through a heavy blow when the developer of ReProvision, Matt Clarke, confirmed that the on-device app signing service that was being used by users to keep their jailbreak apps signed in without a computer won't receive any official updates anymore. In fact, there wouldn't be any update to fix the January 28th app-crashing issue that was triggered due to a change made by Apple. So, this app has officially been declared EOL now.
Although the AltStore and AltServer combo by Riley Testut is a great alternative to ReProvision, it suffered through the same issue as well. But the only difference between AltServer and AltStore is that it was able to receive updates to address this issue and fix it while the same didn't happen for ReProvision. A third-party tweak was made available for ReProvision to fix this issue.
Thankfully, for the ReProvision users, iOS developer Soh Satoh recently released a jailbreak tweak known as ReProvision Reborn that does exactly what its predecessor did. Basically, this is a resurrection of the ReProvision app that had been left to die by the original developer.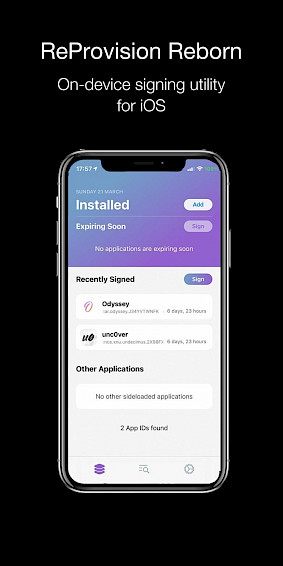 The appearance and the functionality of ReProvision Reborn are similar to the original app so, the users will need an Apple ID to provision the apps. Once you do that, the app will automatically take care of the semi-untethered jailbreak apps and keep them functional if your device ends up rebooting itself as you will be able to re-jailbreak it without needing a computer.
A few features of this app include:
Automatic re-signing of the semi-untethered apps
Configuring alerts that are displayed on automatic re-signing
Installing .ipa file that has been downloaded through Safari on the device
Support for re-signing the apps of Apple Watch
Start a new re-signing routine using the 3D Touch Menu from the Home Screen
According to Satoh, the credits lie with Clarke, the original ReProvision developer, to make this app a possibility. Moreover, a great thanks to Riley as well who found the fix to the Apple server issue. Satoh also mentions that the users shouldn't reach out to the original developer for any concerns regarding ReProvision Reborn and should instead contact him.
This jailbreak tweak is officially available for free from the Packix repository and can be accessed using any package manager. This app offers services up to iOS and iPadOS 14 devices which is great because unc0ver has just added support for these versions and Taurine jailbreak is in the queue as well.
Are you going to use ReProvision Reborn app to keep your jailbreak apps signed in and working or would you choose to continue with AltStore and AltServer? Let us know in the comments below!
You might also like