All of us have used Apple's Files app at some or the other point in our lives and know that it is a convenient hub of iPhone or iPad which you can use to download and store files on the device or the cloud. However, there are still a lot of drawbacks associated with the Files app even though it is quite useful.
One of the best examples for this would be that the Files app shows non-descriptive file types or simplified ones for a few kinds of files as they are by Apple and its OS. For the unknown file types, a vague word is added to the file such as 'Document' to describe what this file is used for.
So, we introduce to you a new and free jailbreak tweak that can help with this and is known as RealFileInfo that was developed by iOS developer sunflsks. This jailbreak tweak stops the add-on information for the files to be displayed in the Files app including the file type of the file that is being viewed, regardless of it being an unknown file or an unsupported file type.
RealFileInfo brings subtle differences in displaying the file information when you click on the 'Info' tab. For example, if you are viewing information for an .mp4 file, then the native Files app will display 'MPEG-4' in the Kind field but if you view the information for the same file after installing RealFileInfo, then it will display 'ISO Media, MP4 v2 [ISO 14496-14]' in the Kind field.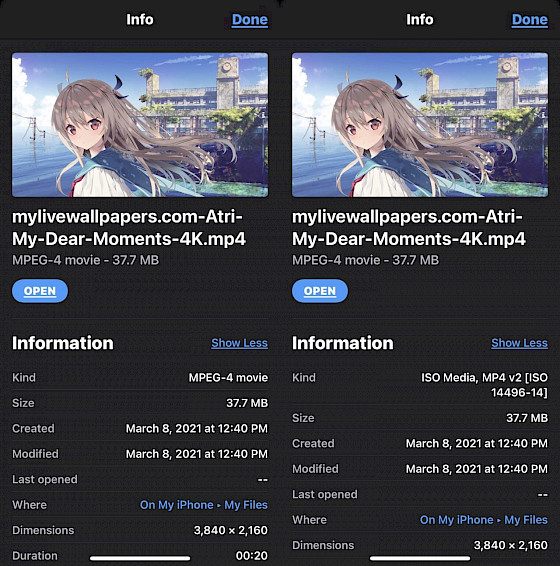 If you don't know much about video files, then you might not understand the difference but for those who do, this additional information describes the video code specifications and a lot more.
RealFileInfo is a great way to force the Files app to show more information about any file type, depending on what file types you use regularly. However, this is not an unlimited capability and it is definitely not possible to support all kinds of file types that exist.
If you are interested in trying out RealFileInfo tweak, then you can download it free of cost from the sudhip repository using the favorite package manager. This tweak is supported on jailbroken iOS and iPadOS 13 and 14 devices. In case you aren't using sudhip's repository, then you can add it to your package manager by using this URL:
https://ftp.sudhip.com/jbrepo/
Are you interested in making the Files app show you detailed information about the saved file types? Or you are happy with what it currently shows? Let us know your thoughts in the comments below!
You might also like