Reachability is a feature implemented by Apple that pulls the contents of your display farther down so you can reach the screen with your thumb. This is a really handy option to operate your iPhone using only one hand. ReachIt tweak adds a music interface to Reachability free space.
What is ReachIt tweak?
When you use Reachability interface you will notice a large gap of unused space at the top of your display. ReachIt tweak by iOS developer Nepeta makes use of that free screen space adding to it a now playing music interface. The tweak adds a preference pane to the Settings app.
ReachIt offers two modes that can be activated from preferences. Minimalist mode or full-featured mode. The full-featured mode displaying the album artwork, song timeline, volume slider, or AirPlay options can opt for the former. Minimalist mode displays basic controls and song title and artist.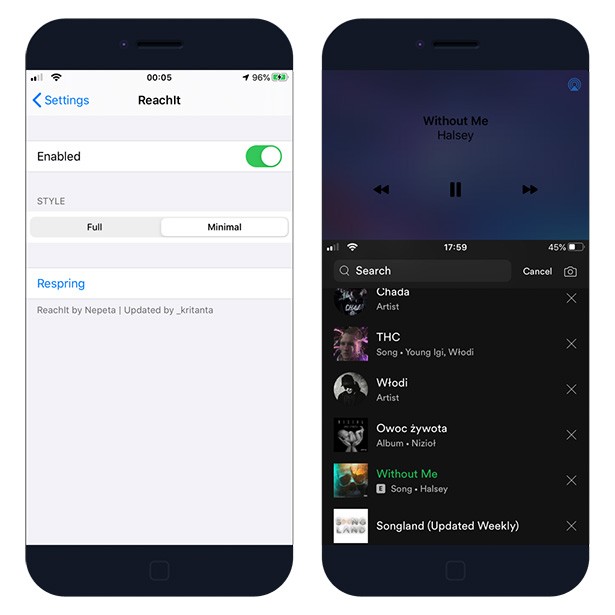 Moreover, after installing the jailbreak tweak you can also enable or disable the tweak on demand, choose between full-featured or minimalist mode, reset all options to defaults. The developer provides also a Respring button at the bottom of the preference pane to apply tweak's settings.
ReachIt tweak will only work if you have a Reachability-capable device and if the Reachability feature is turned on. If it seems like the tweak doesn't work after installation, then make sure you have Reachability turned on from Settings → General → Accessibility → Reachability.
Download ReachIt for free from Cydia Repository. The tweak supports all jailbroken iOS 11 and iOS 12 devices and was released as an open-source project on the developer's GitHub repository.
Since Nepeta left the jailbreak community new versions of tweaks are no more released by this developer. Recently another developer hidden by Kritanta name is releasing updates for Nepeta's tweaks allowing you to run them on the latest version of iOS 13. The tweak updates are free.
Thanks to Kritanta, ReachIt 0.2.1 is now compatible with iOS 13 running checkra1n jailbreak.
How to install ReachIt
You are just a few steps from installing the tweak from Cydia Sources on a jailbroken iOS device. To add ReachIt Repository to your list of Cydia Sources follow our step-by-step guide.
Step 1. Open the Cydia app on your device.
Step 2. Tap Sources → Edit → Add the ReachIt repository via Nepeta Mirror or Kritanta repo (iOS 13).
Step 3. Switch to Search Tab and type ReachIt.
Step 4. Tap the Install button.
Step 5. To activate the tweak double touch the home button.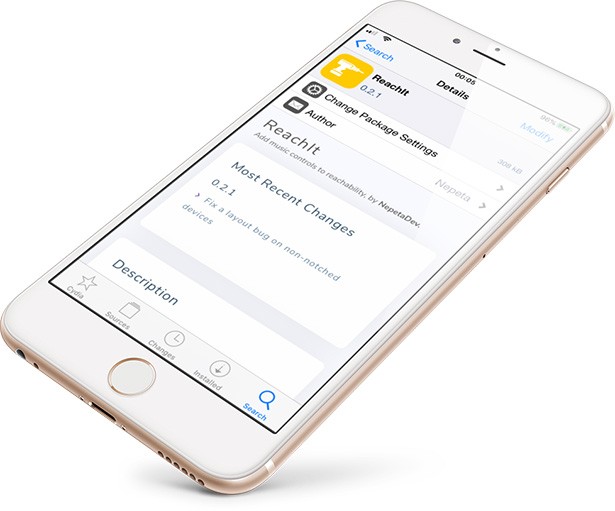 Changelog
Version 0.2.1
fixed a bug on non-notched devices
support for iOS 13
You might also like