We all understand that the keyboard is an integral part of an iPhone's operating system that users interact with every day. It performs all the functions that it is supposed to do but Apple doesn't offer any personalization options to the customer. This is why a keyboard is a popular thing for the jailbreakers to customize to suit their needs.
One such jailbreak tweak that you can check out is ProKeys which is a paid jailbreak tweak by iOS developer Justin Proulx. It offers some amazing features such as RGB coloring and animations, haptic feedback, and a lot more.
With ProKeys, you can enable touch-driven animations, colorization, and a lot more to make the keyboard more presentable and fun. After you install this jailbreak tweak on your device, a dedicated preference pane will get added in the Settings app where users can configure ProKeys to suit their needs. Here are the options to be found here: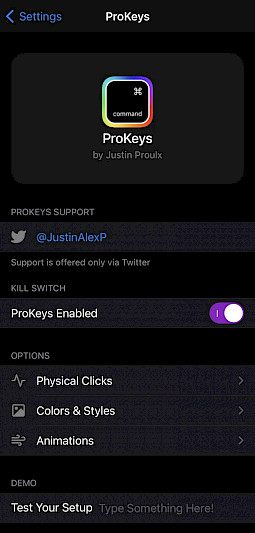 Enable or disable ProKeys
Set the Physical Click Options
Manage the Color and Style Options
Configure the Animation Options
Test your Keyboard Setup
Below, you can learn more about what you can do with each of these options.
Physical Clicks
Check out the customization options available in Physical Clicks option:
Enable or disable haptic feedback
Select a haptic feedback strength
Enable or disable Android mode
Enable or disable a blue switch style key
Colors and Styles
Check out the customization options available in Colors and Styles option:
Enable or disable custom styles and colors for the keyboard
Enable or disable glass keys and flat keys
Enable or disable hiding the key caps and key pop-ups
Select a keyboard color
Select a dark mode keyboard color
Enable or disable syncing the letter colors
Select a letter color
Select a dark mode letter color
Enable or disable dark mode colors
Enable or disable randomized colors
Manage the SAT and LIT values using a slider
Animation

Check out the customization options available in Animation option:
Enable or disable the touch-driven keyboard animations
Select an animation style such as firework, halo, or bubble
Manage the animation size by inputting the pixel value
Configure the duration of the animation via a slider
Enable or disable snapping the animation to the key being used
Select between random or manual animation colors
Configure the animation color hue, SAT, and LIT values using sliders
Configure the number of streaks in the firework animation via a slider
Configure the random animation SAT and LIT value using sliders
With so many options, jailbreakers can easily customize their keyboards on the pwned handset. They can enjoy each tap on the keyboard due to haptic feedback controls and the viewing experience is greatly improved with the colors and animations as well.
If you are interested in trying out ProKeys, then you can purchase it for $1.99 from the Chariz repository using your favorite package manager. This tweak supports jailbroken iOS 13 and 14 devices.
Will you be using ProKeys to customize your handset's keyboard? Comment your thoughts below!
You might also like