There has been a lot of activity in the jailbreak community related to iOS and iPadOS 14 in the last couple of weeks. We have been able to witness a few jailbreak teasers on iOS 14.0 and iOS 14.3 devices, and a new kernel exploit for iOS & iPadOS 14.0 – 14.3 named cicuta_virosa was recently released as well. So, it is safe to say that a public jailbreak release that supports all the devices on the abovementioned firmware versions is likely to get released soon too.
Seeing all that has been happening currently, we would like to bring your focus on an interesting development known as project Manticore. At a glance, we can see that it is an upcoming jailbreak tool that uses cicuta_virosa kernel exploit for iOS & iPadOS 14.0 – 14.3.
Although we don't have much information about project Manticore right now, we do know that their team handle on Twitter is Manticorecode and consists of members PwnedC99 and Rpwnage. In fact, today itself, they posted on their team account a teaser interface of the upcoming jailbreak too.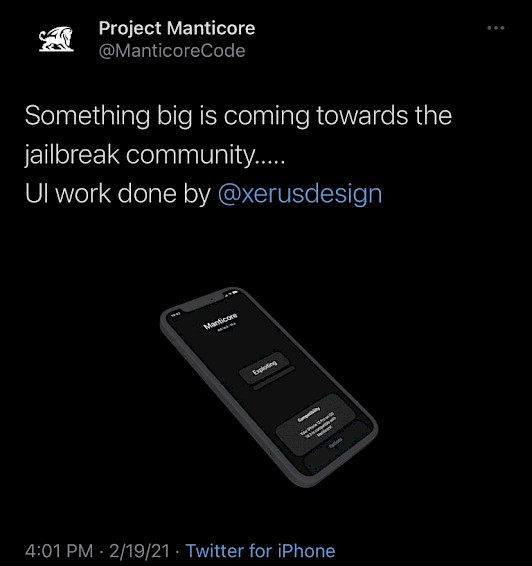 This is the first time that we have been hearing about the above-mentioned team members in project Manticore but an interesting thing to note is that the designer of the project Manticore jailbreak app UI is xerudesign. He is a famous graphic designer and theme creator for the jailbreak community and is popular for his work with Felicity Pro.
Earlier this week, a teaser tweet was shared with a beating heart inside project Manticore on /r/jailbreak by Rpwnage. However, it was met with a lot of skepticism which is quite natural as barely anyone had heard about it before and there are a lot of phony accounts out there who do this to get attention on social media. That being said, we don't take such a position against project Manticore and actually believe them.
To be fair, no one had even known about Pangu when that jailbreak was released for iOS 9 around six years ago but that was pretty legit too. Due to this reason, we don't make any judgment on this subject and tend to simply monitor the project and the developers to get more updates on it and will let you know of the situation as well.
Another important thing to note is that Coolstar is currently working on a jailbreak tool that is based on cicuta_virosa kernel exploit that can run on all devices that use iOS and iPadOS 14.0 – 14.3. This upcoming jailbreak is currently referred to as Odyssey 14 but an official name is likely to get released a few days before or during the release.
If project Manticore is legitimate too, then we still have to see whether it will get launched before or after the upcoming jailbreak tool by Coolstar. But this we will have to wait and see.
Are you excited to know about a potential jailbreak tool in the community? Let us know what you think about project Manticore in the comments below!
You might also like