PowerUp tweak is an amazing free app that allows you to speed up charging your iPhone by entering a super low power state while plugged in. This tweak is compatible with all jailbroken devices running on iOS 12 and iOS 13. Add PowerUp Repository to Cydia Sources and start charging your iPhone much faster.
Every time when I need to charge my iPhone quickly I set the AirPlane mode. Take advantage of a far more effective solution that comes in a form of a free tweak dubbed PowerUp. Speed up charging the device by entering super Low Power State while plugged in. Put your device into hibernation with PowerUp.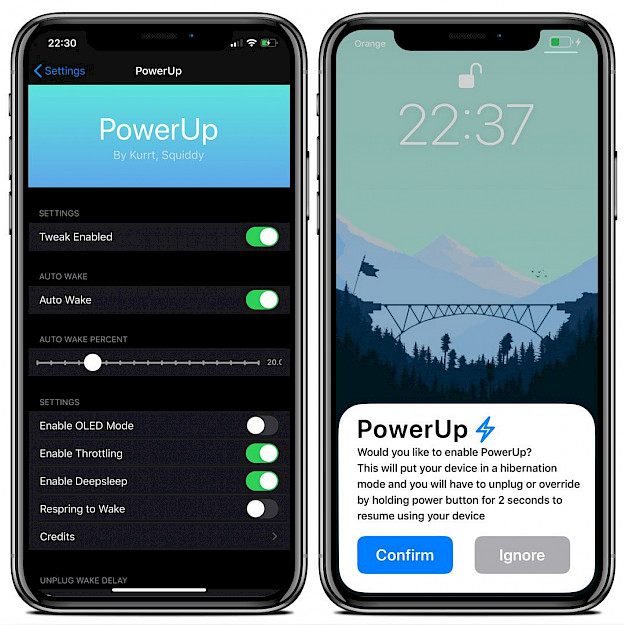 Low Power Mode allows you to charge your handset more quickly by reducing power drain while charging. PowerUp goes above and beyond what Low Power Mode is capable of to further reduce power drain while charging your iPhone.
When you plug your iPhone the tweak ask you to enable hibernation mode. PowerUp automatically turns on aeroplane plane mode, enables low power mode, throttles the system, stops and saves screen recordings. turns off flashlight, kills all open apps, bocks input passthrough, and turns off display.
After installing the tweak, a new preference pane is added to the Settings app where you can configure all options to your liking. PowerUp supports iOS 12 and iOS 13 devices. The developers provide the source code via GitHub branch.
Add Repository to Cydia
You are just a few steps from installing the tweak from Cydia Sources. Add PowerUp Repository to your list of Cydia Sources.
Step 1. Open the Cydia app on your device.
Step 2. Tap Sources → Edit → Add the official PowerUp Repository for Cydia.
Step 3. Switch to Search Tab and enter PowerUp.
Step 4. Tap the Install button.
Step 5. The tweak can be configured from Settings → PowerUp.
Tweak Settings
Turn on or off PowerUp tweak on demand
Automatically wake your device from "Deep Sleep" or "Hibernation" mode
Choose the battery percentage when the device automatically wakes
Enable or disable OLED display mode (minimal dark display)
Enable or disable performance throttling
Enable or disable deep sleep
Respring to wake
Configure an unplug wake delay of your choosing
You might also like