Downloading the PokeGO++ for iOS mod you can add to Pokemon Go app a set of new features to the game including free pokemon go radar - fake your location and go anywhere. Discover how to download and install PokeGO++ .IPA on any iOS device for free.
What is PokeGo++?
PokeGo++ allows you to side-load the app using Cydia Impactor on iOS 12.4 and use the 2nd most popular Pokemon Go mod. Access quick teleport to change your location, enable dark mode, view where can you find the most wanted Pokemons and more.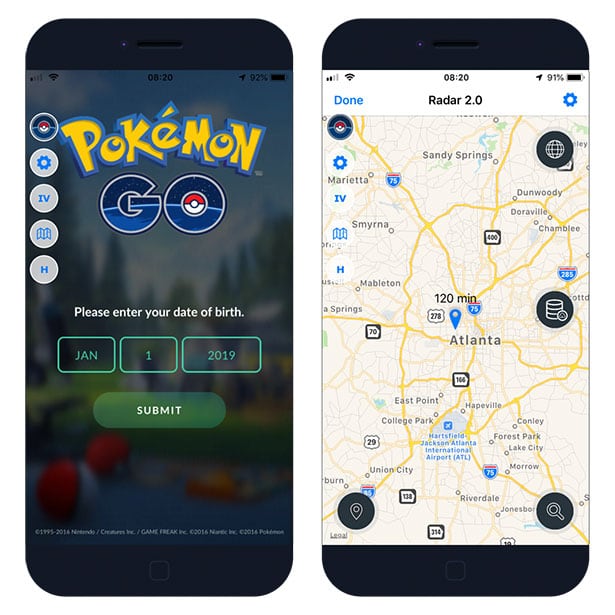 Niantic has filed a lawsuit against Global++ the group of developers responsible for creating tweaked versions of popular Pokemon GO game. Hacked apps like PokeGo++ gave users an unfair advantage, while simultaneously infringing on Niantic's intellectual property rights.
The lawsuit forced Global++ to stop developing PokeGO++ App and to stop any work on reverse-engineering the official code distributed by Niantic. Global++ official website has been removed and the official Discord servers have been deleted. We still provide PokeGO++ IPA version 1.113.1.
PokeGO++ was discontinued. Install iSpoofer for POGO instead.
How to install PokeGO++ IPA file on iPhone, iPad or iPod
Download PokeGO++ IPA file and sign it using Impactor (Windows, Linux, Mac) and sideload the app. Impactor can install max 3 apps on your iPhone. Every 7 days after signing, you will have to connect your iPhone to your PC and repeat the install process, however, you do not have to delete the apps.
Step 1. Download Cydia Impactor, and unzip the file.
Step 2. Download PokeGO++ IPA (115 MB).
Step 3. Install the newest version of iTunes.
Step 4. Connect your device. Open Cydia Impactor and navigate to Device → Install Package.
Step 5. Select the PokeGO++.IPA file version 1.113.1 to install.
Step 6. Enter your AppleID and app-specific password to sign apps not provided by Apple.
Step 7. The sideloaded PokeGO++ app will be visible on the home screen.
Step 8. Next, add your certificate to trusted from Settings → General → Device Management.
If you have any problems with sideloading the IPA file on your iPhone go to our article on How to use Cydia Impactor where we explain in detail every step including how to generate app-specific password for your app. This method doesn't require a jailbreak to work, but if you are running a jailbroken device try free ReProvision app to sign IPA files directly on iOS.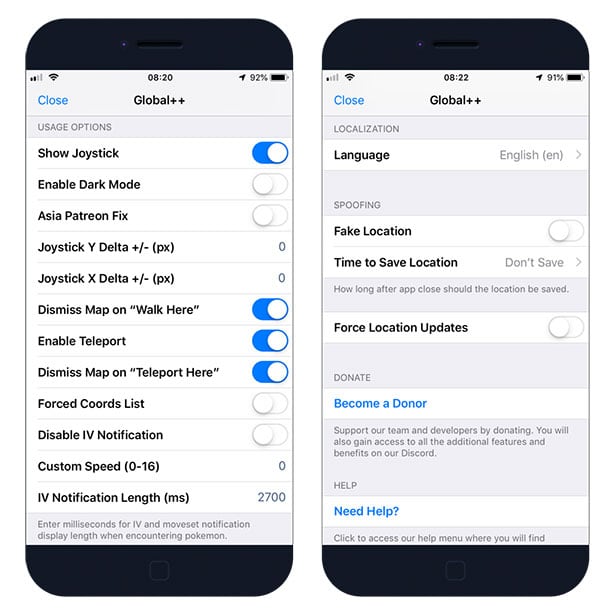 Download PokeGO++ for Pokemon Go mod without a computer
PokeGO++ was canceled and is no longer developed. iSpoofer is a great alternative for PokeGO++ offering similar features, and it is still available for download. The software works only on non-jailbroken devices. If you did or want to jailbreak your device the app will not run.
Step 1. Click Install Now from your browser.
(mirror 2, mirror 3, mirror 4)
Step 2. Tap Install on message prompt "download.ispoofer.com would like to install PokeGO++".
Step 3. iSpoofer app Icon will appear on your Home Screen.
Step 4. Navigate to Settings → General → Device Management.
Step 5. Find the newly installed Enterprise App Certificate and trust it.
Step 6. Run iSpoofer++ for POGO app.
When you completed all step your PokeGO++ App should be installed correctly on your iPhone. After ZiniTevi will be downloaded you can't run the app. An Untrusted Developers Message will appear and it's required to complete all tasks from Step 4 in our guide above.
Now you can run the app like any other installed on your iPhone. If the application will not work, it can be related to the certificate revoked by Apple. Basically, it means that you need to reinstall the app to make it work again. Go through all steps from the beginning or use an alternative method.
If you have a problem installing PokeGO from our link you can also try alternative options and find the app via popular Cracked App Stores. Free PokeGO was available via CyrusHub, TweakBox App, Panda Helper, or AppValley. Usually when the download will not start simply try again later.
You might also like