PlenixClash is a Clash of Clans hack that allows users to access a free private server for the game with unlimited gems, gold, and elixir. The main benefit of using this server is the ability to play the game on different rules with unlimited resources. Of course, you will not be banned from the game.
Download IPA
What is PlenixClash?
PlenixClash is a free private server for Clash of Clans and Clash Royale games with access to unlimited coins, gems, elixir, no waiting time, and more. Use those features to make faster progress in the game and learn about new strategies much faster. Customize your village, build an army, and crush your opponents.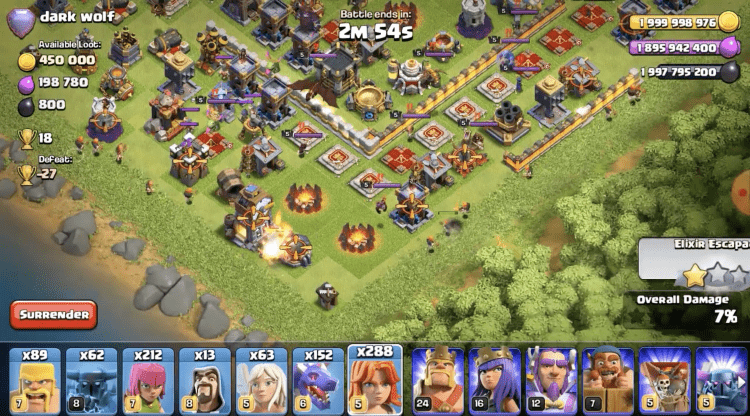 Clash of Clans is a freemium mobile strategy video game developed and published by game developer Supercell. The game was released for iOS platforms back in 2012. Clash of Clans is really popular till today, and PlenixClash server makes it even more fun to play. The COC hack works on iOS 9 and above.
iOS users can install Clash of Clans hack IPA to unlock features that are paid in the original game. The hack enables free in-app purchases in Clash of Clans game with access to unlimited resources. PlenixClash can be installed on your device for free. The minimum system version required to run the game is iOS 7.
How to install IPA
AltStore can install almost any IPA on your iPhone using the free certificate. Every 7 days after installing PlenixClash, you need to resign the app and send it to the AltServer (running on PC or Mac), which installs the resigned app back to your device using iTunes WiFi sync (works also using a USB cable).
Step 1. Download AltStore and install the app on your PC or Mac.
---
Or use any other Cydia Impactor alternative for Windows or macOS.
---
Step 2. Open Safari and download PlenixClash IPA (91 MB).
Step 3. Select the downloaded IPA file version 9.257.76 to install.
Step 4. Tap on the share button available in the right corner.
Step 5. Select "Copy to AltStore" from available options.
Step 6. AltStore will start installing the app.
Step 7. PlenixClash app will be available from your home screen.
Install PlenixClash iOS with AppSync
If you running a jailbroken device you can use AppSync Unified to install the IPA file. The hack was tested with the latest version on iOS 13. There is no prompt to update to the newest version because this is the latest version.
Step 1. Download the IPA file in Safari browser.
Step 2. Copy file to Filza file manager.
Step 3. Open the file and click Install.
Step 4. Access the app from Home Screen.
Frequently Asked Questions
How to update PlenixClash?
The private server for Clash of Clans can by only updated by downloading a new IPA file and installing this package on your iOS device. There is no option to update to the latest version from the app itself. We always provide the newest version.
How to get trophies in PlenixClash?
PlenixClash doesn't offer an option to get trophies. This CoC server offers some basic options to play the game, and in most cases, you can use this mod to train troops and build buildings to see how they work.
Why won't PlenixClash update?
PlenixClash will not update if you are using the wrong version. When you see a message in the app that a new version is released you must download the latest version of the application. We update the Clash of Clans mod regularly.
Why isn't PlenixClash working?
PlenixClash will not work because a new version was released. It is important to download the latest IPA and install it on your device. When you installed the app using AltStore and it's not working the only other working solution is to jailbreak the device or try to use a different Cydia alternative software.
Is this COC private server safe?
Connecting to this private server for the COC is absolutely safe and you cant get banned for the game. Unfortunately, this server doesn't offer an option to access the multiplayer feature. Use this free COC private server to discover all features with access to unlimited resources.
You might also like