Do you own a jailbroken device that you wish to personalize and add a little more colors to? If that is the case, then you should check out this latest jailbreak tweak that can be used to add colors and customize the Now Playing widget of your iPhone or iPad.
Developed by iOS developer popsicletreehouse, Playour is a jailbreak tweak that allows the users to easily customize the color, background, and border properties of your device's Now Playing widget. You can get different types of aesthetics with your Playour tweak including a simple background image swap, a colorful background, an outline to pop against your wallpaper, and a lot more.
One thing to note about Playour is that it doesn't alter the core functionality of the Now Playing widget so, it will work the same way it always has. The only thing that the tweak will do is make it look better while it works brilliantly.
Once you install Playour, a dedicated preference pane will be added in the Settings app which you can access to configure the tweak. Here, you will get the following configuration options: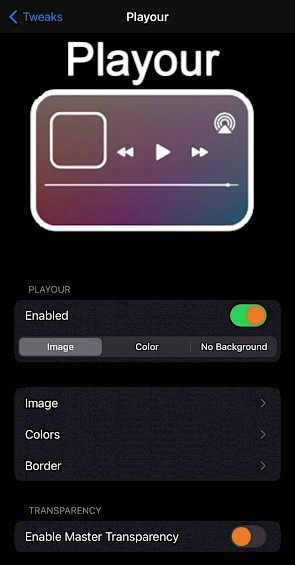 Turn Playour on or off whenever you want
Select between color, custom or no background option
Choose an image for the background mode
Manage the color and the border mode
Allow and configure the master transparency
We will deep dive a little into what you can achieve with the image, color, and border modes of this tweak.
Image
In this option, you can do the following:
Select a background image to display from the Photo Library
Adding a blur effect to your selected image
Selecting between automatic, light, and dark blur effects
Modifying the intensity of the blur using a slider
Modifying the transparency of the blur to make the background image visible
Color
In this option, you can:
Select the background color or use the dominant color of the album artwork
Select between inverting the color if it is too bright, dimming the color if it is too bright, or doing nothing
Adjust the above-mentioned effects using a slider
Manage the brightness threshold and transparency effect using the slider
Border
In this option, you can:
Allow or disallow border colors
Select the border color
Configure the border weight and transparency using a slider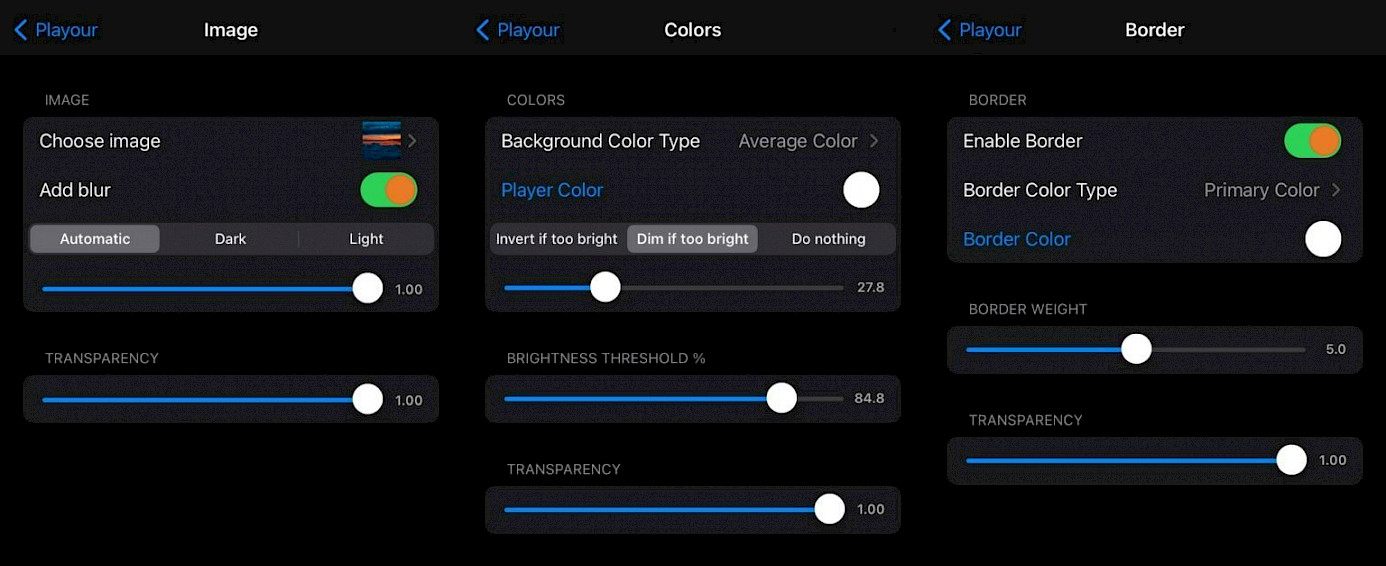 There are a lot of configuration options available with Playour that can be used to get your desired aesthetics. It probably might not look like the examples that we have shared with you since you will decide how your Now Playing widget should look like.
If you wish to try out Playout on your jailbroken iPhone or iPad, then you can get it for $1.99 from the Packix repository. This tweak is currently supported on jailbroken iOS 12, 13, and 14 devices.
Are you planning to configure your handset's Now Playing interface with Playour? Let us know how you are going to do so in the comments below!
You might also like