Pixelmator Pro is a popular image editor that recently received an update in which a new major feature was introduced. You can now use Pixelmator Pro with insdutry-standard LUT preset files to calibrate the colors of your images.
According to the announcement on the latest blog, Pixelmator Pro version 2.0.8 includes support for LUT files so, you can easily import and apply custom LUT presets from other apps, convert LUT into color adjustments, export the color adjustment as a LUT, and do a lot more.
You can apply a LUT file in Pixelmator Pro to any image to adjust the coloring and transform its look. Any LUTs from a third-party website or app works on Pixelmator Pro as a color adjustment. Moreover, you can export your color adjustments as LUT presets on the Pixelmator Pro app.
What is LUT?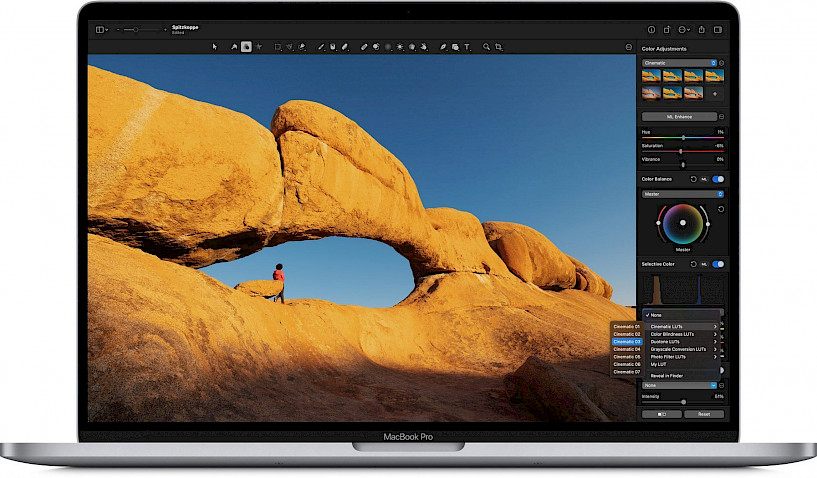 A LUT is a cross-platform file that can be used with a wide range of apps.
And with the latest update of Pixelmator Pro that includes support for LUT files, it has become easy to change the look of a project that supports the LUT files. For example, you can use the LUT preset created in your Pixelmator Pro to color grade a video project in Final Cut Pro or other apps that support LUT files.
The app includes 48 in-built LUT presets that are divided in five collections ranging from the grayscale conversion LUTs to the cinematic LUTs. To select an LUT, you need to click on the Color Adjustments tool and then use the Custom LUT panel to select a LUT. Alternatively, you can also drag an LUT file to the Color Adjustments pane to import it in your supported app.
That's not all, it is also possible to convert an LUT file into color adjustment in Pixelmator Pro with a single click. With the help of the machine learning algorithm, you can easily change the hue, brightness, saturation, etc. values of the LUT and you can also apply the LUT preset to several images at once.
What is Pixelmator Pro?
Pixelmator Pro is an amazing and fully-feature image editor that comes with a lot of good features and functions. This application supports M1-powered Macs and is easily accessible on a single-window interface. Also, Pixelmator Pro always offers support for the latest platform technologies so, it works great on the macOS platform.
You might also like