Have you jailbroken your iPhone and are looking for interesting ways to customize the aesthetics of the Home Screen, then we have the perfect solution for you.
Check out this newly released jailbreak tweak known as PhotoDock that has been developed by Popsicle Treehouse and is used to set the background image for your device's Home Screen Dock. You can check out the below screenshot to understand what this tweak might look like for you although there will be slight variations based on the image that you choose for the Dock background.
With PhotoDock, it is extremely easy to set a background image for your Home Screen's Dock. This tweak uses an integrated Photo Library picker that allows the users to select the desired image as the Dock background. You can choose any image that you have captured on your phone or downloaded from the Internet.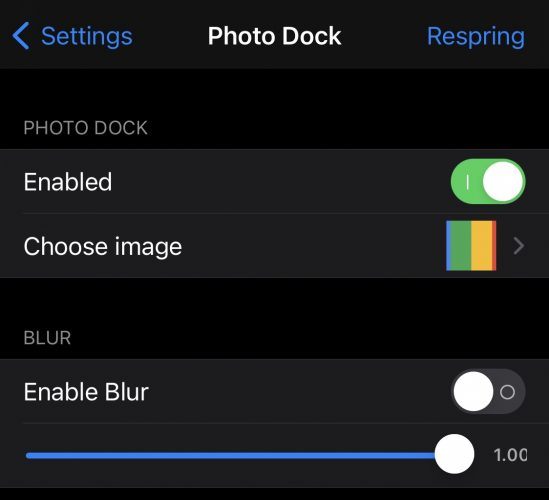 Once you install PhotoDock, it will add a preference pane in the Settings app which you can easily configure to suit your needs. Here, you will find several options such as:
Allow or disallow PhotoDock whenever you want
Select an image as the background for the Dock from the Photo Library
Allow or disallow the blur effect over the background image that you have chosen
Adjust the blur intensity of the image using the slider
After you have made the desired changes, you can save the changes by clicking on the Respring button which can be found at the top right of the preference pane. You will need to respring your device every time when changing the Dock's background image to apply the changes.
We love that this tweak allows us to change the background of the Dock and is actually a great way to personalize and add some colors to the bleak part of the Home Screen that is present on every Home Screen page. You can choose to go with an abstract image or a detailed photograph as the background for the Home Screen's Dock, it is completely up to you.
If you are interested in giving PhotoDock a try, then you can download this tweak free of cost from the Packix repository using the favorite package manager. This tweak is supported on jailbroken iOS 13 and 14 devices. Also, it is open source and available on the Github page in case you want to learn how it works.
Will you be selecting an image that you captured as the background image for your Dock or a downloaded one? Let us know what you are planning to do with this tweak in the comments below!
You might also like