You must know by now that Apple is working on its iOS 14.5 and has provided the beta version to developers to test out the new firmware for any issues. iOS 14.5 comes with a lot of new features including a feature that allows the users who are wearing a mask to easily unlock their iPhone with Face ID if they are wearing an Apple Watch that is unlocked. Without this feature, users cannot access their iPhone as the Face ID authentication method fails due to the mask so users are forced to manually enter the passcode to unlock their device or approve the App Store purchases or Apple Pay transactions.
As you might have experienced by now, it is quite frustrating to not be able to use Face ID when wearing of masks has been made mandatory in public all over the world by the government to reduce the spread of Covid 19, so an introduction to this feature got a lot of positive response from the users. However, jailbreakers won't be able to use this feature as they are stuck with the older firmware that doesn't support this new authentication feature but there is a solution for this too.
A newly released, free jailbreak tweak named Perseus by iOS developer udevs gets the functionality of the iOS 14.5 beta to Jailbroken devices that offer Face ID authentication. But how does this tweak even work? It is actually pretty simple.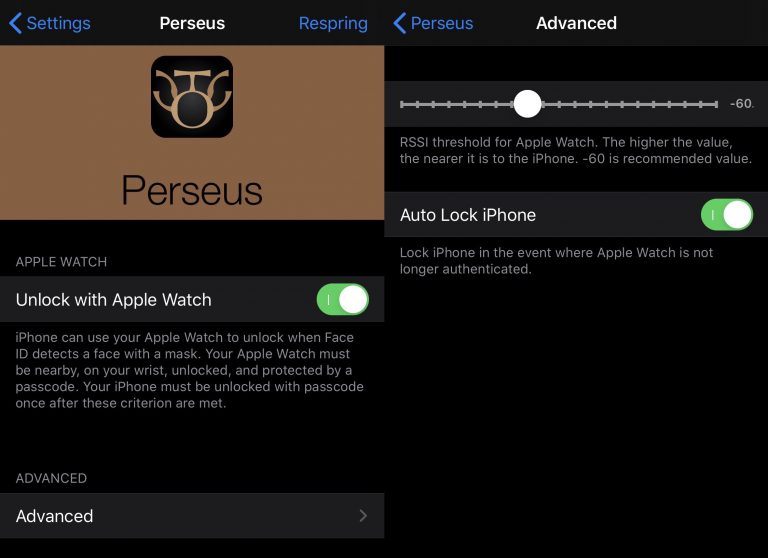 If you are wearing a passcode-protected Apple Watch and a mask, then Perseus will let the user unlock their iPhone when the Face ID detects the face with a mask. An important thing to note about Perseus is that while it has similar functionality to iOS 14.5 beta feature, it is not really the same feature. The major difference between the two is that iOS 14.5 beta will conduct a partial Face ID scan of the parts that are visually present in a mask along with performing a connection check on your Apple Watch. On the other hand, Perseus will not perform a Face ID authentication and will only check for Apple Watch to authenticate the iPhone as long as your Apple Watch is password-protected, unlocked, and being worn in close proximity to the iPhone. Sure, it is a little less secure than the native feature but it is a good alternative for now.
Once you install Perseus, it will add a preference pane in the Settings app from where you can configure this tweak. Here, you can:
Turn on or off unlocking with the Apple Watch feature
Set the RSSI threshold
Automatically lock your iPhone when Apple Watch is not authenticated
Respring the device to save the changes
An amazing thing about this tweak is that it lets you adjust the RSSI threshold which basically measures the signal strength between wireless devices such as Bluetooth. If you have a higher RSSI threshold then you can unlock your iPhone when your Apple Watch is farther away too. However, it is advisable to keep this threshold small as a higher value can make it insecure for your iPhone and allows anyone to unlock it and use it.
If you are interested in Perseus, then you can download it for free from udevs repository. This tweak supports Jailbroken iOS 13 and 14 devices.
You might also like