Panda Helper Lite is a free webclip developed, by the popular third party AppStore, for iOS 13. Download popular IPA files and install ++ apps, games, tweaks, hacks, and cracks without a computer. The Lite version offers less files and it runs directly in your Safari Browser. It offers also access to popular jailbreak tools.
How to download Panda Helper Lite
Panda Helper Lite can be installed on any iPhone, iPad, or iPod Touch running iOS 11 up to iOS 14. Follow those few steps to download the Lite version on your device.
Step 1. Tap on Install Panda Helper Lite from Safari.
Step 2. Download the configuration profile on your device.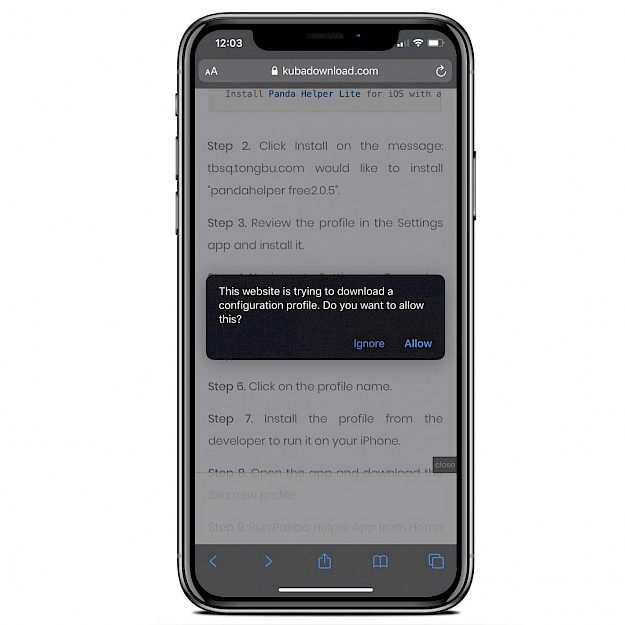 Step 3. Navigate to Settings → General → Profiles & Device Management.
Step 4. Install the Panda Helper Lite Profile.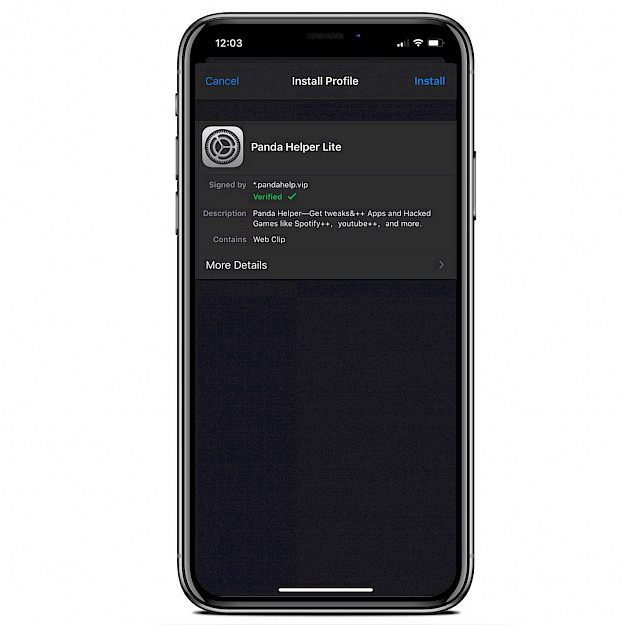 Step 5. Run the app from the home screen.
How to remove Panda Helper Lite
To uninstall the app from your device simply delete the icon from your home screen and remove the installed profile from the Settings app.
What is Panda Helper Lite?
Panda Helper Lite is a simpler edition of the Panda Helper AppStore for iOS that offers similar features. Use the Lite version to download IPA files or install apps with direct web links. As the native app, also Lite uses certificates to install apps without a computer. On iOS 13.3 and above, installed apps can crash with free version.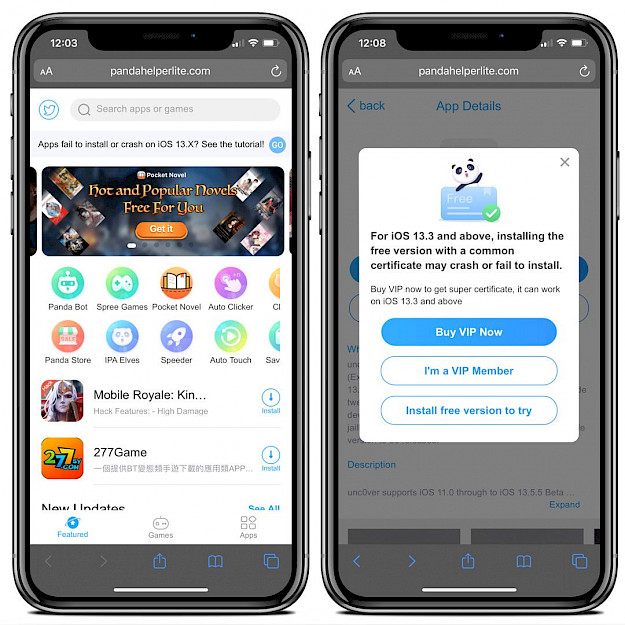 Besides web links, Panda Helper Lite offers an option to download IPA files for self-signing with your favorite tool. This is one of the best IPA Libraries available for iOS.
AppStore Lite offers three list displaying the latest games, apps, and featured applications. There is also search feature available to find any app in the store. Every app offers a description with screenshot, system requirements, direct weblinks (free and super certificate) and an IPA download link for AltSigner.
Panda Helper Lite app database is huge. You can find here almost any app or game released for iOS, this includes apps not allowed by the official AppStore. Install jailbreak tools, movie, torrent, ++apps, and more from one source for free.
Open Panda Helper Lite in a browser
Panda Lite Features
No need to jailbreak
Easy to install
User-friendly interface
Compatible with iOS 8 - iOS 14
Thousands of free apps and games
Daily app updates
Option to download IPA files
All app updates are done via Panda Helper AppStore
Frequently Asked Questions
Panda Helper Lite vs Panda Helper
The main difference between the apps is that Panda Helper Lite can't be revoked because it's running as a webpage directly in Safari browser. While Panda Helper is an native app it can be revoked by Apple and will not open till an new certificate is available. It offers also more options to navigate through the app database.
Is Panda Helper Lite safe?
Installing and using Panda Helper Lite is absolutely safe. The AppStore offers only access to trusted IPA files that can be installed on your device without using a computer with a valid certificate provided by the developer.
Can Panda Helper Lite be revoked?
Panda Helper Lite is a web clip running directly as a webpage inside Safari browser. It means that the app itself can't be revoked. You can access it all the time to navigate through the apps and download IPA files.
Why installed apps not open?
All installed apps via Panda Helper Lite and weblinks are using an enterprise certificate that can get revoked by Apple. The only solution to fix this issue is wait for the developer to provide a new certificate or sign IPA files manually.
Why installed app opens and closes?
Sometimes the free certificates are working only with older version of iOS. In this scenario when the app will open and close immediately after launch isn't probably related to the iOS version you running. Usually the free certificates react that way on iOS 13.3 and above. VIP version fixes this issue.
Does Panda Helper Lite slow your phone?
No, the Lite version doesn't slow down your device. This is a webpage running from Safari and it was optimized to work really fast on your iPhone.
You might also like