Recently, majority of the jailbreak community has been focused on the unc0ver jailbreak tool including support for iOS and iPadOS 14.0 – 14.3 while many wait for CoolStar's Odyssey14 to get launched that will provide support for iOS and iPadOS 14.0 – 14.3.
Although this jailbreak is not available for public yet, CoolStar did release a new public beta of the Odyssey jailbreak for iOS and iPadOS 13.0 – 13.7 on this Friday. This new public beta which is known as version 1.3.1 beta 1 is providing access to the new exploit cicuta_verosa on iOS and iPadOS 13 devices apart from other exploit-related changes.
CoolStar shared information on this beta release through the Sileo/Odyssey Discord channel yesterday. From what we inferred from this tweak is that the Odyssey v1.3.1 beta 1 build offers the following changes that differ from the current v1.3.0 public release.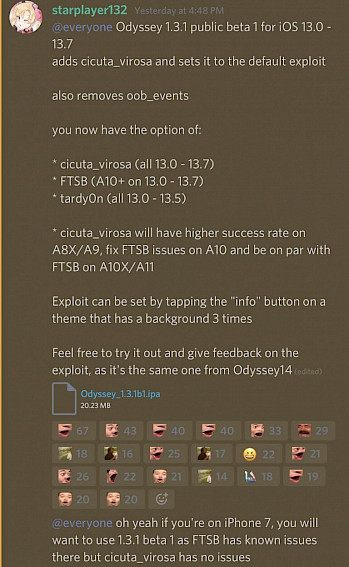 Support for cicuta_verosa is added and it is made the default exploit for jailbreaking
Removes the support for exploit named oob_events
Gives the users the option to choose between tardy0n, cicuta_verosa, and FTSB exploits
According to CoolStar, the new exploit cicuta_verosa offers a higher success rate on older devices such as A8X and A9 chip devices. Moreover, it offers improved success rate over FTSB exploit on A10, A10X, and A11 devices. CoolStar also shared that this exploit will be used in powering the upcoming jailbreak tool named Odyssey14 as well. So, basically, this public release is just a test run to get a feedback on this exploit's performance.
If you wish to select an exploit in the new Odyssey public beta, then you just need to click on the Info button thrice when you are using a theme that comes with a background image.
Are you interested in trying out the new Odyssey v1.3.1 beta? If yes, then go to the official Sileo/Discord channel and click on the download link that is available in the Announcements tab. Running the public beta is similar to running the public release so, you can use the same steps as that for installing AltStore.
You might also like