Who all over owns an iPhone definitely uses notes for some other purpose, right?
Notes are one such app that seems useless at first, but when you use it for the first time, you cannot resist using the app.
It comes with great features like drawing, attaching photos, including videos, or even you can organize your different documents. Of course, adding a link is the cherry on the cake where you can note down all the important links in this app.
We often write a long important text in our notes app available on the device we carry.
But the real struggles start when we want to copy that text or scan that text. This question has been arising in every iPhone user so far but doesn't worry; we present you with the simplest and easiest way to get your work done.
Starting in iOS 15.4 and iPad 15.4, Apple presents you with the feature of directly scanning your text and documents in the notes app itself. Before looking into the steps, make sure your device is compatible with using the feature that is a device with iOS 15.4 or the later versions.
LET'S GET STARTED….
You can directly scan text in the notes app by using your camera. Here's how it works:-
Simply go to the notes app and click on the camera button on the toolbar.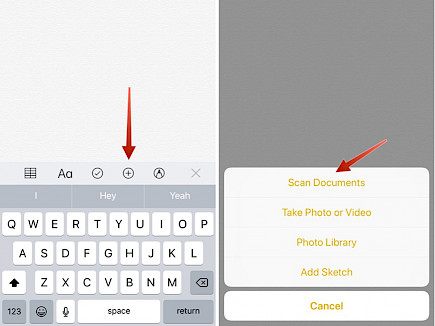 Then tap on the option " scan text" showing at the bottom; you need to adjust the camera by dragging it left, right, top or bottom.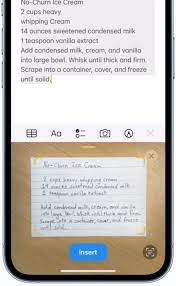 Once you get the perfect angle the way you want, you can go to the insert button, which will be visible right in front of you.
These simple steps can make you scan and save your time while copying and pasting. Isn't that interesting? Time is the most precious thing, and we all should know how to save it, right?
If you are still stuck and unable to come up with the results, make sure you match these requirements…
Notes are connected to iCloud or the local notes app on an ios device.
Make sure your device has the required software.
Don't use the third-party notes app.
What New Updates You Can Expect
Apple has always tried to impress us with its magnificent updates and features.
At this time, the feature is available within the notes app, but soon we can get it through a safari web browser.
Currently, it supports a limited number of languages. You can go through the official website. Soon, more languages will be made available, which will suit your needs.
This is a very handful feature for students who don't need to get any extra subscription now for using the feature.
The quality it provides best suits your text and documents.
SEE IT, SCAN IT, SAVE IT….
Wrapping Up
And that's how you scan a text using the Notes app on your iPhone.
Hope you liked the article. We will be back soon with other fun hacks and tutorials, until then. Stay Tuned, Good Day!
You might also like