The new(kinda new) MacBook Pro 2021 turned a lot of heads when it brought out an on-display notch. This new feature was not only meant to make the MacBook look more aesthetically pleasing but, also housed an upgraded 720P webcam.
So, the notch seemed a win-win in both ways.
But, after months of its release people have shared mixed feelings about the notch.
For some it's a great new addition that differentiates a MacBook from any other laptop screen, for others it's a pointless indentation that distracts them from the screen.
And that's where NotchMeister comes into play…
NotchMeister(A Brief Intro)
Apple's latest MacBook Pro models arrived with stunning Mini-LED displays, but they also had something that became more controversial: the notch and those who dislike that feature may be pleasantly surprised by this app's relief from an iPhone-style-notch.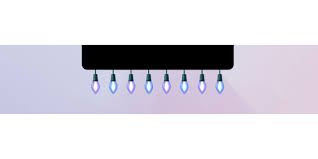 The no-cost "Notchmeister" application, discovered through MacRumors It is an entertaining application that "spruces up your experience" with a variety of different effects. This small collection offers a festive selection in which, when the mouse is placed under the notch, sparkling holiday lights fall to make your heart happy.
Other effects include a Cylons setting that features a red "scanning" light that flies across from side to side but remains on the cursor when it is moved to the notch. There's also an attractive "plasma leak," which is your mouse "breaking into the magnetization field that holds the M1's power under control."
How? Its Notch Simulator Mode creates the appearance of a notch (a black block) in the center of your screen from which you can hang your lights that simulate Christmas. It's a genuine replacement for the "notch," as the app describes it, but it's not interacting with the mouse in the same way as the MacBook Pro.
Customizations
Five different customization options are available in the Notchmeister application. These comprise:
Glow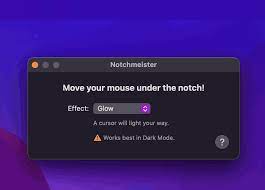 A glowing white light will be visible on the top of the notch when you move your mouse in its vicinity. The light intensifies around the mouse, and it moves with it.
Cylon
A red dot will move between the notches. When you hover your cursor in front of it, that red dot should stop, and you can move it between the two. It's like Battlestar Galactica.
Plasma Leak
The white sparks explode in the notch if you place your cursor close to it.
Festive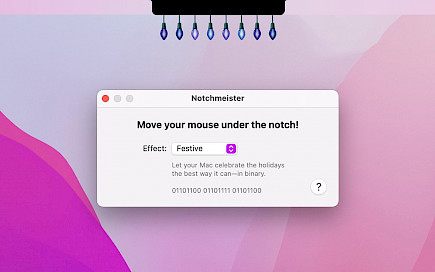 Small Christmas lights will hang in the notch region when you hover your pointer over it.
Nano Reader
The best way to describe this feature is to do so in the app's description. "Our patented invention lets you know exactly where your mouse has gone." It is a small circular X-ray band that appears beneath the notch. It shows your mouse hovering over the camera's sensor as well as other parts.
This application is designed to work with the most recent MacBook Pros. However, there's a model simulation for older MacBooks in case you're missing the top-notch.
Winding-up
NotchMeister is a really stunning app that helps you customize the notch in your own way.
For people who love the notch, it's a treat for your eyes. And for the notch haters, do try out NotchMeister. If this simple application can't make you fall in love with the notch nothing else can.
You might also like